New England Patriots 2011 Predictions: The Latest Analysis of Free Agency, Camp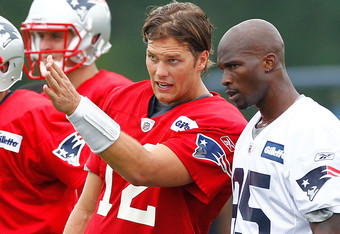 Jim Rogash/Getty Images
The New England Patriots are locked and reloaded for the 2011 NFL Season.
Led by Tom Brady, the Patriots have taken to training camp with one goal in mind: the Lombardi Trophy. With the acquisitions of former Pro Bowlers Chad Ochocinco and Albert Haynesworth, the Pats look like they are primed to make yet another serious run at a Super Bowl title.
After last season ended in disappointment with a home playoff loss to the hated New York Jets, New England has come out this offseason ready to spend. The Pats re-signed LT Matt Light, signed All-Pro LG Logan Mankins to his one-year tender and re-signed 1000-yard rusher BenJarvis Green-Ellis (details still unclear).
This goes without mentioning two of the biggest splashes of the offseason with the Haynesworth and Ochocinco acquisitions.
Head coach Bill Belichick is certainly not resting on his laurels this year.
Last season, New England's biggest moves came in-season with their trade of Randy Moss, their acquisition of Deion Branch and the return of Mankins from an extended holdout.
This year, Belichick and the Pats made sure to attack their needs early and often.
Critics were saying that New England lacked a legitimate pass-rusher? No more, as Big Al Haynesworth should easily fill that role. Putting him next to defensive tackle Vince Wilfork is shaping up to be the biggest storyline of training camp. How dominant can this gigantic duo be?
Critics said the Pats lacked a receiving threat outside of Wes Welker and Deion Branch? Not a problem, as the Pats signed one of the most consistent (and animated) wide receivers in the NFL, Ochocinco. Lining him up wide of quarterback Tom Brady has long been a pipe-dream. Now, it is New England's sudden dream-like reality.
And the Patriots might not be done.
With some room for improvement along the outside of the defensive line, the Patriots recently worked out former Cleveland Browns OLB/DE, Matt Roth.
Roth would be a great addition to an already talented defensive front.
Check back here throughout the day as I tackle the Patriots' biggest issues, discuss the potential of the Patriots offense, the security that cornerback Leigh Bodden brings and more.
Shaun Ellis, formerly of the arch-rival New York Jets, has signed a one year agreement with the New England Patriots pending a physical.

Here is the latest, via Pro Football Talk:
The Patriots love veteran defensive lineman and Bill Belichick loves to sign guys that played well against the Patriots.

That's why the signing of Shaun Ellis on Sunday makes so much sense. It probably doesn't hurt that the move to pick up Ellis will hurt the rival Jets in the process.

Adam Schefter of ESPN reports Ellis reached a one-year agreement with the Patriots. Offered the veteran's minimum by the Jets, New England presumably forked up a little more cash to bring the 34-year-old into the mix.

Ellis is long in the tooth, but he's had at least 4.5 sacks in every season since 2005. He had two big sacks against the Patriots in the playoffs last year, and then another strong game in the AFC Championship.

New York drafted Ellis all the way back in 2000 with the No. 12 overall pick. How did they get that pick?

Why, they were awarded the pick in exchange for letting Bill Belichick leave New York to coach the Patriots.
Great reporting as usual by the guys at Pro Football Talk, especially that last part about him being acquired via the Bill Belichick trade. Love it.
By the way, Ellis is no slouch. This wasn't a deal where the Patriots simply wanted to steal a player from the hated New York Jets. Ellis can contribute.
Ellis has seen his production decrease every year since 2008, but he will definitely add a nice veteran presence and great depth to an already loaded interior defensive line for the Pats. He will probably be limited to about 20-30 snaps, given that he is 34-years-old, but that is all the Patriots really need from him.
If he gives them four to five sacks this year, that will be considered a gigantic success.
So while we should all be happy that the New York Jets lost a big part of their defense, we should be even happier that Patriots made the move to snatch the big defensive lineman.
This article is
What is the duplicate article?
Why is this article offensive?
Where is this article plagiarized from?
Why is this article poorly edited?
Shaun Ellis, the same guy who sacked franchise quarterback Tom Brady twice in last season's AFC Divisional Game, was in Gillette Stadium today working out for the New England Patriots.
I have heard a rumor that a deal is close.
Via @incarceratedbob:
**BREAKING NFL NEWS**Source:The enemy strikes again? Patriots have offered Jets (DE) Ellis a multi-year deal (2-3 Mill + Incentives) #Close
You may have never heard of this source, but throughout Free Agency, he has proven himself both a reliable and timely source of the latest breaking news.
As I am typing this, ProFootballTalk.com, an obviously more respected site, has some more to say about Ellis and New England:
Well, the Patriots are now interested.

Ellis worked out for the Patriots Thursday, according to Mike Rodak of ESPNBoston.com. That doesn't mean a deal is imminent; the Patriots also worked out Raheem Brock,Quentin Moses, and Matt Roth in recent days. No one has signed.

Still, Ellis fits the Belichick M.O. perfectly. He's a veteran of 3-4 defenses and is hungry for a title. Signing him would tweak the Jets. Belichick also loves to sign guys who play well against the Pats, and Ellis destroyed New England last January.
Very, very intriguing. As a Patriots fan, I am excited by the possibility of adding an able body, but mostly by the ability to put the Jets in the position of relying on rookie Muhammad Wilkerson on their defensive front. I'm getting giddy just thinking about it.
However much Ellis has lost in talent, he has gained in experience.
While he is certainly not the player he once was, adding him to a defensive line that is already loaded with guys like Vince Wilfork and Albert Haynesworth would keep him fresh and limit his playing time.
I really like the sound of this. Let's hope it works out!
This article is
What is the duplicate article?
Why is this article offensive?
Where is this article plagiarized from?
Why is this article poorly edited?
Leigh Bodden was a solid but unspectacular cornerback for the New England Patriots in 2009. When the Pats lost him in 2010, though, there was a disastrous ripple effect.
With Darius Butler hitting the vaunted "second-year wall," and Jonathan Wilhite not quite being where he needed to be, the Patriots turned to special teams ace Kyle Arrington to play CB2. And for a few games, it actually worked.
Eventually, though, even Bill Belichick's crazy scheming couldn't help the overmatched youngster. Teams started picking on the special teamer, especially with the emergence of shut-down cornerback, and rookie sensation, Devin McCourty. Arrington never really let up any huge plays, but he was almost exclusively targeted on third-downs, where teams exploited his style of play (don't get beat, play back) by throwing "comeback" routes in bunches. He did a good job of wrapping guys up after the catch, witnessed by his unusually high 71 tackles, but the fact remained. The Pats second cornerback position was one of its biggest weaknesses.
His shoulder injury a thing of the past, Leigh Bodden is ready to turn that weakness into another Patriots strength.
Via MassLive.com:
Cornerback Leigh Bodden, who missed all of 2010 due to a shoulder injury, spoke to the media and said that he's glad to be back. "I'm definitely rejuvenated. I'm just happy to be back out here, I'm ready to go," Bodden said. "I'm 100 percent, all I can do is just try to keep going."
Assuming both Bodden and McCourty are healthy, and with the addition of defensive tackle Albert Haynesworth, the defensive philosophy in New England could be shifting.
Many people are suggesting that the Pats are switching over to a base 4-3 defense, which would only make sense considering Haynesworth can really only be effective in the 4-3.
But aside from the immense pressure expected from Haynesworth, the Pats defense may be able to blitz more this season. With McCourty shutting down one side, and Bodden containing the other, Bill Belichick will be able to (finally) unleash his inner beast, and totally unload the blitz.
Just like the Jets leave their corners on islands and blitz the house, you can expect something similar coming from the Patriots this season.
Look for Brandon Meriweather and Jerod Mayo's sack numbers to go up this season, and for the atrocious defensive third down percentage (47 percent conversion rate, by FAR the worst in the NFL) to plummet.
See what can happen when you have a good CB2?
This article is
What is the duplicate article?
Why is this article offensive?
Where is this article plagiarized from?
Why is this article poorly edited?
Tom Brady is the best quarterback in the NFL. In fact, he was ranked the best player in 2011 by NFL Network.
The New England Patriots' quarterback had staggering numbers in 2010:
36-4 TD:INT, 3900 passing yards, 66 completion percentage
Tom became the first player in NFL history to be unanimously voted MVP. Given the changeup of the Randy Moss trade, as well as the clear lack of a No. 1 receiver, last season may have been Brady's finest. This season, expect Brady to build on his amazing 2010 season.
The offense hasn't lost any significant contributors, but it will be gaining the services of Chad Ochocinco, the talented, route-running maestro from the Cincinnati Bengals. Ocho grabbed 67 catches for 831 yards last season in only 14 games with a terrible quarterback.
With Tommy Boy, I expect a rejuvenation of sorts from No. 85.
I'm not saying he is going to put up Randy Moss numbers, but a take a look at his stats in 2009 to see what you could reasonably expect:
72 receptions, 1047 yards, 9 touchdowns
Assuming Ocho can hit those numbers, and he should be able to do it relatively easily, the rest of the Patriots offense should hit a rhythm that is beyond comprehension. Unlike in 2007, when Brady would basically toss it up to Moss or hit Wes Welker in the slot, the 2011 Pats have depth and variety.
Imagine the flow of the New England offense once Brady, one of the smartest players in the game, figures out how to mesh together his almost unlimited arsenal of weapons.
In the backfield, BenJarvis Green-Ellis is a stable option who never fumbles (literally, he has never fumbled in an NFL game), Danny Woodhead is the shifty change-of-pace back who is just as dangerous in the passing game as he is in the running game, and rookies Shane Vereen and Stevan Ridley could potentially play a big part as well. Not the best backfield in the NFL, but definitely one of the most efficient; Woodhead averaged 5.6 YPC, while BJGE averaged 4.4.
As far as the passing game goes, lookout.
There is Ocho on the outside with Deion Branch, Wes Welker and Brandon Tate/Julian Edelman/Taylor Price in the slot, plus the second-year tight ends. Rob Gronkowski and Aaron Hernandez are what separate this group from any other Brady has ever played with. Gronk, specifically, has the chance to be one of the best dual threats (blocking/catching) out of any in the NFL. Plus, he can do this.
With all of this artillery at Tommy's disposal, and an offensive line that is finally at full-strength (Logan Mankins held out for half of last season), there is no ceiling for what this team can accomplish.
This article is
What is the duplicate article?
Why is this article offensive?
Where is this article plagiarized from?
Why is this article poorly edited?

New England Patriots: Like this team?