Fantasy Football 2011: Ranking Houston Texans' Top 9 Fantasy Impact Players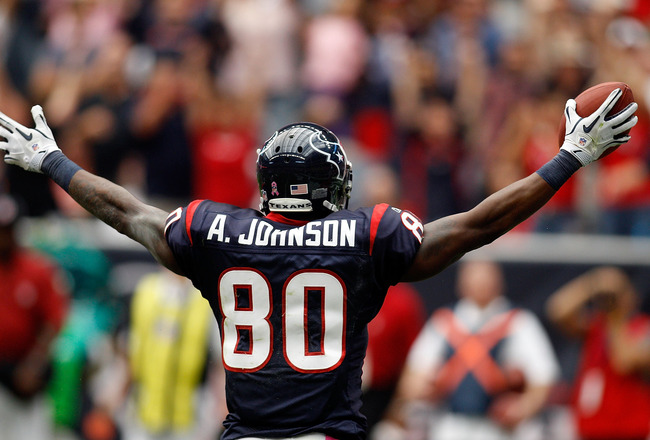 Chris Graythen/Getty Images
Though free agency may have been a bit of a disappointment for the Houston Texans, by no means is there a shortage of talent on Gary Kubiak's roster.
Arian Foster, Matt Schaub and Andre Johnson are among the most well-known playmakers headlining what looks to be an under-the-radar Houston squad, however there are many other players worth noting as the 2011 NFL regular season comes into full focus.
As you might expect, fantasy football is also making its way into American households on a regular basis. With just over a month until the season starts, analysis and speculation will come routinely.
Here are the Houston Texans' nine biggest fantasy impact players worth drafting this season.
Follow Alec Dopp on Twitter: @alecdopp.
9. WR Kevin Walter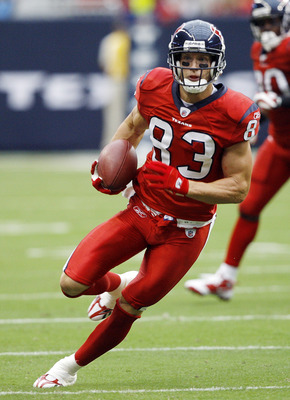 Bob Levey/Getty Images
Walter isn't a flashy, big-time receiver by any means. But if you're looking for a waiver-addition to fill in for one of your primary receivers, look no further than No. 83.
Last season, Walter averaged just over three receptions and 39 yards per game as Houston's No. 2 receiver behind Andre Johnson.
With Arian Foster's receiving potential, Walter will likely be Matt Schaub's third target when things start to break down.
Walter is an average receiver at best, so it would be wise to take him in one of the later rounds of your fantasy draft.
8. DE J.J. Watt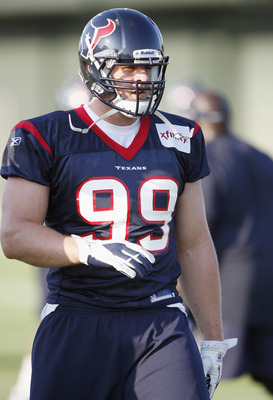 Bob Levey/Getty Images
The Texans took Watt ninth overall in April's draft, which should significantly improve what is already a respectable run-defense that gave up 109.4 YPG in 2010.
At the same time, Watt's strong build and stamina will put pressure on opposing quarterbacks—an area where Houston struggled mightily last year (accumulating 30 combined sacks).
If the Texans expect to make the playoffs, they must keep Peyton Manning under wraps, and Watt will be key in doing just that.
Great value/sleeper pick here.
7. LB DeMeco Ryans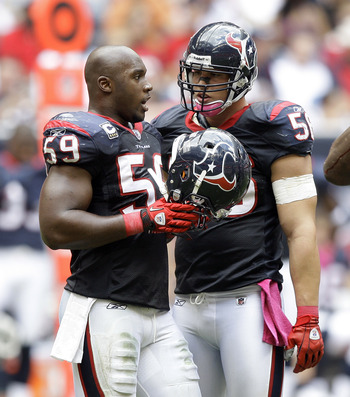 Bob Levey/Getty Images
Ryans (No. 59) is everything a defensive coordinator could want in an inside linebacker: big build, solid in the middle, can cover wide receivers when called upon, is a threat to rush at any moment.
Still, suffering a ruptured Achilles' tendon just six games into his 2010 season will prove extremely hard to return from, and it should be an under-the-radar storyline in Houston's 2011 campaign.
As far as fantasy impact goes? There's arguably no one single [inside] linebacker better than Ryans.
In five seasons with the Texans, Ryans has amassed 8.5 sacks, five forced fumbles, two interceptions and has 573 tackles to his credit.
Look for a 2.5 sack, 140 tackle-type season from the 6'1", 250-pound Ryans.
6. LB Brian Cushing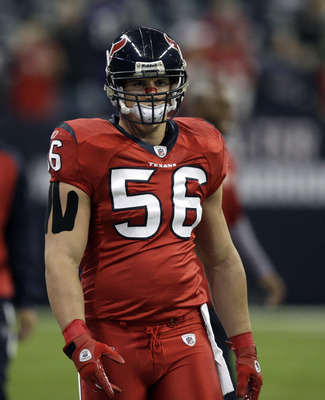 Bob Levey/Getty Images
One of the best linebackers in the league, Cushing may be more well known for his suspension for steroid use, than his insatiable play on the field.
Either way you look at it, there's no getting past what Cushing brings to the table, particularly his potential fantasy impact. Last season, Houston's 24-year-old sensation managed 76 tackles and 1.5 sacks. Look for an infinite step forward in 2011.
With the addition of J.J. Watt to the pass rush, Cushing will be a part of many blitz packages, enabling him to rack up an immense amount of fantasy points.
Cushing is ranked as the 43rd overall individual defensive player on ESPN's preseason fantasy rankings.
5. CB Jonathan Joseph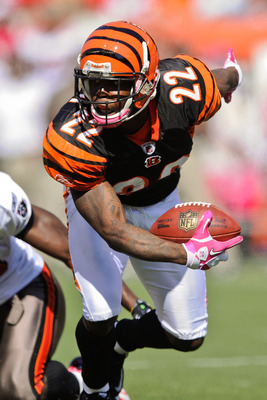 Jamie Sabau/Getty Images
Being that the Texans owned the league's worst pass-defense last season, you had to expect a free-agent signing (or two) to go down in the offseason.
We couldn't have been more correct.
Houston, who also had their sights set on Nnamdi Asomugha, addressed their cornerback need by signing Johnathan Joseph.
Joseph, a four-year veteran who has accumulated 14 interceptions in just four full seasons, is an immense upgrade for a defense that allowed a league-high 33 passing touchdowns last season.
4. DE Mario Williams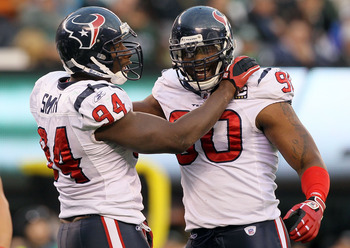 Jim McIsaac/Getty Images
The Texans took a lot of heat for selecting Williams first overall in 2006's draft over Heisman Trophy winner Reggie Bush, but who got the better end of that deal?
At just 26, Williams has racked up 48 sacks in just five seasons, and is steadily making a name for himself as a superstar talent on the defensive line.
Fantasy owners shouldn't use a first- or second-round selection on Williams, as he probably won't overproduce in 2011. A fifth- or sixth-round selection would suffice, however.
3. QB Matt Schaub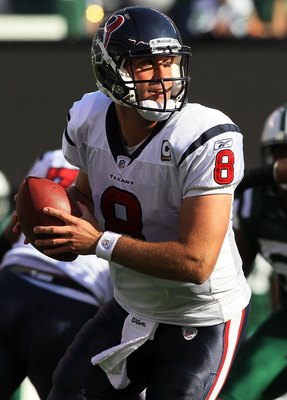 Jim McIsaac/Getty Images
Will this finally be the year Matt Schaub reaches his full potential?
It's a tough question to ponder for fantasy owners, as many see Schaub as an inconsistent starter with limited receiving talent around him other than Andre Johnson.
Last season, Schaub threw for 4,370 yards and 24 touchdowns, 12 INT and maintained a 92.0 passer rating.
It remains to be seen if Schaub is ready for meaningful NFL games, as his inexperience could very well hamper his fantasy production late in the season.
Overall, though, Schaub is a solid quarterback with just enough weapons to get the job done.
2. WR Andre Johnson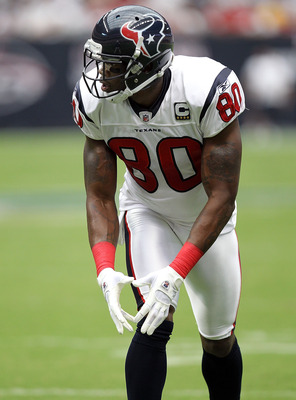 Ronald Martinez/Getty Images
At 6'3", 225 pounds of pure athleticism, Johnson's fantasy stock is extremely high heading into the 2011 season.
In 2010, Johnson amassed just over 1,200 yards receiving, eight touchdowns and averaged 14.1 yards per catch—enough to secure his spot as the top wideout in ESPN's preseason fantasy rankings.
If you're lucky enough to own one of the top five selections in your league's draft, you should have a great shot at landing him. After that, you've got a fat chance.
Despite having Arian Foster in the backfield, Johnson will be QB Matt Schaub's primary downfield target, and should yield outstanding numbers each week.
1. RB Arian Foster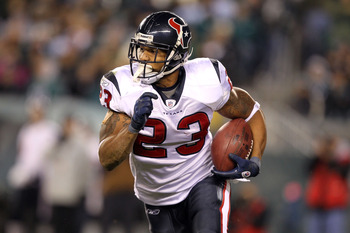 Al Bello/Getty Images
Foster burst onto the scene last season in Houston's epic 34-24 Week 1 victory over Peyton Manning's Colts, rushing for 231 yards and three touchdowns.
From then on out, Foster was inconsistent, but made up for his struggles with numerous head-spinning performances.
Not only is he a threat on the ground, but Foster has also managed to be a prolific receiver in Houston's pass-happy offense. If the Texans intend on making the playoffs, they'll need to dump it off to Foster in the flat to open up the field for Andre Johnson.
Ranked as the No.2 overall preseason fantasy player on ESPN, Foster will have to live up to the extensive expectations that come with being a 1,600 yard-plus rusher.
Keep Reading