Veteran Slugger Matt Stairs Announces His Retirement
August 4, 2011
Rob Carr/Getty Images
Earlier today, Canadian veteran left-handed slugger Matt Stairs decided to call it a day and announced that he is retiring from Major League baseball. This follows his release by the Washington Nationals preceded by his designation for assignment earlier this week, due to his lack of hitting, and this season he was posting a line of just .154/.257/.169 in only 74 plate appearances with no home runs and just two RBI.
Upon retiring, Stairs said, "I'm not sad. I had a great career, a long career, and it's one of those things where I can walk away today and not be sad about it."
Stairs, 43, has played in the majors for 19 seasons now, and was the epitome of the journeyman—over the span of his almost two-decade career, Stairs played for 13 MLB teams, which is one of the handful of accomplishments he has racked up over his career, having worn uniforms for the Montreal Expos, Boston Red Sox, Oakland Athletics, Chicago Cubs, Milwaukee Brewers, Pittsburgh Pirates, Kansas City Royals, Texas Rangers, Detroit Tigers, Toronto Blue Jays, Philadelphia Phillies, San Diego Padres and the Nationals. He also played for the Chunichi Dragons in the Nippon Professional Baseball league in 1994. Count that as 14 teams (13 clubs, since the Expos/Nationals is the same organization).
While Stairs' stats this season don't look like those of a slugger, he's actually had a very bright career. Over his 19 seasons, Stairs hit 265 home runs and posted a career slash line of .262/.356/.477 (with an OPS of .823). He also hit in 899 runs and hit 294 doubles with only 1,122 strikeouts. Had he played for 162 games in a season (the most he played in one year was 149 in 1998 as a member of the Oakland A's), he would have hit 23 home runs, 25 doubles and would have only been fanned 96 times. Not too shabby.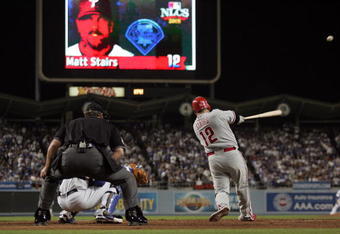 Jed Jacobsohn/Getty Images
Be that as it may, there are a couple of other things that occurred in Stairs' career that are his true highlights. One that shines most was his pinch-hit home run in the 2008 NLCS as a member of the Philadelphia Phillies.
It was Game 4 of the NLCS and the Phillies had a 2-1 series lead, but the Los Angeles Dodgers were looking to tie it up at two games a piece. At the start of the eighth inning, the Phillies were down to the Dodgers, 5-3. With one out in the inning, Shane Victorino homered with Ryan Howard on base to tie it up 5-5, but it was Matt Stairs who was the ultimate difference-maker. With two outs and Carlos Ruiz on first base, Stairs was called to pinch-hit for starter Joe Blanton and, boy, did he make the most of it.
The first pitch by Dodgers' at-the-time feared closer Jonathan Broxton was swung at by Stairs, but after taking the next three for balls, he hit a huge home run far into the right-field stands to take the lead, 7-5. The Phillies not only won the game, but they also won the series and became World Champions as well, after defeating the Tampa Bay Rays in the World Series, four games to one. After waiting for 17 years, Matt Stairs finally got his World Series ring.
Stairs also holds the all-time record for the most home runs hit as a pinch-hitter with 23, having broken former designated hitter Cliff Johnson's record of 20. It happened on August 21, 2010, while Stairs was a member of the Padres, facing the Brewers. Stairs was once again called to pinch-hit in the top of the eighth inning and faced Brewers reliever Kameron Loe. On a 1-1 count, Stairs hit his 21st pinch-hit home run 366 feet that scored Chris Denorfia and narrowed the score gap from three runs to one. Unfortunately, the Brewers still won the game 6-5, but the highlight of the day was undoubtedly his record-breaking home run.
Matt Stairs was nothing short of a journeyman throughout his 19-season career. And while he did play in the outfield, he will be remembered in baseball as the pinch-hitter who hit more home runs in that role than anyone else. But as a Phillies fan, I'll remember him for saving the NLCS for the Fightins and ultimately allowing them to capture their second-ever World Series title.
Thank you, Matt Stairs.