Detroit Tigers: 5 Reasons Why 2011 Will End Up Different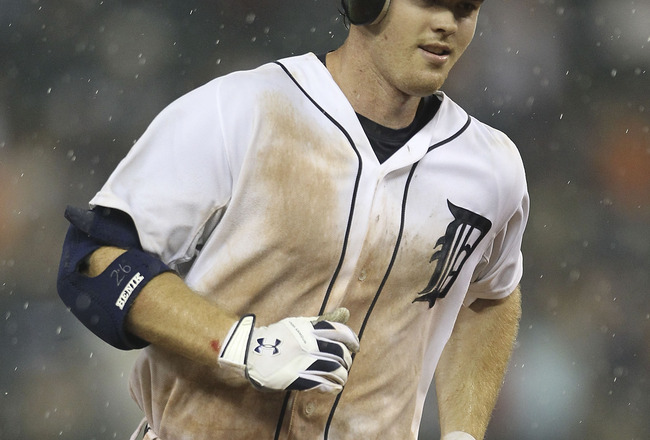 Leon Halip/Getty Images
The Tigers' inevitable late summer collapse has become a sign that fall is coming in the Detroit area.
Similar to the end of the orange construction cones, shorter days and the talk of an NFC North Division Title for the Detroit Lions, the Tigers late-season stumbles are a sign that summer is coming to an end.
Every season seems starts out with optimism, followed by a strong first half and subsequently a second half meltdown. The Tigers have become as predictable as a Michael Bay movie.
This year, however, is where it all changes. The summer of 2012, we won't be saying "same Old Tigers" rather, "Look what they did last year, held on to the AL Central before losing to the Red Sox in the first round".
Honestly, I think any Tiger fan would take a first round bow-out as long as the Tigers can finally win the division for the first time since 1987.
Here's the top 5 reasons you'll see them in the playoffs this year.
#1: Brennan Boesch Is for Real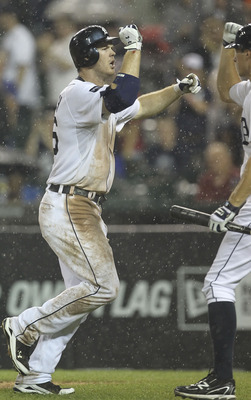 Leon Halip/Getty Images
The Tigers left fielder was left for dead after his second half collapse in 2010, which was undoubtedly one of the reasons for the team's collapse.
That's not again happening this year.
Brennan Boesch's eight inning, rainstorm be damned, game winning home run against the Texas Ranger's all-world set-up man Mike Adams was epic--and something he never would have done in the second half last season.
Boesch got down 0-2 against Adams and showed extreme patience in fouling off pitch after pitch before finally cranking an Adams' changeup over the right field wall in a moment that was eerily reminiscent to a scene from The Natural.
Last year, Boesch would have missed the changeup by two feet. He's shown more patience as he's no longer trying to hit a gapper every time up.
Boesch has become a vital piece to the Tigers' offense and, thanks to his improvements, this year he's someone they can count on all season.
#2: Justin Verlander Is the Best Pitcher in Baseball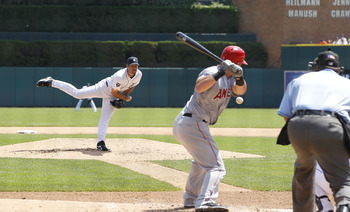 Leon Halip/Getty Images
Up until this season, Justin Verlander was a little like watching a Die Hard movie. Fun to watch, and you know you're going to get some explosions mixed in there.
In past seasons, 90% of the time Verlander would look like he does this year, just to have the inexplicable tendency for a four or five run inning explosion out of the clear blue.
This year, he's completely different. Verlander has pitched his best with his back against the wall this season, routinely stranding any runners lucky enough to get on against him late in games.
He's having as dominating a season as any Tiger pitcher since Willie Hernandez in 1984.
With Verlander in the rotation, the Tigers have excellent chances to squash losing streaks or extend winning streaks.
#3: The Division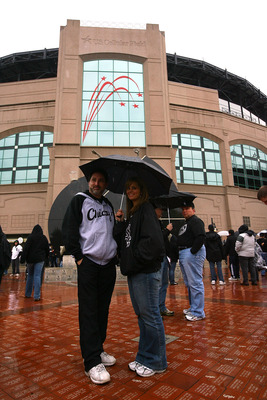 Jamie Squire/Getty Images
Let's be honest. This is the biggest reason the Tigers will win the AL Central.
The AL Central has been about as bad as it gets this year.
The Cleveland Indians are just three games behind the Tigers only because they were 15 games over .500 on May 23rd. Since then they've gone 24-38.
Just when it seems the Chicago White Sox get back on track (they took 4 of 6 over two series from the Tigers) they rally off a string of losses. This has been the story of the White Sox' season. Chicago just can't seem to get on track.
The Twins have been devastated by injuries and the Royals have been the Royals.
Unlike the ghosts of seasons past, it doesn't appear that this version of the Tigers will have much resistance in the division to contend with down the stretch.
#4: Miguel Cabrera Doesn't Have to Do It All on His Own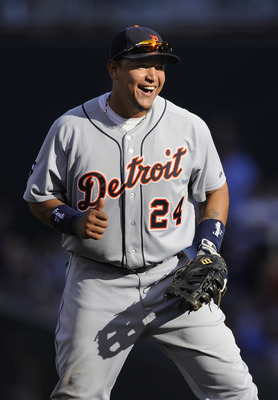 Hannah Foslien/Getty Images
The second half of last season, Cabrera's best counterpart in the lineup was Ryan Raburn. This year, Raburn can hardly find the field.
The signing of Victor Martinez has been the glue to the Tigers lineup. The Tigers wisely got out of the Adam Dunn bidding early, opting to go with the steadier Martinez, and boy has it paid off.
While Cabrera is having an average year by his standards, Johnny Peralta is having a career year hitting behind Martinez.
Additionally, Alex Avila and Brennan Boesch have shown marked improvements in their hitting since Martinez's arrival.
No longer is the team relying on solo home runs by Cabrera to carry the offense, and in fact the offense has scored despite Cabrera through his current mini-slump.
#5: Jim Leyland Is Managing for His Job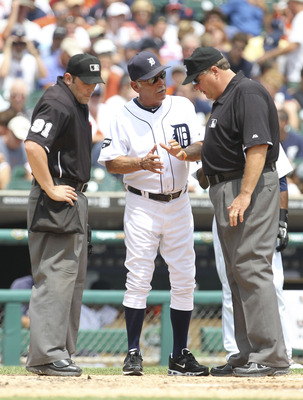 Leon Halip/Getty Images
No mid-season contract extension for Jim Leyland this season.
Owner Mike Illitch has been more than patient and generous with Leyland and GM Dave Dombrowski and they're in a must win situation this season.
Leyland, obviously already feeling the heat, seems to get thrown out of games on a weekly basis at this point. He's got to show more than just theatrics if the Tigers want to make the playoffs.
What you should see is a scared Jim Leyland, unwilling to sit his best players as he has in seasons past. If he doesn't do this, plain and simple, he deserves a one-way ticket to retirement.
Leyland has a golden opportunity to win back the fanbase and indications so far is that he's going all-in the rest of the way.
Keep Reading

Detroit Tigers: Like this team?