Jacksonville Jaguars: Why They Should Sign Steve Smith over Braylon Edwards
August 4, 2011
Otto Greule Jr/Getty Images
The Jacksonville Jaguars made it clear in the draft that they are sacrificing the present for the future, trading a second-round pick to move up and take Blaine Gabbert.
Like the two quarterbacks taken in front of him, Gabbert is labeled a "raw" talent and will need time to develop. Luckily for the Jaguars, they have bona fide starter David Garrard with plenty left in his tank until Gabbert is ready.
Unfortunately, trading away a second-rounder and picking a position that wasn't an immediate need in the first round leaves them playing catch-up for this year. Still, the AFC South is pretty weak this year, and the Jaguars still shouldn't give up on winning it this year.
The Jaguars already helped their defense quite a bit through free agency, but their offense could still use a boost. One good way to instantly upgrade their offense would be to add a high-end wide receiver.
Outside of Kassim Osgood (who was a disappointment last year), the Jaguars have little at wide receiver, but that doesn't have to be a problem, since they are currently $34 million under the salary cap and there are several high-end wide receivers still left in free agency.
To make the possibilities even sweeter, since it's been more than a week, those receivers will probably be willing to take smaller deals than they would have originally.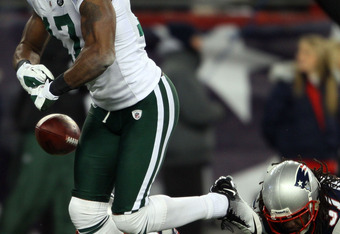 Elsa/Getty Images
If the Jacksonville Jaguars play their cards right, they could get a great deal on a good receiver, but the question is where to invest their money.
There are three top-tier wide receivers that haven't been signed yet: Braylon Edwards, Malcom Floyd, and Steve Smith (NYG). Edwards is rumored to be in talks with San Francisco, but even if he does not sign them, the wiser choice for the Jaguars would be to sign Smith.
Edwards is a great receiver, but he's also a character risk. He was charged with assault twice in 2009 and a DWI in 2010. Beyond even off-the-field issues, the Jets don't seem to be interested in re-signing him at all, which says a lot about him as a player.
The likely reason that Edwards is still on the open market is that he wants a big, multi-year contract. Investing that much in such a risk is something the Jaguars should not do while building the team for the future.
Signing Smith to a big multi-year contract, on the other hand, would help the team in the present and future. The difference in skill between Smith and Edwards is pretty slim. Both are one-time Pro Bowlers, and Smith holds a reception record for the Giants. Smith is more reliable than Edwards, who still could have some problems with dropped balls. 
Smith is also a much better character guy, with no arrests. He even has a sense of humor, appearing in a video making fun of the lockout (doesn't sound like a greedy guy to me).
Smith doesn't come without his share of risks though. He is shorter than is ideal (5'11") and suffered an injury at the end of 2010, and may not be up to 100 percent by the beginning of the season.
Finally, the last factor that weighs in Smith's favor is age. Smith is 26, and could be signed to a long contract without worry, while Edwards is 28. Two years may not seem like a big difference until you remember that the average length of an NFL player's career is only three years.
With Osgood already 31, another older receiver is not something that can help Jacksonville two or three years down the road.
Both players have some risks attached to them, but Smith is more reliable, younger, no character risk and probably cheaper (and more available). He can help the Jaguars now, and he can help the Jaguars in the future, and they need to sign him.