5 Reasons a Mayweather vs. Pacquiao Fight Will Never Live Up to the Hype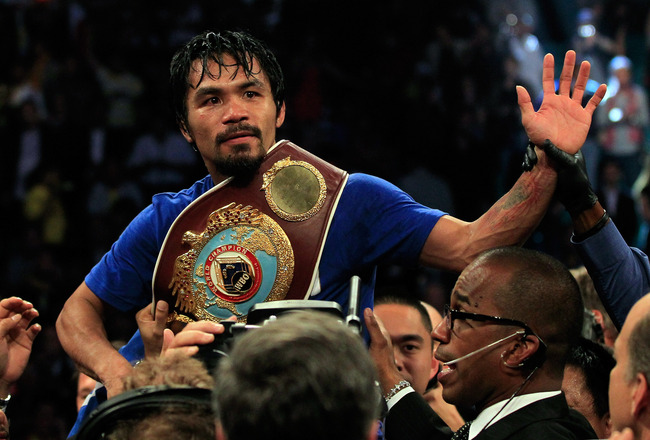 Chris Trotman/Getty Images
It is problably the most anticipated fight in boxing history.
It is a fight that will determine who is truly the greatest boxer of recent times. A win for either fighter will cement their legacy in sports history and a guaranteed spot over the other in everyone's mind.
This fight should have occurred at the beginning of 2010, but now, as we approach the end of 2011, the two biggest names in boxing haven't been able to reach an agreement in order to step in the ring.
Regardless, the entire world still dreams and hopes of one day seeing Manny Pacquiao and Floyd Mayweather in the same ring and hearing the sound of that first bell.
And if the fight someday does indeed happen, it might not live up to the tremendous hype it has created for itself. And here are five simple reasons why.
Follow me @alarconswaby
5. Misconception That This Fight Will Save Boxing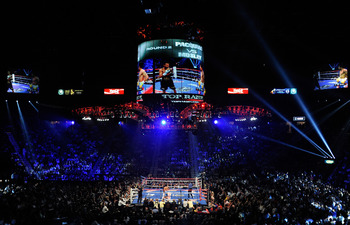 Ethan Miller/Getty Images
According to a lot of casual fans, this fight is supposed to save boxing, but in reality, boxing has been well and alive for a long time.
This fight will sure cause a lot casual fans and even non-boxing fans to tune in to the pay-per-view, but afterwards, they will go back to ignoring the great battles of Friday Night Fights and Showtime, therefore leaving the same misconception that the sport is dead.
4. Both Fighters Will Play It Safe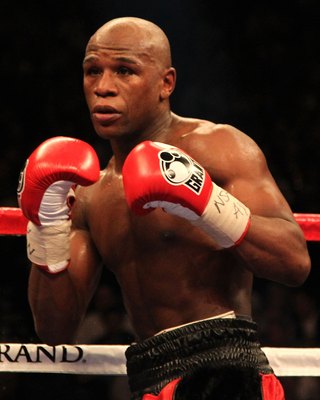 Jed Jacobsohn/Getty Images
A loss in this mega fight for either fighter will be devastating to their reputation and cause a lot of people to remember them for that one defeat instead of their many victories.
This may cause both Pacquiao and Mayweather to play it safe in the ring and not take many risks, especially Mayweather, since his entire claim of being the greatest fighter ever is completely based on currently being undefeated.
3. Mayweather's Defensive Style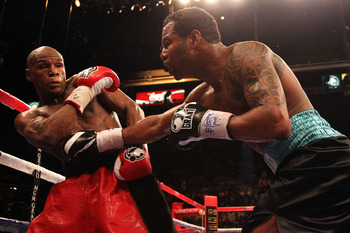 Jed Jacobsohn/Getty Images
Floyd doesn't like getting hit, and fortunately for him, his skills allow him not to.
Against a brawler like Pacquiao with dangerous knockout power, Floyd will surely do everything in his power to avoid a rumble.
Therefore, he will fight a very defensive fight, being very selective with his shots, resulting in Pacquiao chasing him around looking to trade punches.
2. The Expectations Are Already Set Too High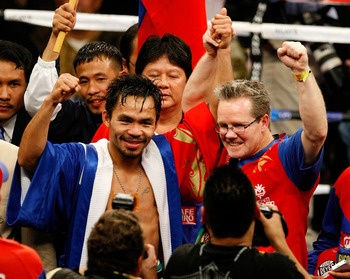 Ethan Miller/Getty Images
There probably has never been a more desired fight by boxing fans than this one.
All of the gossip, allegations and dislike of not only the two fighters, but also their trainers Freddy Roach and Roger Mayweather, are all factors as to why this fight is so wanted.
That along with extreme delays in the negotiations between fighters and promotional companies have built up a hype for this possible fight that is unseen and one that will most like be near impossible of reaching.
1. Both Fighters Will Be Past Their Prime
Jed Jacobsohn/Getty Images
If this fight had happened in March of 2010 as it was originally scheduled for, then it might have had the ability to be as great as it was promising to be, but almost two years later, both fighters are older and no longer in their prime.
On one hand, a very active Pacquiao has been in many more wars than Mayweather and has fought three times since 2010 against Joshua Clottey, Antonio Margarito and Shane Mosley, while a very inactive Mayweather has only fought once, against Shane Mosley in May 2010.
So if the fight does ever happen, most likely it will be in 2012, and by then, both fighters won't be anywhere near their prime. It will leave boxing fans wondering what could have been if they had faced each other at their peak.
Keep Reading