NFL Schedule: Ranking the Top 10 Monday Night Football Games in 2011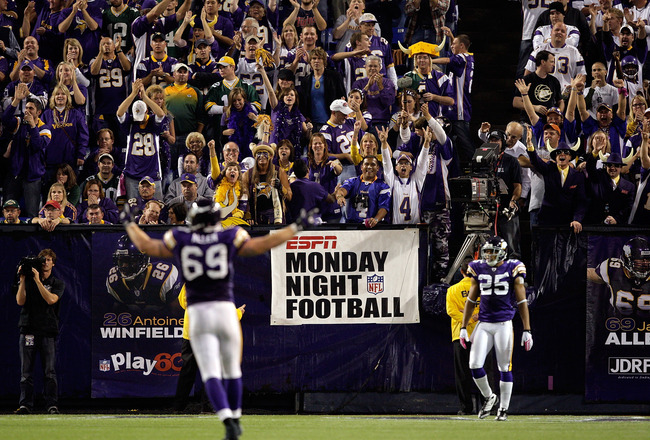 Jamie Squire/Getty Images
Monday Night Football is one of the most anticipated events during the NFL season.
Fans love getting the chance to see their favorite team on national television under the bright lights of the football stadium in prime time.
And the best quality about Monday Night Football is the marquee matchups that are often presented every week.
The upcoming football season is no different. Many Monday Night Football games will pit two intriguing teams against each other, usually with division or playoff implications on the line.
So here are the top 10 Monday Night Football games that fans need to look out for in the 2011 NFL season.
10. St. Louis Rams at New York Giants (Sept. 19)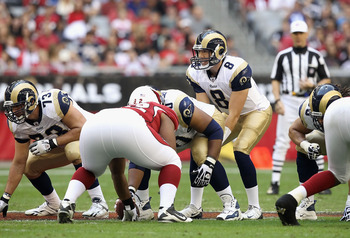 Christian Petersen/Getty Images
The upstart St. Louis Rams will be featured on Monday Night Football this year for the first time in quite a while.
The Rams made several acquisitions during the first week of free agency, which could make them a playoff contender, especially in a weak NFC West. Players like Mike Sims-Walker and Carnell Williams, among others will be joining the team this season.
Sam Bradford will begin his second season and will hopefully continue his success from his rookie year.
The New York Giants are always a contender year in and year out.
Although they missed out on some key free agents, much of the roster returns from last season. So, it should be interesting to see how Eli Manning continues to develop as the leader in New York and whether the wide receiving corps can keep putting up high numbers.
Let's hope for an exciting game as these two offenses will square off in the Big Apple.
9. Baltimore Ravens at Jacksonville Jaguars (Oct. 24)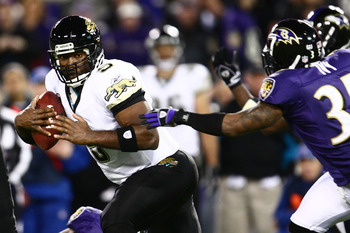 Chris McGrath/Getty Images
The Baltimore Ravens will travel down to Jacksonville to face the Jaguars in what could be a defensive battle in the AFC.
The Ravens are considered one of the top eight teams in the NFL heading into the season and will have a chance to prove it in their first Monday Night Football appearance of the season.
One intriguing aspect of this matchup could be the emergence of rookie quarterback Blaine Gabbert. David Garrard is the expected starter for the Jaguars heading into the season, but if Jacksonville struggles early on, then fans could be calling for Gabbert to get more playing time.
As always, the Ravens defense will play a huge factor, but that unit is always fun to watch. Ray Lewis and Ed Reed are still big-time NFL stars, and they will garner a lot of attention from NFL fans come Oct. 24.
Maurice Jones-Drew always provides a lot of highlights, but one will have to wonder how he will perform against a stellar Baltimore defense. I don't see him putting up huge numbers against the Ravens, but the Jaguars have the talent on offense to surprise some people.
Still, I think this will be a classic defensive battle, especially with Jacksonville's improved linebacking corps after signing Paul Posluszny from the Buffalo Bills.
8. Chicago Bears at Detroit Lions (Oct. 10)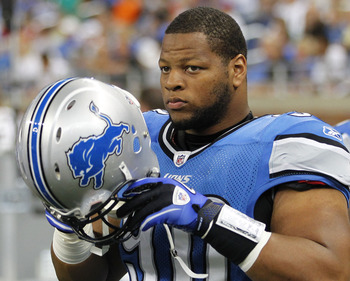 Gregory Shamus/Getty Images
The Detroit Lions have been a bottom-feeder team for almost a decade in the NFL, while the Chicago Bears have seen great success under Lovie Smith.
And this matchup on Oct. 10 will be the Lions' first appearance on Monday Night Football in nearly 10 years.
However, the Lions have been a popular pick as a team to watch out for in the season. Many feel if Matthew Stafford can stay healthy, the Lions have several playmakers on both sides of the ball that can bring this team out of the ashes of the NFC North.
Ndamukong Suh will certainly remain a force to be reckoned with in the middle of that defensive line and Calvin Johnson, Jr. is one of the most exciting wide receivers in the game.
If the Lions are able to get off to a quick start in September, the Bears could be in for a battle, and an early advantage in the NFC North could be up for grabs in early October.
7. New England Patriots at Miami Dolphins (Sept. 12)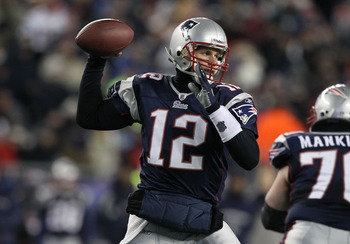 Al Bello/Getty Images
With the New England Patriots and the Miami Dolphins opening up the Monday Night Football season, it will be one of the more anticipated games in Week 1.
Tom Brady and company will come into the season as the favorites to win the Super Bowl again and with good reason. Many fans are also eager to see how Chad Ochocinco and Albert Haynesworth will pan out in New England, so that will draw a lot of attention.
Miami is still searching for an identity, but they signed a prolific name in Reggie Bush and will look to use him a lot this season. However, the Dolphins still need a solid quarterback before becoming a serious playoff contender.
Nevertheless, this will be an exciting game to watch since it does kick of the Monday Night Football season.
Expect a Patriot blowout, however.
6. San Diego Chargers at Kansas City Chiefs (Oct. 31)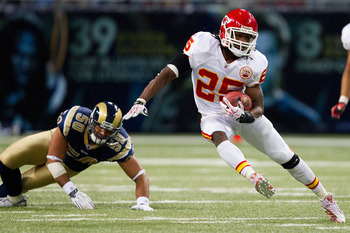 Dilip Vishwanat/Getty Images
The Monday Night Football crew will visit Arrowhead Stadium for Halloween this season.
The Kansas City Chiefs were one of the surprise teams last year playing great behind a stellar offense and an opportunistic defense with a lot of young players.
And the San Diego Chargers are always a tough team to beat, especially with Phillip Rivers, Vincent Jackson and Antonio Gates playing together on offense.
Regardless, the Chiefs have shown that they are a young, talented team who will be improving even more in 2011.
And Jamaal Charles and Thomas Jones were one of the most effective running back duos last season, combining for more than 2,000 yards. They should continue that success this season.
Plus, it will be interesting to see how the Chiefs' offense deals with the departure of former offensive coordinator Charlie Weis.
Expect both of these teams to be at the top of the division when they do finally meet on Halloween.
5. Indianapolis Colts at Tampa Bay Buccaneers (Oct. 3)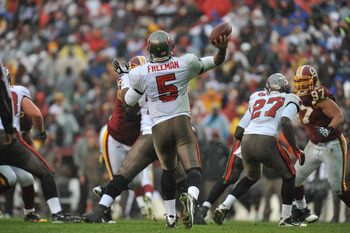 Larry French/Getty Images
This Monday Night Football matchup features one of the best up and coming teams in the NFL and another team full of veterans.
The Colts are led by Peyton Manning and are always one of the best teams in the league. This is due to their top notch coaching staff and some great wide receivers. Not to mention Manning is one of the best quarterbacks in history.
On the other side, the Tampa Bay Buccaneers feature one of the best young quarterbacks in Josh Freeman.
Freeman came onto the scene quickly in 2010, throwing six interceptions in just his second season as a starter.
The Bucs are clearly a team on the rise, and this game will be a great test to see where they stand in the grand scheme of the league's best teams.
4. Kansas City Chiefs at New England Patriots (Nov. 21)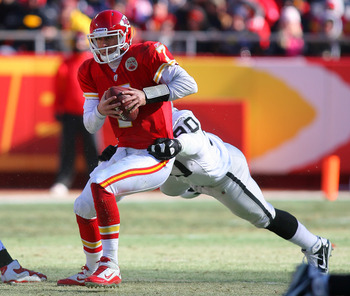 Tim Umphrey/Getty Images
The Kansas City Chiefs and New England Patriots will square off in a game where playoff hopes will definitely be on the line.
An interesting storyline will be Matt Cassel facing his former team as he tries to lead the Chiefs to another playoff run.
And much like the Colts and Bucs matchup, this game will surely test the Chiefs to see just how good they actually could be.
I expect this to be another classic Monday Night Football game that will highlight both the explosiveness of Jamaal Charles and the consistent success of the Patriots franchise.
3. Chicago Bears at Philadelphia Eagles (Nov. 7)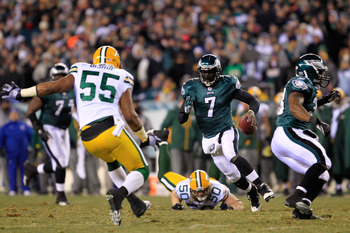 Chris Trotman/Getty Images
Two top NFC teams will face off in Philadelphia in early November between the Chicago Bears and Philadelphia Eagles.
With all of the hype surrounding the Eagles this offseason, they surely will be a team to keep an eye on this season.
They certainly will be exciting with Michael Vick at the helm and several playmakers on offense with DeSean Jackson and Jeremy Maclin.
But the Bears defense will have something to say about that with Brain Urlacher in the game.
The fans in Philadelphia will make this an excellent football atmosphere and one of the most exciting games to watch all season.
2. Minnesota Vikings at Green Bay Packers (Nov. 14)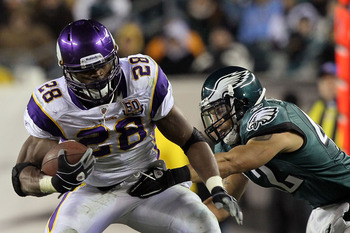 Jim McIsaac/Getty Images
One of the most exciting rivalries in the NFL is the Minnesota Vikings and the Green Bay Packers.
Every time these two teams play against each other, you can always expect to see a close and hard fought game.
Adrian Peterson, who is arguably the league's best running back, will certainly make things challenging for that tough Packers' defense.
But with the Packers coming off a Super Bowl victory, you know the energy at Lambeau Field will be at an extremely high level.
While the Vikings could be outmatched in this game, all of that goes out the window in an intense rivalry like this one.
1. Atlanta Falcons at New Orleans Saints (Dec. 26)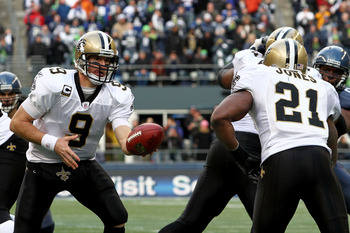 Otto Greule Jr/Getty Images
I guess Monday Night Football is saving their best game for last. In a regular season finale, the New Orleans Saints will host the Atlanta Falcons in a fierce NFC South division rivalry.
Both teams are expected to be serious playoff contenders, so a lot could be at stake in this matchup.
And given the recent success of both the Saints and Falcons, these teams have provided a lot of great moments in the past few seasons.
Drew Brees is always an exciting player to watch with his prolific arm and high scoring offense, but the Falcons will boast a lot of weapons on offense as well with Matt Ryan and Michael Turner, among others.
The New Orleans crowd is also consistently one of the loudest fan bases in the league. The Superdome will be rocking all throughout the game and fans everywhere will be able to get excited about this game.
Let's hope this game will live up to the hype that it certainly deserves.
Keep Reading