Albert Pujols: 8 Reasons He Will Leave the Cardinals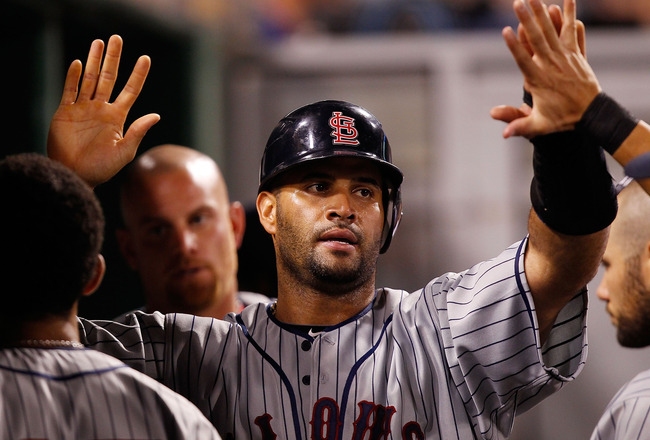 Jared Wickerham/Getty Images
As the baseball season carries on in St. Louis, there is one question lingering in the minds of every Cardinals fan:
Is this the last season Albert Pujols will play in a Cardinals uniform?
Pujols is due for a payday of epic proportions and has been unwilling to renegotiate his contract during the season.
For a while, Matt Holliday's All-Star season, Lance Berkman's zombie-like campaign and Jaime Garcia's success story were enough to temporarily push thoughts of Pujols' contract out of the minds of Cardinals fans.
But as the months of summer roll on, the question that has resided in the back of Cardinals' fans collective consciousness has again begun inching itself to the forefront. The Pujols' saga is once again beginning to position itself front and center, and unfortunately, the signs are not good for Cardinals fans.
Pujols leaving St. Louis isn't yet a done deal. But it will be.
Here are 8 reasons why 2011 will be Pujols' last in St. Louis...
1. Big Money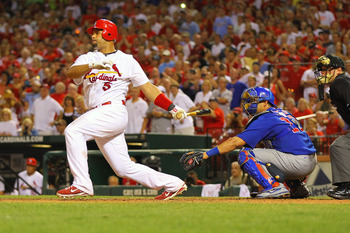 Dilip Vishwanat/Getty Images
I mean really, really big money. Like "highest paid baseball player in the world" type of money.
The rules that govern (or, more accurately, don't govern) baseball's salary structures are set up to allow teams to overpay for the game's best players. Pujols is the best of the best, and it's frightening to imagine how much he could command on an open market which recently decided that Jayson Werth deserves $126 million.
It is easy to say that baseball owners have learned their lesson, that they've looked at Alex Rodriguez and Barry Zito and Jayson Werth, and that they now know better than to commit 30 percent or more of their payroll to one player.
But they haven't.
Baseball owners will still shell out maximum dollars for players they covet, no matter how ill-advised the contracts are. They will also continue to get caught up in bidding wars and find themselves overpaying for stars in order to please expectant fan bases and best rival owners.
Albert Pujols is the rare player who will be coveted by everyone. Every team, every fan and every GM wants Pujols playing for them. The bidding war that his free agency will make Alex Rodriguez's $252 million deal with the Rangers look like a friendly backyard dust-up in comparison.
You think Barry Zito's contract was a bad idea? Wait until you see the numbers that are thrown Pujols' way by owners looking to add baseball's biggest star to their roster.
People will say that the Cardinals are foolish to offer Pujols (or any player) a contract in the neighborhood of $300 million, and they may be right. But someone will do it. Maybe more than one team will offer to do it, and it wouldn't surprise me to see The Machine's price tag go even higher.
It seems ridiculous now, but wait until the bidding actually gets started. In baseball, business as usual simply means paying guys exorbitant amounts of money with long-term deals that defy all logical explanation.
Pujols' production in comparison to his peers has been borderline obscene throughout his career. His compensation during this offseason will cross that border and then some.
2. The Inevitable Departure of Tony LaRussa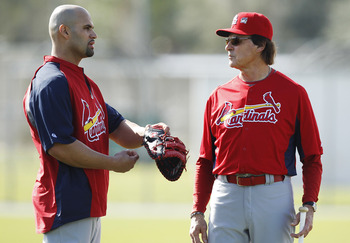 Joel Auerbach/Getty Images
Tony La Russa and Albert Pujols go together like peas and carrots. They are the same kind of baseball animal, unsatisfied with anything less than abject success and constantly driven towards improvement by unceasing internal forces.
But La Russa won't be around forever. And as much as the Cardinals' manager has benefitted from having a guy like Pujols in the lineup, Pujols' development has benefitted equally from La Russa's tutelage. And Phat Albert knows it.
Pujols and La Russa are famously close, and the thought of playing baseball in St. Louis without the man who made him into the player he is today may be a future that Pujols doesn't want to consider.
For years, Pujols has put his head down and worked his tail off out of respect for his manager. But what happens when the manager moves on? And what happens if Pujols believes that La Russa's inevitable replacement simply doesn't share his extreme commitment to winning?
3. The Challenges of a New City
Dilip Vishwanat/Getty Images
Albert Pujols has accomplished nearly everything he can in St. Louis.
MVP Awards, batting titles, even World Series rings. In a Cardinal uniform, Pujols has done it all.
For most athletes, these levels of success and familiarity would be reasons to stay put and retire into the warm, inviting arms of a fanbase that has known you for nearly your entire career.
But Albert Pujols isn't wired like most athletes. He is driven by success and by the challenge of improving every day. The fact that he has done nearly everything a baseball player can do in St. Louis may be the reason that he decides to challenge himself even further by stepping into a new city, with new (higher) expectations.
Like I said, many athletes would be scared by such a challenge. They would view it as unnecessary and risky. But Albert Pujols is the type of player who could be driven even further by this kind of risk. Unfortunately for Cardinals fans, this drive might take him to another city.
4. The Cardinals Aren't Getting Any Younger...or Better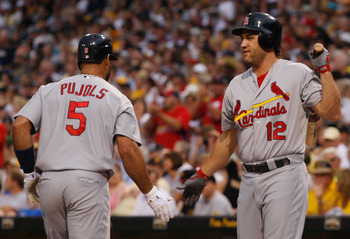 Jared Wickerham/Getty Images
St. Louis has overachieved this year, getting a rejuvenated effort from Lance Berkman, another All-Star campaign from Matt Holliday and a solid season from Adam Wainwright's top-of-the-rotation replacement Jaime Garcia.
However, the Cardinals are still in second place in the NL Central, and their team is littered with aging or injury-prone stars whose effectiveness will no doubt decrease in coming seasons.
Lance Berkman has been great, but no one expects him to repeat his 2011 success into the future.
Chris Carpenter and Adam Wainwright, the anchors of the Cardinals' staff, both have long, extensive histories of debilitating injuries.
Former top prospect Skip Schumaker's career seems to have stalled, and his destiny as a bottom-of-the-order hitter has been fulfilled.
And strangely, the Cardinals recently cut ties with former uber-prospect Colby Rasmus, shipping the young outfielder to Toronto for Edwin Jackson and a pu-pu platter of undistinguished arms in what seems to be a misguided attempt to contend immediately.
Now, the formerly fertile St. Louis farm system now looks very middle-of-the-pack (Keith Law currently ranks them 14th in all of baseball,while Baseball America is even less bullish, placing them 24th) and features few potential difference-makers, especially on offense.
Even if Matt Holliday continues to perennially make All-Star teams, the Cardinals simply don't have sufficient talent to build a lineup around Pujols that will convince him to stay. St. Louis' roster, as it is currently constructed, seems to have reached its tipping point, and the team's trajectory seems firmly headed in the wrong direction.
If Pujols wants to win, his best chance may come in a different uniform.
5. He Will Have More Attractive Offers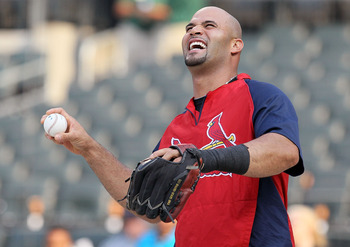 Jim McIsaac/Getty Images
Whatever Albert Pujols wants, he will get—and I'm not just talking about money.
Although, if he does want all the cash in the world, the Cubs and many others will certainly pay it.
But what if he wants to be the king of one of the biggest cities in the world? The Mets can make that happen.
If he wants a team with more a more potent lineup? The Rangers or Tigers would be happy to provide that.
And if he wants to go to a perennial contender with a stacked farm system or play out the rest of his career in sunny southern California? Well, I'm sure the Braves and Angels (respectively) would be willing to add the best player in baseball.
And if he wants to become even more than a baseball star, to save a team or even a city from futility, to become a cultural hero in the process …well, the Cubs, Mets, Rangers, Tigers and Angels all fit that bill.
Which leads me to my next slide…
6. The Opportunity To Be a Savior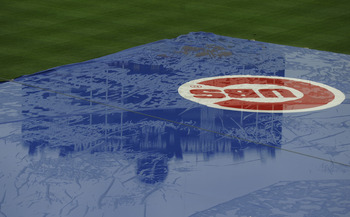 David Banks/Getty Images
Albert Pujols is a baseball legend. He is a sure-fire Hall-of-Famer, and will likely be remembered as the best hitter of his generation. And although this type of praise is lofty to be sure, the opportunity to take his legacy to even the next level simply doesn't exist in Cardinal red. Let me explain.
In St. Louis, Pujols is a great player on a storied franchise. He is one of many greats who have succeeded with the Cardinals. He's far from the first, and he certainly won't be the last. St. Louis is one of baseball's signature franchises. Their history is rich with success stories and heroes of the game. In this regard, Pujols is just another member of the pack.
No matter how great his achievements, no matter how many home runs he sends, disappearing into the blackness of St. Louis nights, Albert Pujols will never eclipse the legacies of Stan Musial, Ozzie Smith, Rogers Hornsby and Bob Gibson . It just isn't possible. These players are Hall of Famers, and even though Pujols may himself be a Hall of Famer, in St. Louis, he is simply one piece in a larger mosaic of baseball history.
With another team (say, for instance, the Chicago Cubs), Pujols can take his legacy to heights that it will never reach with the Cardinals. It is one thing to be a Hall of Famer on a storied franchise. It is another to be a savior to an entire city, to elevate that city to heights that it has never seen before.
There is something special about players who are able to release tortured fanbases from their prisons of failure. I'm a Giants fan. The greatest player I have ever seen is Barry Bonds. Despite his many, many flaws, I am a Bonds fan and will be for life. But he didn't bring my team a championship. And so even though they may be inferior players, Aubrey Huff, Juan Uribe and Cody Ross have a place in my heart that even Bonds can't touch.
With his immense talent, Albert Pujols could combine otherworldly skill with rarely-seen accomplishments, and create a truly unique place for himself in the history of the game. A place that is rarified and exclusive and can never be touched by other players—no matter how great their achievements may be.
He's already one of the best hitters of all time. But if he was one of the best hitters of all time who finally won a world series for the Cubs? Forget about it. That's Babe Ruth territory greatness.
7. He's Had a Lot of Time To Think about Leaving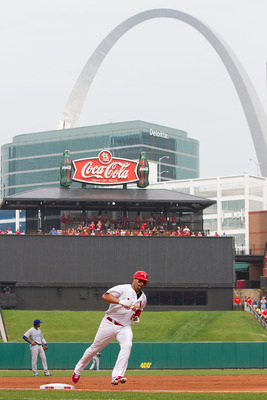 Dilip Vishwanat/Getty Images
The warning signs are all there. Pujols and the Cardinals failed to agree to terms on a new contract before the season started, and he has been unwilling to negotiate during the season.
This means that, whether he went into the season intending to re-sign or not, Pujols has now had almost an entire season to contemplate a future outside of St. Louis. And what may have been a very, very difficult decision before the season has had many months to fester, percolate and become more digestible.
In this way, Pujols has left the door open for his exit from St. Louis. It is by no means a guarantee that he is on his way out, but it does mean that he is aware that changing teams is a real possibility.
With an entire season to think about this possibility under his belt, it is likely that Pujols has become at least marginally more comfortable with the idea of finishing his career outside of St. Louis.
8. The Cardinals Have Underpaid Pujols, and There Will Be No Hometown Discount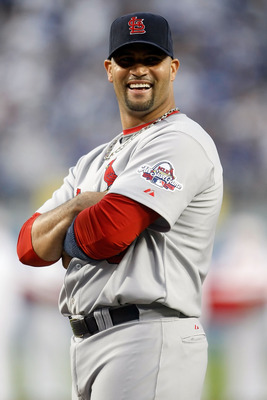 Jeff Gross/Getty Images
Fact: Albert Pujols has been underpaid by the Cardinals thus far in his career.
So any St. Louis fans who are waiting for a hometown discount when Pujols' negotiations begin again might want to consider the fact that, in reality, their team's superstar has already been giving his team a significant discount. Another one should not be expected.
I'm sure that Pujols loves St. Louis. But his next contract is a once-in-a-lifetime payday that no one would pass up—no matter how great their love for a city is. I know I wouldn't pass up $300 million. Neither would you and neither will Albert Pujols.
The Cardinals have been thus far unwilling to give the Pujols the redonkulous contract he will likely be offered in free agency and have therefore put themselves behind the eight ball.
They have opened the door for another team to open their checkbook for Pujols, which could turn out to be a huge mistake.
Keep Reading

St Louis Cardinals: Like this team?