The 40 Biggest Bats in Baseball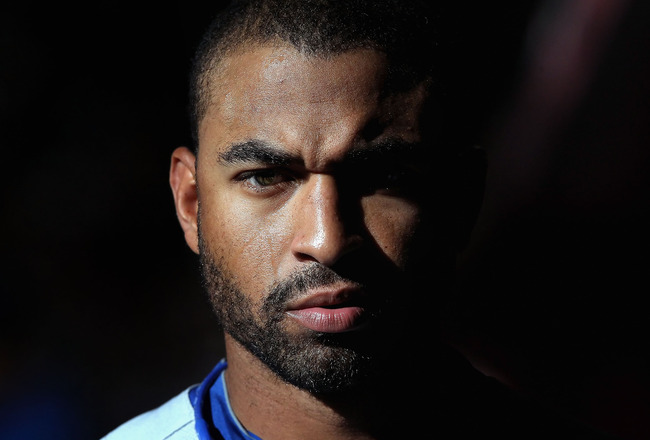 Christian Petersen/Getty Images
When the term "big bat" pops into your head, what is the first MLB hitter that comes to mind? Albert Pujols? Jose Baustista? Miguel Cabrera?
Sometimes the term is automatically geared toward to power-hitting sluggers in the middle of the lineup, and some of the table-setters and consistent gap guys get overlooked.
This list will be looking at the 40 biggest bats in all of MLB, and while power and "damage" will certainly be at the epicenter of the discussion, I will also highlight some guys that don't seem to get enough credit for their services.
The 2011 season will be the main statistical pool for the construction of the group, but some hitters will get the benefit of the doubt for a horrible year if the track record is there.
Feel free to add all omissions in the comment thread, as all lists this large are inevitably going to cause spirited debate on the topic. Here they are, starting out at No. 40:
Note: Some players having surprisingly solid years for the first time may not crack the list in place of proven stars
40. David Wright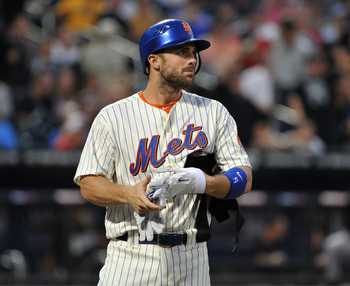 Christopher Pasatieri/Getty Images
.263 AVG, 9 HR, 36 RBI, .351 OBP
Mets star David Wright has not been having a great 2011 season to say the least.
First he got off to a terrible start, and then he suffered a stress fracture in his back—forcing him to miss a large chunk of what was supposed to be a great season coming off of a renaissance 2010.
Over the last 10 games of July, Wright hit .455 with 10 R, 2 HR and 12 RBI, which proves that his back is once again healthy and his stat line does not at all reflect the offensive potential that he still possesses.
39. Ryan Zimmerman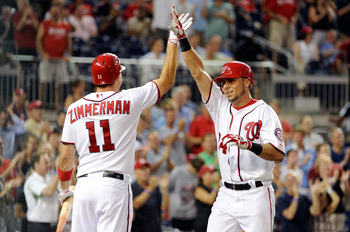 Greg Fiume/Getty Images
.293 AVG, 6 HR, 27 RBI, .366 OBP
Another star third baseman falling victim to injury woes, Zimmerman's stat line looks more like a solid role player than a player feared as much as any at his position.
Then after not playing for two months, Zimmerman's issues were worsened by his return being greeted by a massive slump of 13-for-77 (.169).
He has heated up a lot of late, however, and is still one of the premier offensive players at this position in the National League.
38. Joe Mauer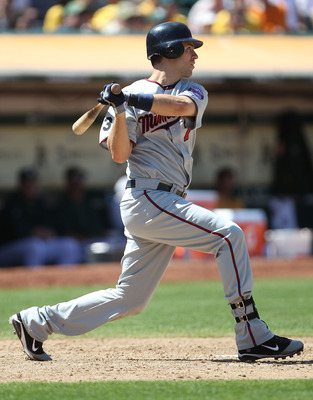 Jed Jacobsohn/Getty Images
.278 AVG, 1 HR, 23 RBI, .343 OBP
There are few players in MLB who have had a stranger 2011 than Twins franchise player Joe Mauer.
Suffering from essentially "lower body fatigue," Mauer has been limited to just 183 at bats this season.
His power has disappeared, and the possibility of moving to first base down the road certainly decreased his value long-term.
That said, he is still a three-time batting champion and belongs on any Top 40 list.
37. Evan Longoria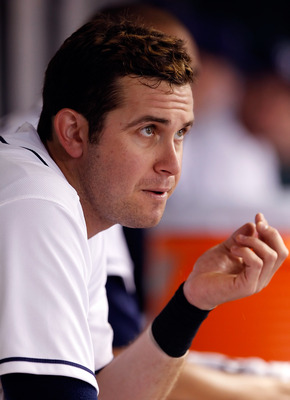 J. Meric/Getty Images
.233 AVG, 18 HR, 66 RBI, .328 OBP
Perhaps no one in baseball has been impacted more by free agency than Rays third baseman Evan Longoria—those who didn't even change teams anyway.
Carlos Pena, Carl Crawford and Jason Bartlett left an already inconsistent offensive attack from 2010, and Longoria has suffered as a result.
Injuries have forced him to miss about a quarter of the season as well, but a player of his magnitude needs to perform better than this.
Longoria will be back in 2012, however, and has far too solid a young career not to crack this list.
36. Shin-Soo Choo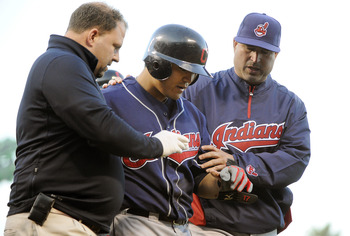 Thearon W. Henderson/Getty Images
.242 AVG, 5 HR, 28 RBI, .331 OBP
I nearly put Aramis Ramirez in this spot because of how impressed I am with how he has performed in a dead-energy situation with the Chicago Cubs.
Instead, I had to highlight perhaps one of the most underrated hitters in all of baseball in Indians outfielder Shin-Soo Choo.
Choo has not had much protection in Cleveland, but he has still generated an OBP near .400 and OPS near .900 in his career there before 2011.
A thumb injury halted what could have been a midseason turnaround for Choo, who was heating up in the second half of July.
35. Chase Utley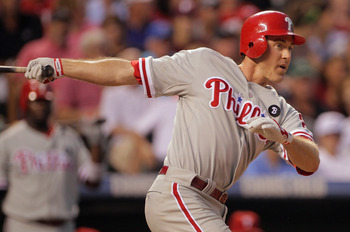 Doug Pensinger/Getty Images
.278 AVG, 8 HR, 36 RBI, .363 OBP
Chase Utley has returned to his dangerous ways in Philadelphia of late, and fears of his lower half have been quieted by 5 HR, 16 RBI and .915 OPS in the month of July.
I for one was convinced that Utley could not hold up for the end of the season, but he continues to prove me wrong time and time again—making an already sunny October outlook for the Phillies that much brighter.
Whether or not he can continue to produce for the rest of the year remains to be seen, but what we do know is Utley is a premier offensive second baseman and Philadelphia is lucky to have him.
34. Billy Butler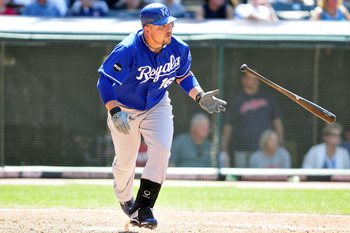 Jason Miller/Getty Images
.284 AVG, 14 HR, 67 RBI, .362 OBP
Billy Butler is yet another in the "underrated MLB bats" category, and is often ignored as a result of playing his home ball in Kansas City.
Butler consistently produces OPS totals in the .850s, and his combination of OBP and being a doubles machine make him an asset to any lineup.
Though I'm still shocked his light-tower power has not translated to a 30 home run season, Butler deserves recognition around the league for what he is—a very good hitter stuck in a very tough situation.
33. Gaby Sanchez/Hanley Ramirez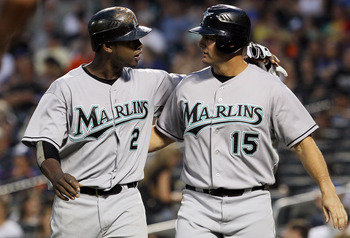 Jim McIsaac/Getty Images
Sanchez: .271 AVG, 16 HR, 62 RBI, .351 OBP
Ramirez: .243 AVG, 10 HR, 45 RBI, .333 OBP, 20 SB
This seemed like a great opportunity to pair teammates who fit both of the types of hitters at the back half of this list—underrated bats and superstars having strangely poor campaigns.
Sanchez has been Florida's most consistent offensive force in 2011 after a very good rookie campaign, yet he continues to be overlooked because he plays a position at first base that expects gaudy numbers.
Ramirez, meanwhile, went from Top 5 offensive talent to enigmatic distraction in 2011—rebounding with 5 HR, 21 RBI and a near-.900 OPS in the month of July.
The Marlins have a ton of young talent on the roster, and another of this duo's teammates will show up in the near future on this list.
32. Victor Martinez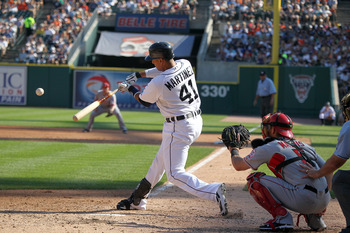 Dave Reginek/Getty Images
.321 AVG, 7 HR, 66 RBI, .372 OBP
Victor Martinez will make any "top hitters" list that I make, though I anticipate many will likewise call him "overrated".
V-Mart's transition from catcher to 1B/DH certainly downgrades his overall offensive value, but his ability to both switch-hit and hit for a high average make him a unique player.
Add in his .404 AVG with runners in scoring position in 2011, and Martinez can unquestionably still get it done at the plate.
31. Carlos Gonzalez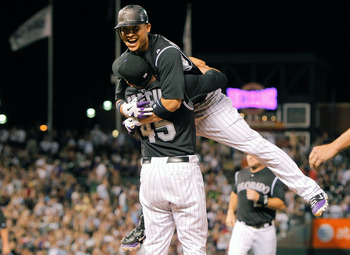 Justin Edmonds/Getty Images
.281 AVG, 18 HR, 66 RBI, .350 OBP
Coming off of a stellar 2010 season in which he hit .336 with 111 R, 34 HR, 117 RBI and .974 OPS, Gonzalez is having another solid season at the plate in Colorado.
The problem with Car-Go, and the reason he isn't further up this list, are his overall home/road splits. The latest "product of Coors Field," he is just .231 with a .669 OPS away from the land of the humidor.
I still feel that his swing mechanics and offensive tools lend themselves to an elite offensive player, but until he can prove this at sea level I cannot in good faith move him into the Top 30.
30. Yunel Escobar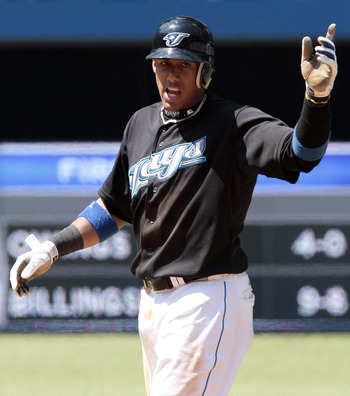 Abelimages/Getty Images
.297 AVG, 10 HR, 41 RBI, .378 OBP
After the Atlanta Braves shipped him out of town in favor of a veteran upgrade at shortstop, Yunel Escobar has been motivated to reach the potential he showed early in his career.
Suddenly Escobar is one of the top offensive shortstops in MLB, and the Blue Jays could not be happier to have him north of the border.
Alex Gonzalez, the man traded for Escobar, has hit about .240 since (with an OBP well below .300)—giving Alex Anthopoulos yet another trade fleecing to place on his growing mantle.
Another of the true underrated offensive players in the league—especially when considering his position—Escobar belongs in this conversation.
29. Ben Zobrist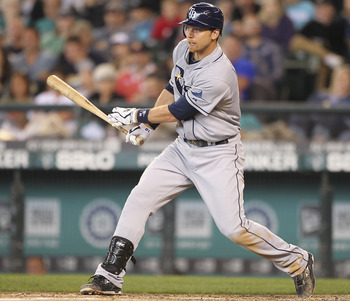 Otto Greule Jr/Getty Images
.277 AVG, 15 HR, 68 RBI, .367 OBP
The "underrated offensive player" parade continues here with Rays second baseman Ben Zobrist.
When taking into account the previously discussed gutting on the Rays lineup after 2010 and Evan Longoria's poor 2011, it is remarkable that Zobrist is on pace for 105 R, 92 RBI, a near 20-20 season and an .873 OPS.
Some would argue that I'm ironically underrating him as is by placing him No. 29 on the list, but either way he deserves his name among this group of offensive stars.
28. Jay Bruce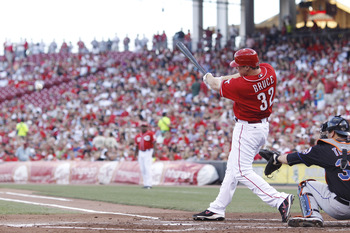 Joe Robbins/Getty Images
.274 AVG, 26 HR, 78 RBI, .353 OBP
It is difficult to recall that Reds outfielder Jay Bruce is still just 24 years old—considering the young slugger hit 21 HR way back in 2008.
Though still yet to truly reach his potential at the dish, Bruce's .833 OPS and 30 home run pace are worthy of praise at this point of his development.
The month of May showed what he is capable of, as his 12 HR, 33 RBI, .342 AVG and 1.141 OPS set talent evaluators into a drool fest.
We expect more from someone with his power and all-around offensive talent, but there is a lot to love about this kid both now and moving forward.
27. Mike Stanton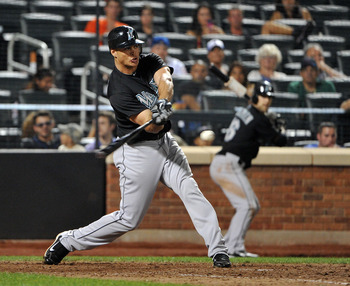 Christopher Pasatieri/Getty Images
.260 AVG, 27 HR, 73 RBI, .347 OBP
At just 21 years old, Marlins slugger Mike Stanton is already in the top 15 of MLB in slugging percentage at .529.
With a body that more so resembles Paul Bunyan than a baseball player, Stanton is on a 37 home run pace and is one of the most feared young hitters in the game today.
He recently made Citi Field look like a hitters park by hitting a grand slam laser beam that proved to be the game-winner, and I selfishly cannot wait until his first MLB Home Run Derby.
He needs to work on his plate discipline and overall OBP, but the future is beyond bright for Stanton in the years to come.
26. Ryan Howard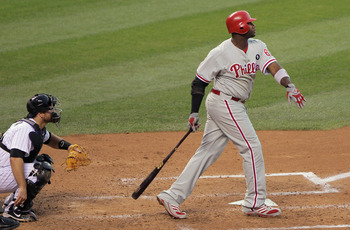 Doug Pensinger/Getty Images
.257 AVG, 26 HR, 95 RBI, .344 OBP
How is a man that is on pace for 125 RBI and 72 extra-base hits just No. 26 on this list?
The answer is when landing himself at No. 51 in MLB in OPS—below Rays hitter Casey Kotchman and his 4 HR.
Ryan Howard is a run-producing stud; there is no other way around it. He can put up 140 RBI in a blink, and is one of the few hitters in the league who can still approach the 50 HR mark.
While I am not on the "most overrated hitter in the game" bandwagon with Howard, his low OBP and massive strikeout totals expose a swing and approach with many holes.
I am not on the "RBI is a useless stat" bandwagon either, however, and Howard's average with runners in scoring position is 55 points higher than his season average (.309)
25. Alex Rodriguez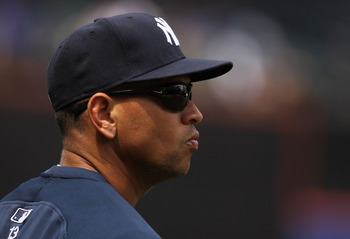 Al Bello/Getty Images
.295 AVG, 13 HR, 52 RBI, .366 OBP
I can already hear the foreheads smashing on keyboards and office desks around the country.
A-Rod's contract is outrageous, his off the field activity is scandalous, his PED history is disreputable and his body is unreliable.
The 2011 season will be his first since 1997 without at least 30 HR and 100 RBI, however, and his 125 RBI in 2010 show his continued ability to carry an offense.
Injuries have greatly impacted his recent career—insert "steroids cause your body to break down" comments here—but like it or not he is still an elite offensive player, even at 36 years old.
24. Kevin Youkilis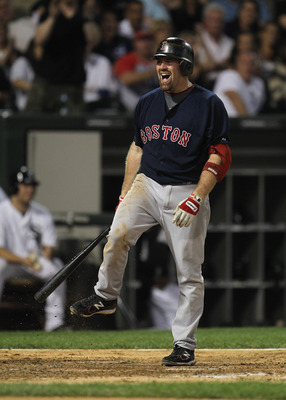 Jonathan Daniel/Getty Images
.266 AVG, 17 HR, 78 RBI, .381 OBP
Red Sox third baseman Kevin Youkilis is actually No. 20 in MLB in OPS at the moment, so he could be bumped up the list a little further in theory.
His average and OBP are down pretty significantly from recent years, and a 90-point drop in OPS is a lot for someone playing in by far the best offense in Major League Baseball.
Youkilis is a very good offensive player, but the fifth best weapon in the Red Sox lineup could not move up my list much further than No. 24 in a year he's hitting .191 away from hitter-friendly Fenway Park.
The home/road splits are very, very stark—odd for a hitter whose approach does not limit itself to pulling the ball off the green monster.
23. Mark Teixeira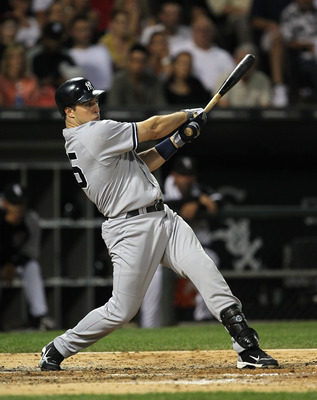 Jonathan Daniel/Getty Images
.249 AVG, 32 HR, 88 RBI, .343 OBP
Yankees slugger Mark Teixeira is just one home run behind Jose Bautista for most home runs in Major League Baseball with 31.
"Tex" is really on fire of late—raising his average from .241 to .256 in just four games—and has been forced to pick up some slack after Alex Rodriguez went on the DL.
He has slowly transitioned from a .400 OBP and .950 OPS guy to more of a true "slugger" by definition, but he is still a big-time offensive player—one who plays world-class first base as opposed to being planted there by necessity.
Big Tex may not be the player he was a few years back, but he is one of the premier power hitters in baseball and will remain that way for as long as he plays in Yankee Stadium.
22. Brian McCann
Andy Lyons/Getty Images
.302 AVG, 19 HR, 56 RBI, .372 OBP
Thanks to Victor Martinez's transition out of the catcher position and Joe Mauer's surprising setbacks, Braves catcher Brian McCann is now the premier offensive player at his position in MLB.
His production has been fantastic in 2011, and the Braves have absolutely needed it to mask the poor seasons of Dan Uggla (until a recent explosion), Jason Heyward and Chipper Jones.
The Braves are in the thick of any World Series conversation, and McCann has been as instrumental as anyone in trying to achieve that goal.
21. Robinson Cano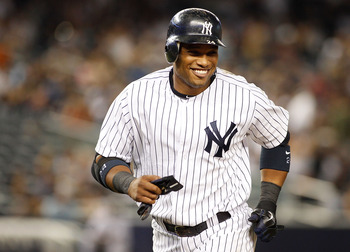 Mike Stobe/Getty Images
.305 AVG, 20 HR, 81 RBI, .352 OBP
Seemingly slipping into the dreaded "home run derby curse," Robinson Cano has just one home run in his last 20 games played.
Cano's production at a position like second base is fantastic, and he is always one at bat away from starting an unstoppable hot streak.
A surefire AL MVP candidate during the 2010 season, Cano is one of the best hitters in the game—only hampered by a fallback into bad pitch recognition habits this season.
He will likely benefit from A-Rod's return in the next two weeks, and will look to finish strong to finish above .300 for the fifth season out of six.
20. David Ortiz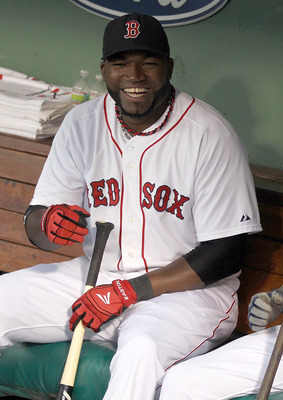 Jim Rogash/Getty Images
.300 AVG, 24 HR, 79 RBI, .388 OBP
"Big Papi" just refuses to fade off into mediocrity, doesn't he?
He was "a product of steroids". He was "too old". He was "too old" again. Yet each and every time, Ortiz manages to shut us up with what is this year the No. 14 OPS in baseball at .912.
What is most amazing about Papi's season is his .325 AVG and 1.009 OPS against lefties in 2011—up drastically from a .222 AVG and .599 OPS last year.
I am done trying to write Ortiz off, so if I can't beat him just I'll put him on this list instead.
19. Andrew McCutchen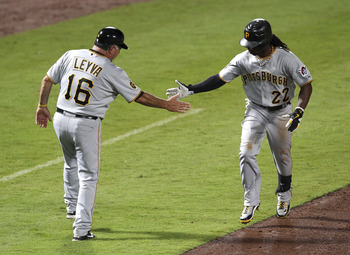 Mike Zarrilli/Getty Images
.268 AVG, 16 HR, 68 RBI, .370 OBP, 19 SB
You know that "five-tool player" description that is overused ad nauseum among scouting circles? Andrew McCutchen is a dynamic player actually worthy of that term.
At just 24 years old, McCutchen is already developed enough for a 90 R, 67 XBH, 25 SB, .850 OPS pace from the center field position—did I mention he runs like a gazelle out there?
McCutchen is the first true franchise player the Pirates have had in some time, and he has tried his best to spearhead their first playoff chase since 1992.
While it appears that dream is beginning to die out, the same can't be said for their center fielder's talent and drive.
18. Troy Tulowitzki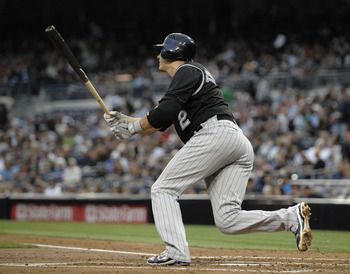 Denis Poroy/Getty Images
.303 AVG, 24 HR, 84 RBI, .372 OBP
Rockies superstar Troy Tulowitzki is as dynamic a middle infield talent as there is in baseball today.
He can play the position, he's athletic and he can make Citi Field look like it belongs in the Little League World Series.
Tulo's awful May has ultimately brought down his overall numbers, but he is otherwise having another fabulous offensive campaign—while one of the few with better road splits than at Coors.
It's very hard not to love the guy, and his on-field performance leaves nothing to be desired. He's pure hustle and pure class, so it is not very surprising to hear that he wears No. 2 in honor of Derek Jeter.
17. Jacoby Ellsbury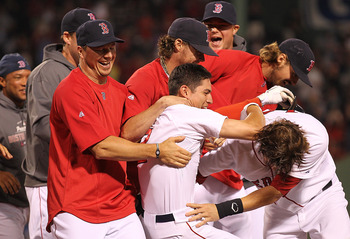 Jim Rogash/Getty Images
.313 AVG, 21 HR, 77 RBI, .369 OBP
Perhaps one of the top "breakout stars" of 2011, Red Sox center fielder Jacoby Ellsbury has been nothing short of stellar this season in Beantown.
Often not more than an injured pile of potential in the past, Ellsbury is on pace for 120 R, the same number of extra-base hits as MVP candidate Adrian Gonzalez and an .885 OPS—all while playing a wonderful center field.
Ellsbury was once the whipping boy of many Red Sox fans, but he is now an irreplaceable catalyst to an offense with plenty of boppers from top to bottom.
Throw in about 50 stolen bases per year when healthy, and the Red Sox have developed themselves one of the rarest players in baseball.
16. Jose Reyes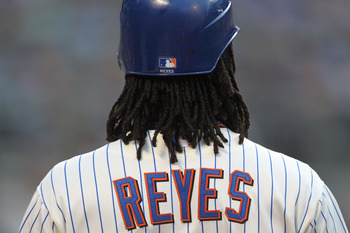 Nick Laham/Getty Images
.336 AVG, 47 XBH, 80 R, 34 SB, .377 OBP
Speaking of "the rare players in baseball," Mets shortstop Jose Reyes is an athlete we have virtually never (if not never) seen at the position before his arrival.
Reyes is having a classic "contract year" renaissance in Queens, and is currently on pace for 115 R, 68 XBH (including 23 triples), 47 SB, and an .892 OPS.
To say he has been carrying the Mets offense would be the understatement of the century, and he is likewise saving their wallets as well—providing the only ticket office draw for a team eight games back in the Wild Card.
He may not be part of the organization beyond 2011, but we are being reminding that Reyes is truly a once in a generation talent at shortstop when fully healthy.
15. Dustin Pedroia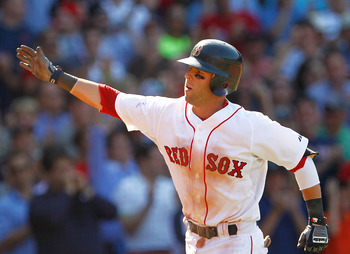 Jim Rogash/Getty Images
.398 AVG, 16 HR, 62 RBI, .398 OBP
Check back with me in about two weeks and Dustin Pedroia may just be back in the Top 10.
Yes, that's how fast he has been rising since a brutal start to 2011—when he was hitting just .240 through the end of May. I'll put it this way; Dustin had 4 HR and 4 RBI more in July alone than he had in April and May combined.
Pedroia is clearly back to his past MVP form, and his .413 AVG since July 1st is the best in baseball over that span.
The Red Sox offense was formidable enough as is, but they now have the heart of their attack beating as rhythmically as ever.
14. Lance Berkman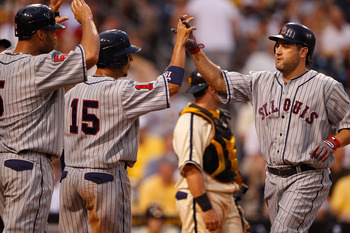 Jared Wickerham/Getty Images
.293 AVG, 28 HR, 76 RBI, .406 OBP
This ranking is clearly not focused solely on his "don't let me wake up from this dream" season in 2011, as Lance is currently on pace for 41 HR, 107 RBI and .978 OPS.
After being left for dead after a dud season with two teams in 2010, Berkman has somehow earned far more than the $8 million contract I scoffed at this winter.
Lance appears to be rejuvenated by being thrown back into the outfield, and he helped keep the Cardinals in line during a rough start for Albert Pujols.
He has expectedly begun to slip in recent months, but his power numbers remain consistent and relentless.
13. Paul Konerko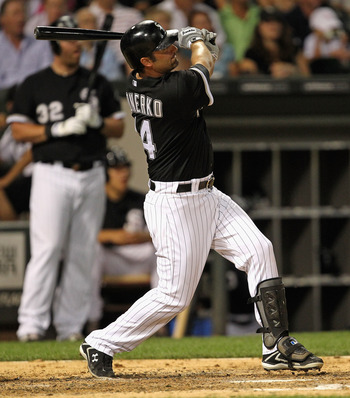 Jonathan Daniel/Getty Images
.311 AVG, 27 HR, 82 RBI, .395 OBP
Paul Konerko is admittedly one of my favorite players in Major League Baseball.
There is an "old-school" flair to him, and I frankly love guys who show loyalty to a franchise instead of bolting for a paycheck.
He is no less dangerous as a 35-year-old than he was 10 years prior, and his ability to continue mashing while dropped into one of MLB's worst offenses makes his stat line that much more impressive.
Konerko's OPS is actually the highest it has ever been in his career over the last few seasons, and he is proving to be one of the few "fine wines" of baseball.
12. Justin Upton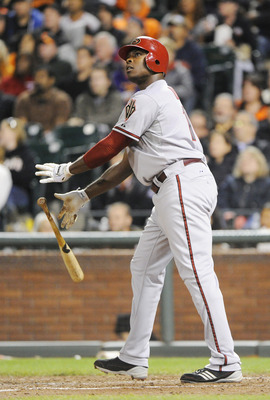 Thearon W. Henderson/Getty Images
.306 AVG, 25 HR, 75 RBI, .379 OBP
It never made any sense for the Diamondbacks to trade Justin Upton, and even preliminary reports of the possibility made 29 other GMs salivate.
Arizona held onto their young superstar, and they are suddenly on the verge of knocking the World Series champions into "if the season ended today" playoff limbo.
Upton has one of the more jaw-dropping power swings in the league, and his 30-30 potential (with a pace for 82 extra-base hits) makes him a unique talent.
The fact that he has not yet turned 24 is downright horrifying, as he was always a full-time productive player by 2008.
11. Matt Holliday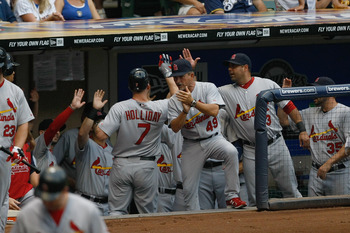 Scott Boehm/Getty Images
.313 AVG, 18 HR, 62 RBI, .417 OBP
Regardless of home run totals, few players in the league have as much pure power as Cardinals outfielder Matt Holliday.
Holliday is having a wonderful season in 2011, and is currently No. 7 in MLB in OPS. He is walking at a big clip and has rebounded very well from a surprise appendix issue early in the season.
While Albert Pujols gets most of the glory in St. Louis, Holliday has played a major role in holding the team up near the top of the division all year long.
10. Josh Hamilton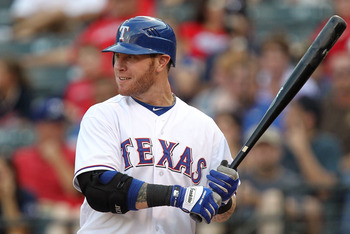 Ronald Martinez/Getty Images
.300 AVG, 14 HR, 66 RBI, .345 OBP
Yes, I am absolutely using a double-standard here. Nope, I am not going to apologize for it.
Josh Hamilton is not having his best season in 2011, but I can never view the reigning MVP on the outside looking in of the game's top 10 offensive players.
Injuries yet again derailed Hamilton's season, but he is once again hitting his peak at the right time for the Rangers—hitting .343 with 22 RBI and a .992 OPS in July.
He can win batting titles while hitting 30 homers, and though the Mickey Mantle comparisons are not fair he continues to crush pitching without breaking a sweat.
9. Joey Votto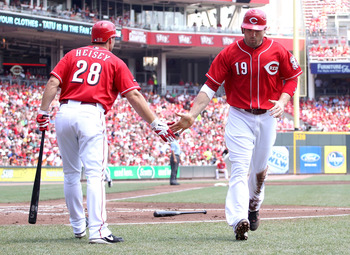 Andy Lyons/Getty Images
.318 AVG, 19 HR, 72 RBI, .430 OBP
Remember my "can't bring myself to leave a reigning MVP out of the Top 10" rule?
Joey Votto would have been here regardless, but his overall power numbers pale in comparison to his 2010 totals.
His .428 OBP and .943 OPS are plenty good enough for his place near the top of this list, however, and the Canadian is once again a force in the NL Central.
Votto is an annual lock for a .320 AVG, and his ability to hit lefties very well leaves him with very few holes in a balanced offensive approach.
8. Curtis Granderson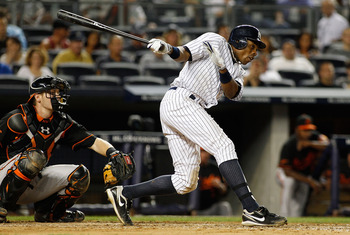 Mike Stobe/Getty Images
.273 AVG, 33 HR, 94 RBI, .366 OBP
If you haven't noticed by now, I get very excited over guys with power/speed combinations that are far from defensive liabilities.
Curtis Granderson is currently on pace for a 40-30 season in New York, as well as 117 RBI, nearly 90 XBH and a completely ridiculous 143 R.
This stat line more than makes up for Grandy's propensity to strike out, and his MLB-leading 11 HR off lefties has silenced all critics calling him an automatic out in the past.
If it were not for Jose Bautista, I would place my imaginary AL MVP vote for Granderson if the season ended today.
7. Prince Fielder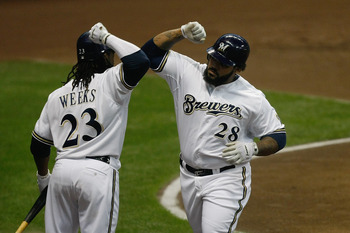 Scott Boehm/Getty Images
.304 AVG, 27 HR, 89 RBI, .416 OBP
Prince Fielder has always been one of the more imposing offensive players in the game, whether referring to his immense size or his lightning quick bat.
Well, he's at it again in 2011 and is on pace for 35 HR, 114 RBI and over 100 walks as the Brewers make a strong push toward to postseason.
Prince sandwiched a mediocre May and July around an all-world June (10 HR, 27 RBI and 1.238 OPS), but is going to get an astronomical contract after the season thanks to Ryan Howard's latest deal in Philadelphia.
It always amazes me that somehow who swings so violently can still control himself to get on base as much as he does.
6. Miguel Cabrera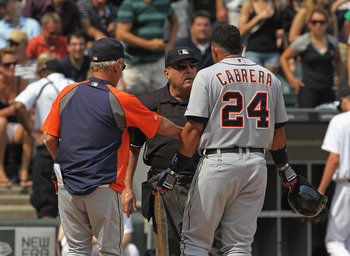 Jonathan Daniel/Getty Images
.320 AVG, 23 HR, 75 RBI, .425 OBP
As likely to end up in the newspapers for an act of immaturity as hitting three homers in a game, Miguel Cabrera is nevertheless an unstoppable force in the batter's box.
Cabrera can put the ball out to all areas of the field, and his typical .320 AVG makes him as dangerous as anyone in the game.
He actually reminds me of Manny Ramirez in a lot of ways, which is both a reflection of his god-like talent and what lies between his ears.
Cabrera is still just 28 years old, and will inevitably continue to dominate the league for years to come.
5. Ryan Braun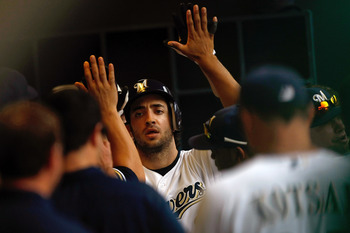 Scott Boehm/Getty Images
.328 AVG, 23 HR, 78 RBI, .397 OBP
Since returning from a recent injury absence, Ryan Braun has picked up where he left off on his way to another rock solid year.
Braun is on pace for more than 30 HR, 100 RBI, 100 R, 40 2B and 25 SB, and his knack for getting big hits (1.020 OPS with RISP) cements his position as an elite offensive weapon.
He will greatly miss his buddy Prince if he ultimately chooses to leave town for more money, but in the meantime the Brewers will be doing everything in their power to go for a ring in 2011.
4. Albert Pujols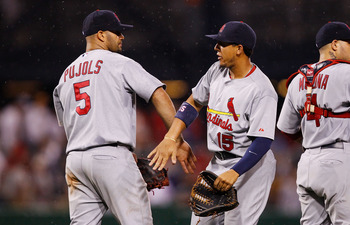 Jared Wickerham/Getty Images
.288 AVG, 29 HR, 75 RBI, .352 OBP
This is my second double-standard of the list, as Pujols is just 17th in baseball in OPS in 2011—though clearly worthy of a top 5 spot on any list of "best bats".
Though not experiencing a typical Albert Pujols year, the 31-year-old is still on pace for 40 HR for the eighth time in nine seasons.
Injuries, contract disputes, extreme weather and a broken wrist have rattled Pujols and the Cardinals, but his .350 AVG with RISP proves he is still one of the last hitters you want to see in a big moment.
There is no doubt in my mind that he will have another monstrous season in 2012, and this is just a tiny blip on the radar of a Hall of Fame career.
3. Adrian Gonzalez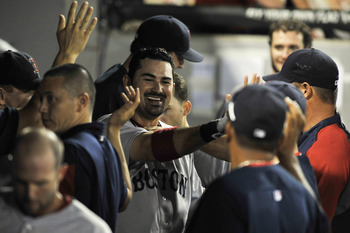 David Banks/Getty Images
.350 AVG, 18 HR, 92 RBI, .410 OBP
I'm pretty sure Theo Epstein nailed this trade, what do you think?
"A-Gonz" is on pace to comfortably win the batting title in the American League, and he leads all of baseball with 90 RBI.
Add to that a gold glove first base and Gonzalez will be in the MVP conversation until the final days of the 2011 season.
He hits righties, lefties, fastballs, curves, in the clutch and any other scenario on a baseball diamond. All the guy knows how to do is kill a baseball, and his opposite field power translates perfectly to Fenway Park.
2. Matt Kemp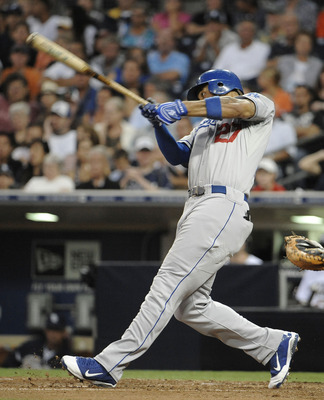 Denis Poroy/Getty Images
.320 AVG, 28 HR, 89 RBI, .395 OBP
Matt Kemp has somehow had the National League's best offensive season amidst the controversy and distractions associated with the McCourt's legal battle in Los Angeles.
On pace for a potential 40-40 season with 100 R and 125 RBI, Kemp is having one of the great seasons we've seen from a center fielder since Ken Griffey Jr.'s prime.
His June in particular (.375 AVG, 9 HR, 23 RBI, .472 OBP and 1.267 OPS) will leave you speechless, and the Dodgers have to do everything they possibly can to ensure he never wears another jersey.
Kemp has come a very long way since the "trade him, I'm done with this" commentary from the 2010 season, huh?
1. Jose Bautista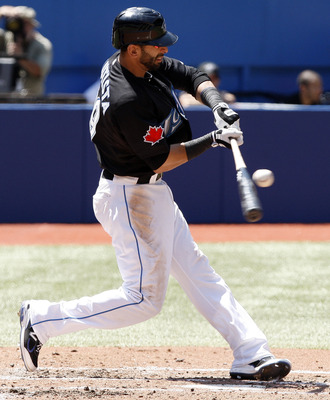 Abelimages/Getty Images
.311 AVG, 34 HR, 77 RBI, .447 OBP
The impossible story of Jose Bautista's rise to the top just continues to write new chapters week by week.
A full-season OPS of 1.115 is remarkable enough, but his pace of 115 R, 47 HR and 125 BB makes him frankly the only option for the No. 1 spot in any list about MLB hitters.
Bautista has somehow gone from a 15 HR guy to a 50 HR guy to a 50 HR guy who can hit .320 in a matter of two seasons—evolving faster than one of those alien life forms that crash land on Earth in horror movies.
No one is more feared, no one is more dangerous and no one else deserves to be the king of baseball right now.
Keep Reading