NASCAR: Watkins Glen Overdue for SAFER Barriers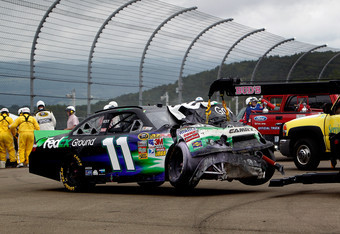 When it comes to NASCAR, there really aren't any racetracks than can legitimately be deemed "safe." However, Watkins Glen International does stand out as being one of the more dangerous tracks out there.
We saw as much during Monday's Sprint Cup race, which was marred by two nasty crashes. One saw Denny Hamlin go careening into a tire barrier, and another saw Boris Said send David Ragan's spinning into a barrier only to ricochet off and hit David Reutimann's car.
As such, today's ESPN report about NASCAR officials talking to officials from The Glen about making some changes comes as no surprise. Ideally, NASCAR would like to have SAFER (Steel and Foam Energy Reduction) barriers installed at the track, an upgrade over the steel and tire barriers that are currently in place.
"We learn something every day on the possibility of what can happen,'' said NASCAR president Mike Helton on Tuesday. "When you see something unusual like that you have to study it and see what's the better circumstance for that not to happen again."
If this is Helton's stance, the question is naturally why NASCAR didn't make a move on Watkins Glen sooner. At this point, SAFER barriers aren't exactly new technology, and they are widely used in oval tracks. The point is hard to quantify, but it's safe to say that SAFER barriers have rescued drivers from all sorts of injuries.
If you ask Jeff Gordon, SAFER barriers could have saved him from a back injury in 2009. After going headfirst into a steel barrier at The Glen, he openly called for SAFER barriers to be installed. As he put it, doing so would help more drivers than just those who crash.
"In this situation, they've got a wall that spits a car, not only a big impact, but spits it right back out into oncoming traffic," said Gordon.
Naturally, there is a catch. While adding SAFER barriers sounds good in theory, Helton has been told that there are some areas in Watkins Glen where they would actually make things worse. If so, it's possible that the installation of SAFER barriers would have to be accompanied by changes to the walls themselves. Needless to say, that would make the project that much more complicated.
That said, changing the walls is another thing that is probably overdue at this point. The way the track is configured now, it's way more dangerous than it has to be, and that of course means it's way more dangerous than it should be.
NASCAR has come a long way in the last decade as far as safety measures are concerned. However, that doesn't mean there aren't still measures that can be taken. To this end, making Watkins Glen safer should be a priority.

Most recent updates:
This article is
What is the duplicate article?
Why is this article offensive?
Where is this article plagiarized from?
Why is this article poorly edited?