Donovan McNabb Talks About Philadelphia Eagles Dream Team and Reveals Jealousy
August 3, 2011
Jonathan Daniel/Getty Images
Where do you begin with Donovan McNabb's display of jealousy during an interview with CBSSports.com?
Let's just take it from the top and look at couple excerpts. The full title is here.
"I was there for 11 years, and the biggest thing we brought in was T.O. [Terrell Owens]," said McNabb. "Now they're getting the so-called 'Dream Team.' It's amazing, but I look back on my career and what they're doing now ... that's great; that's excellent. But you're seeing another side. You're seeing Andy (coach Andy Reid) taking that chance. It's not just taking that chance on one guy. They're taking a chance on a bunch of guys. And they're spending money. That's amazing. Ever since the lockout [ended], teams have to spend money.

"With T.O.," he said, "after the first two or three weeks of training camp we felt like we had something. But you never say, 'Aw, we're going to win the Super Bowl. Fans say that. Radio says that. But now they expect them to win.

"They bring in a Nnamdi Asomugha. You have Rodgers-Cromartie, who is the one they don't mention the most because they have Asante Samuel, too. The problem is: What do you do with Asante Samuel?

"Then, you've got to worry about DeSean (Jackson). When he comes back are you going to give DeSean the ball or throw it to (Jeremy) Maclin? Remember, you have to give LeSean McCoy the ball, too. And then at the end you still have to pay Mike Vick. They have more problems than people are looking at."
McNabb starts things off in classic passive-aggressive fashion when says the biggest thing to ever land in Philadelphia was T.O.
Really Don?
Did you forget about Jevon Kearse, Asante Samuel, Jeremiah Trotter, and Jason Peters to name a few?
Oh, I get it. The Eagles never gave you enough talent at wide receiver. They needed to surround you with the perfect team in order for you succeed.
It wasn't enough to have one of the best offensive lines in the league highlighted by Jon Runyan and Tra Thomas. It wasn't enough to have one of the most versatile running backs in the game with Brian Westbrook. It wasn't enough to have one of the best defenses to help keep points off the board.
Nope, you needed to have a stud wide receiver in addition to all of it.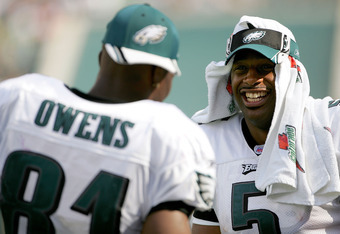 Jamie Squire/Getty Images
The funny thing about it, is you never had Owens' back when he wanted a new contract. You never reached out to Owens like Michael Vick did to DeSean Jackson during his holdout.
You backed the Eagles management, which you now question, and helped run out a receiver that made you better.
And how can you say it's nice to see Reid take a chance on more than just one guy?
Did he not take a chance on signing Stacy Andrews, drafting DeSean Jackson, drafting Westbrook, drafting Kevin Kolb, and signing Michael Vick?
The list could go on, so please spare me the notion that the Eagles never took a chance on multiple players while you failed to win multiple championships.
McNabb then goes the financial route and implies the Eagles didn't spend money when he was here. I will throw him a small bone on this one.
The last time the NFL had a salary cap was 2009. The cap was set at $128 and the Eagles spent $106,493,095, according to USAToday.com.
Take a look at the link and you will see only one team reached the cap that year.
When the 2011 regular season begins teams will have similar amounts on the books. This year the cap sits at $120 million and every team is required to spend at least 90 percent of the cap, which comes out to $108 million.
But how are the Eagles able to pick up so many big names?
A part of this falls back on McNabb.
Players are coming here because they want to play with Vick. They want to be on a team with a guy who is willing to be held accountable and who has his teammates' backs, which is the exact opposite of what McNabb did with T.O.
Does McNabb also fail to realize the Eagles are doing the same thing they have done every offseason?
Reid tries to target cornerbacks regardless of money, quick defensive ends and offensive tackles and role players. It just so happens the market was filled with type of players they typically target.
The Eagles have never been an organization to pick up wide receivers and linebackers through free agency and that has held true this year despite the Eagles making headlines seemingly every day.
Things get really foggy when McNabb says, "But now they expect them to win."
Huh?
Is he saying the fans never expected the Eagles to win? Was his head buried that far up his backside while he was here?
Or is McNabb saying the team now expects to win? I'm going to give McNabb the benefit of the doubt, because I'm not going to question his desire to win. I will only question his ability to do so in the NFC Championship.
The best is his concern about Asante Samuel.
I guess McNabb wasn't here when Troy Vincent, Bobby Taylor and Al Harris were on the same team. Or maybe he forgot the offseason when the Eagles already had Sheldon Brown and Lito Sheppard in place and yet they still went after Samuel.
McNabb needs to worry about Christian Ponder instead of what the Eagles will do with three cornerbacks because they seem to have it figured out while he hasn't been able to fend off the likes of Rex Grossman and John Beck.
He finally ends things with a warning for us all, "They have more problems than people are looking at."
Is it a problem to have the most talented roster in the NFL or is it a problem to have a collection of players who are willing to be held accountable?
If McNabb were here I could easily identify what the biggest problem would be.