Little League World Series 2011: Why Billings, Montana Got Shortchanged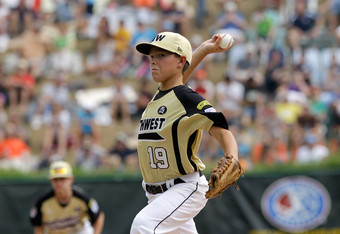 While the kids from Huntington Beach, California are enjoying life as the most famous 12-year-olds since Justin Bieber, the kids from Billings, Montana should be feeling a little cheated.
Not only was the Northwest team unfairly eliminated from playing in the championship game, they didn't get to experience international play, as their third-place game against Mexico was cancelled due to Hurricane Irene.
Billings defeated Huntington Beach 1-0 back on August 24 to advance to the United States championship. After the loss, Huntington Beach was given the chance to advance through the loser's bracket to meet Billings in a rematch.
Well, they advanced, and they proceeded to defeated Billings 11-2 to advance to the international final.
Wait, what? Is this soccer? Did California advance on aggregate runs?
This system is incredibly flawed. There should have been another game to truly decided the United States winner.
Huntington Beach got to rebound from their loss while Billings was rewarded with no chance at redemption.
If this is truly a double-elimination tournament, you would think that Billings would have to, you know, have lost a second time to be eliminated.
It's like calling an MLB playoff series after Game 6. I am extremely proud of what Huntington Beach did against Japan, but how do we really know if we had the best American team in that game?
To add on to the hurt for Billings, they weren't even allowed to play the third-place game against Mexico because of a little bit of rain.
Sure, it would have been a less-than-ideal situation, but that game couldn't have been played today?
Isn't this tournament about the kids, and shouldn't it be more important they get to play the game, rather than worrying about the awkwardness of playing a consolation game after the championship?
An unfair elimination and a robbery of an international experience. Pretty tough weekend for the kids from Billings, Montana.
Most recent updates:
This article is
What is the duplicate article?
Why is this article offensive?
Where is this article plagiarized from?
Why is this article poorly edited?