Little League World Series 2011: Why LLWS Is Best Baseball of Summer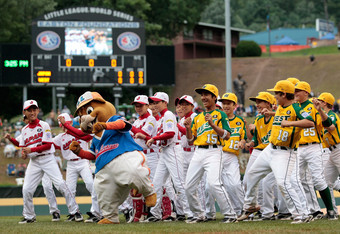 The dog days of summer only applies to Major League baseball. For Little Leaguers it is their time to shine. And baseball fans are the benefactors. The Little League World Series is easily the most entertaining baseball of the summer schedule.
The LLWS is fast paced, entertaining, played for the love of the game, and it is goes on without the back drop of scandal that has become all too common in Major League Baseball.
There are very few games on the major league schedule that have a serious impact on the standings in the summer.
Aside from the handful of series between teams that sit on top of the standings, most games feature a battle of of teams playing out the string against those working to get ready for the playoffs. Or, worse yet, it is a matchup of two teams that are all but eliminated from playoff contention.
This leaves Major League games filled with players pouting over contracts, playing for themselves, and uninterested in the game's outcomes.
The LLWS couldn't be further removed from this scenario. Every game teams are battling for their tournament lives. That is the nature of a 16-team double elimination tournament. Each pitch and each at-bat is crucial towards tournament survival.
This leaves viewers engrossed in a constant state of drama. And while the play, especially in the field, is no where near as crisp or efficient as the play found on Major League diamonds, lack of effort is never at the root of the problem.
These little leaguers go all out on every play. They sell out for every ball put in play, and they run out every ball they hit. There is no fear of injury and no sense of conservation for the long haul.
These kids are out there having the time of their life, and it shows. There is no player moping around because they are unhappy with a contract. There are no players out their only playing to better their stats for personal gain.
These are players that have bought into the team concept.
Most of all, the Little League World Series is infectious. It is a constant reminder of why we all love the game in the first place; it is fun. The joy of playing baseball is apparent in almost every youngster. This is a time before athletes have been jilted by the business of sport or disillusioned of the politics of a big money game.
The LLWS reminds everyone why they love sports in the first place.
Stay Tuned to Bleacher Report's Baseball Page for all the latest news and analysis from around the sport.
Most recent updates:
This article is
What is the duplicate article?
Why is this article offensive?
Where is this article plagiarized from?
Why is this article poorly edited?