Little League World Series 2011 Final: Will Shoto Totsuka Settle Down?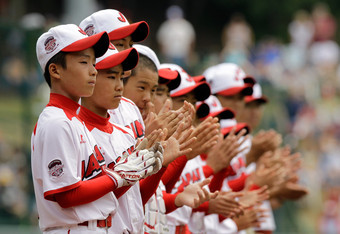 When Japan's Shoto Totsuka took the mound to warm up for the biggest start of his young life, I couldn't help but notice that he has a little bit of Daisuke Matsuzaka in him. In fact, I'd say Totsuka has Dice-K's motion down pat.
Little did I know he also has Dice-K's style down pat too. Through two innings against the team from Huntington Beach, California in the Little League World Series final, Totsuka walked three batters.
But, like Dice-K, Totsuka was able to work around his walks. He did not allow a hit, and he struck out one. He was also the beneficiary of a nifty play by second baseman Ken Igeta.
For his efforts, Totsuka's Hamamatsu Minami mates awarded him with a run in the top of the third, as Kaito Suzuki was able to score thanks to some sloppy fielding by Huntington Beach.
Unfortunately, Japan's 1-0 lead didn't last long. California just evened the score on a home run by -- who else? -- Hagen Danner. Once again, the Dice-K comparison is valid.
If Totsuka wasn't walking a tightrope before Hagen's dinger, he certainly is now. The kids from Huntington Beach can score runs in bunches, and the last thing Totsuka and his mates want to do is get into a scoring match with them.
Of course, it's not like Japan's offense isn't capable in its own right. Save for their 3-2 loss to Mexico last Sunday, they've been one of the most prolific scoring teams in the tournament. At the risk of saying something totally obvious, they can hit.
The only problem is that Huntington Beach can pitch. In four games heading into the championship, they allowed a grand total of three runs. Moreover, Braydon Salzman is doing his thing early, as he's allowed just one hit and a run while striking out three and walking none in three innings.
All things considered, Totsuka and his mates have their work cut out for them. Good thing we know they can handle it.

Most recent updates:
This article is
What is the duplicate article?
Why is this article offensive?
Where is this article plagiarized from?
Why is this article poorly edited?