Little League World Series 2011 Results: California Wins Second Shot at Montana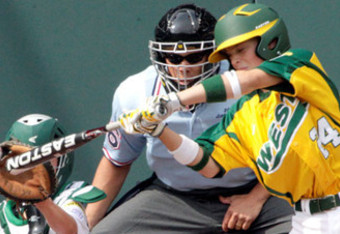 If there was ever a Little League World Series game that you tuned into, I would suggest that it would be Saturday's matchup of California and Montana in the Little League World Series U.S. Championship game.
I would actually recommend this game over any professional baseball game that you were considering watching, that is how good I think this game will be.
It has everything that you want in a baseball game, and when you add in the fact that none of the players are getting paid, I think it makes it so much more appealing for a baseball fan.
While baseball hasn't had to deal as much with holdouts, lockouts, or NCAA violations as of late, there is still a general feel in the air about sports right now.
They have gotten so commercialized, corporate, and money orientated that some people are actually getting turned off because they don't feel the love of the game anymore!
This won't be the case with California vs. Montana.
You couldn't match up two teams that are so polar opposite in approach, yet so good at what they do.
California was the favorites the first time these two played, but Montana put together another gritty performance and knocked them down to the losers bracket with a walk-off homerun.
That alone was intriguing as it could get, or so we though.
California went on to win their double-elimination game against the home town favorite Pennsylvania team, and now they've won their way back for a second shot at Montana.
Please tell me how you could not be compelled to watch this!
It has drama, suspense, revenge, and a national championship on the line.
Not to mention, the winner gets to play the international representative in the World championship game.
I'm sorry, but this is not just your run of the mill little league game.
This is must-see TV, so you better queue up your TIVO or clear your schedule…
You're not going to want to miss this.
Most recent updates:
This article is
What is the duplicate article?
Why is this article offensive?
Where is this article plagiarized from?
Why is this article poorly edited?