Asante Samuel Trade Rumors: Latest on Eagles CB to 49ers and Jets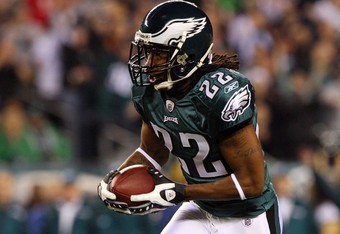 Jim McIsaac/Getty Images
Philadelphia Eagles' Pro Bowl cornerback Asante Samuel wants out.
In a frantic free agency period that has seen a large group of players flock to the Eagles for a chance to win a Super Bowl, the eight-year veteran finds himself on the outside looking in.
With cornerbacks Nnamdi Asomugha and Dominique Rodgers-Cromartie landing in Philadelphia, Samuel's place in a loaded secondary is being questioned.
Will he start? Is he going to come off the bench? Can the Eagles switch to a nickel defense (to accommodate all three corners) defense, like Green Bay did last season?
The main cornerbacks available in this offseason are all signed now, so Samuel's sudden availability should have at least a few teams jumping at the chance to sign the 30-year-old star. The San Francisco 49ers cut Nate Clements, the New York Jets missed out on Asomugha, and both squads should be considering Asante.
Check in here for the latest news on which teams are showing interest in Asante Samuel, and whether the New York Jets and San Francisco 49ers can realistically make a play for the four-time Pro-Bowler.
Asante Samuel has himself quite the predicament.
The Philadelphia Eagles' star cornerback, he of the 17 interceptions in the last two seasons, has found himself hanging out to dry. He feels like he isn't getting the respect that his resume says he deserves.
Via Philly Sports Daily:
When asked if he felt like he [Asante] was wanted, he said "It's probably 50-50."
Now listen, this doesn't mean that Samuel is demanding a trade. Quite the contrary, as the piece goes on to explain that Asante has not yet asked to be traded.
But the feeling remains the same.
With the addition of Nnamdi Asomugha in free agency, and the trade for Dominique Rodgers-Cromartie from the Arizona Cardinals, Samuel has a sinking feeling that he may be the odd man out. One way that the Eagles may change his mind is by moving the cornerbacks around by featuring Asomugha in the slot, a la Charles Woodson of the Green Bay Packers.
Take a look, again Via Philly Sports Daily:
[Philadelphia Eagles'] Defensive coordinator Juan Castillo gave a peak behind the curtain of his thinking at his Monday press conference. As of right now, Asomugha is the leading candidate to play nickel.

"Nnamdi is a special guy. He wants to make plays. I think he respects [Charles] Woodson. I think he would love that role, being able to blitz — big, tall guy like that coming off the edge, then all of a sudden in press coverage on the slot guy."
That sounds awesome, but would it actually work?
Yes and no.
It would work in the sense that Nnamdi absolutely could play the Charles Woodson role. He has more than enough talent, plenty of athleticism, and is one of the most highly regarded corners in the NFL.
Two issues could arise, though. Firstly, what happens when a team comes out with only two wide receivers? Does Nnamdi cover the tight end? Do they send one of the corners to the bench? If so, do they send DRC or Asante (because they sure as hell aren't sending Asomugha)? Does Nnamdi cover the tight end?
That's a lot of questions that need to be answered in that situation.
The other problem is the fact that Asomugha and DRC are both man-to-man cover corners, whereas Asante has always been known as a better zone defender.
I'm not saying he can't play man-to-man, I'm simply stating that DRC might be a better fit for that role because that's what he did in Arizona. Maybe Philadelphia is trying to switch to a more man-to-man style, and therefore are looking to deal Samuel to fill some gaping holes in their linebacking corps?
No one could say for sure.
Either way, Philadelphia should try their best to work it out with Asante. He is one of the best defensive players in the NFL and has tons of playoff experience.
On a team as ready to win right now as the Eagles are, it wouldn't make much sense for them to deal him. Unless, of course, they could get a star linebacker in return.
This article is
What is the duplicate article?
Why is this article offensive?
Where is this article plagiarized from?
Why is this article poorly edited?
Asante Samuel is a 30-year-old cornerback in the prime of his career.
He's a 4-time Pro Bowler, 2-time Super Bowl Champion, and has 17 interceptions combined in his last two seasons. Even with the signing of Carlos Rogers, the San Francisco 49ers would be crazy not to at least try attaining Samuel from the Philadelphia Eagles.
Before they acquired Rogers, this is what ESPN's John Clayton had to say about the 49ers:
The 49ers may have to look to Philly to acquire Asante Samuel in a trade. It's a thought.
Now obviously, there are two things that need to be said. First, this was just a "thought" by Clayton, not necessarily something that is being discussed in 49er-land. Second, this was before they signed Rogers.
Regardless, I can't help but imagine Asante coming into San Francisco and turning things around.
After they signed Nate Clements to that awful 8-year deal back in 2007, their defense was expected to improve significantly. Obviously, it has not. Even with Patrick Willis and Aubrayo Franklin becoming superstars, the Niner defense never really blossomed.
With Nate Clements being cut and Franklin getting snatched up by the New Orleans Saints, it is time for San Fran to try again.
Carlos Rogers is not going to be the savior for their defense. But teaming him with Asante? That could do the trick. With Willis manning the middle, and Rogers and Samuel shutting down the outside, San Francisco could make a huge leap forward defensively.
On offense, they clearly still have their problems. But Colin Kaepernick at quarterback should be a significant upgrade, and with Frank Gore and Michael Crabtree doing their thing, the Niners could steal the terrible NFC West.
This article is
What is the duplicate article?
Why is this article offensive?
Where is this article plagiarized from?
Why is this article poorly edited?
Asante Samuel was being considered by the New York Jets.
Once Nnamdi Asomugha turned down the Jets' offer and headed to Philadelphia, the Eagles suddenly had one too many starting cornerbacks.
The Jets, who are known for their attacking defense, needed someone to replace the gaping hole on the depth chart because of Antonio Cromartie's desire to test the Free Agency market.
Seems like a perfect fit, no?
ESPN analyst John Clayton certainly thought so:
The pressure is going to be on the Jets to get Antonio Cromartie or trade for Asante Samuel now that they lost Nnamdi to Phil[adelphia].
Asante is clearly upset with his situation in Philadelphia, and he made that known at Eagles training camp:
Meeting the media for the first time since arriving to training camp, he was asked if he has requested a trade. He responded with, "No comment."

That could be interpreted as a strong comment within itself.

"I want to be where I'm wanted," said Samuel. "If I'm not appreciated here, then life goes on.

"We had our talks. If they are tired of my big play-making ability, they'll ship me off. If they still want it, they'll keep me here."
But the New York Jets have recently resigned Cromartie to a four-year deal worth $32 million. Could they still be looking to deal for Asante Samuel?
Considering the New England Patriots' strong plays this offseason for guys like Albert Haynesworth and Chad Ochocinco, Jets coach Rex Ryan is probably dying to make a big splash to give his team the upper hand.
Asante Samuel would be that splash.
He would give the Jets three of the best corners in the AFC, and would give them the ability to cover the plethora of quality receivers New England has to offer.
The problem with this idea is two-fold.
Would Asante go from a questionable starting situation to another?
Who do the Jets trade?
The first question has no answer. Only Asante knows that. He's played in the AFC East before, and he would have no issues making the transition. I think that players like playing for Ryan, though, and it could be something that Samuel would be open to.
As for the second question, I think the answer is draft picks.
The Eagles look pretty set for this year. Uncertainty about the future is what coaches and fans should be worried about. Most of the players Philadelphia has locked up have been one-year deals.
Should Philadelphia fail, they could turn to the NFL Draft to replenish their stock.
This article is
What is the duplicate article?
Why is this article offensive?
Where is this article plagiarized from?
Why is this article poorly edited?

Philadelphia Eagles: Like this team?