Dallas Cowboys: Jason Garrett and Rob Ryan Are the Perfect Combination
August 3, 2011
Jim McIsaac/Getty Images
Dallas Cowboy fans are searching the roster to find a reason that the 'Boys won't repeat a six-win season. They hope to find an upgrade at a skill position, a new player to inspire hope, or anything that they can bring to the sports bar to convince their bar-mate that the Cowboys will win a playoff game this season.
Fans, don't look between the white lines, take a look at the sidelines.
In almost any line of work, the supervisor and the boss work best when they're two different personalities. And nothing is more different than the personalities of defensive coordinator Rob Ryan and head coach Jason Garrett.
The first week of training camp has already displayed the two in a different light.
The sense of accountability immediately went up last season when Garrett took over. Garrett is a student of many coaches who were all known for being tough on players. He has played under Jimmy Johnson and John Gruden and been coached under Nick Saban in Miami.
So it is no surprise that Garrett is setting a tone that Wade Phillips never did. Garrett has implemented an earlier curfew, a game-day dress code and an overall sense that he won't be pushed over like his predecessor was.
Garrett seems to be determined to instill discipline and toughness, which can only be good for a team that committed 224 penalties in the past two seasons—the most in the NFL.
Chris Chambers/Getty Images
"This is the time of year where you lay the foundation for the physical-ness of your football team," Garret told ESPNDallas. "And we'll do that."
The other notable name on the coaching staff is, of course, Rob Ryan. Although Ryan isn't a pushover by any means, he definitely brings another dimension to the coaching staff.
Ryan is like the "fun" parent that kids love—the parent that doesn't mind having fun as long as you're obeying the rules. If you continue to clean your room and do well in school, then you can go out and ride go-karts and eat ice cream on the weekend.
Ryan comes from a notable coaching family that never shies away from speaking their minds. His twin brother Rex is just as vocal and his father Buddy still has soundbites that circulate through NFL highlights to this very day.
Ryan has already sounded off once in this shortened offseason, as reported by NFL.com, eluding that the Philadelphia Eagles are the "all-hype team" and that the 'Boys are ready to beat their rears when the two teams play.
I cleaned the last sentence up for our younger readers.
Where hard-nosed coaches like Garrett might be criticized for being too old-school for their coaching mentality, it's brash statements like this that will only energize the young players of the team.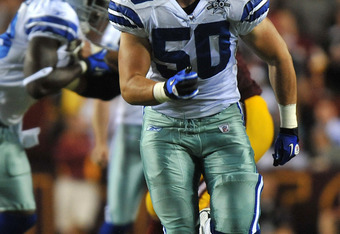 Larry French/Getty Images
"I love it. I love it. I love his comment," linebacker Sean Lee said. "Go ahead and say it, because guess what? That just makes us motivated to go out and prove it."
"He's our leader and he's out there saying what he says and I love it," Lee continued. "The big thing of our defense is that [people] might have thought we quit, but I think it was about our confidence. Guys had just played so well for so many years and were certainly not playing well and [lost] that confidence."
For a team that looked like they gave up on Wade Phillips and his staff last year, it's good to see that they're responding to the new regime.
The 'Boys aren't signing huge free agents or making Blockbuster trades. Instead, they're hoping that the talent that was on the 2009 roster is still there and can excel under a coaching staff that will stick to the fundamentals of old-school football combined with the talk and boasting of new-school players.