The WWE Championship: The 10 Greatest Champs from the WWWF to Today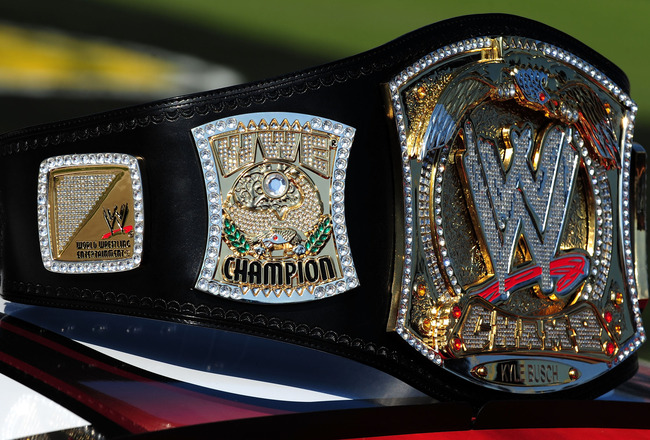 This has more Bling than in 1963...
Robert Laberge/Getty Images
Hello out there in Bleacher land!
It is so hard to define a 'great' champion. Some champions are flashes in the pan, some stay at the top for years.
Indeed, being champion is not necessarily the only definition of a great wrestler, as many of the greatest to grace the squared circle in the house of McMahon never wore the strap, including Roddy Piper, Jake Roberts and Jimmy Snuka.
But when we think of wrestlers and eras, we think of Champions and Championships.
It will be the goal of this article to rank the top 10 wrestlers to ever wear the strap. The list, I assure you, is controversial, but based mostly on data. For me, a mark of a champion is not just how many reigns, but how many years the belt was held and the average length of each reign.
Getting a championship is an accomplishment, keeping it is another. Another is how long were they champion in relation to their total wrestling career.
So when making my rankings, I set two criteria:
1. To be included in this list, the total number of days holding the strap must equal at least 365 days, or one year.
2. Ranking would be a combination of: 1. Number of title reigns (least weighted). 2. The average length of each title reign (medium weighted). 3. The Percent of the wrestler's career spent as champion (higher weighted). and length of total career (medium weighted).
3. This list is strictly for the WWE championship which was started out in April of 1963 (then the WWWF) and has morphed into the bling-encrusted belt we see today. The World Heavyweight Championship was not factored into this listing.
This is not an exact science, but I wanted a list based a bit more on numbers with intangibles, though important, minimized.
This is NOT meant to be a list based on influential characters or great wrestlers necessarily. Certainly, many of the top champions are also very influential and have left their mark, while others who would be considered very influential are far lower on the list or not on at all.
As mentioned in the beginning of the article, some of the greatest wrestlers were never WWE champion.
Enjoy the article, and I invite your feedback!
History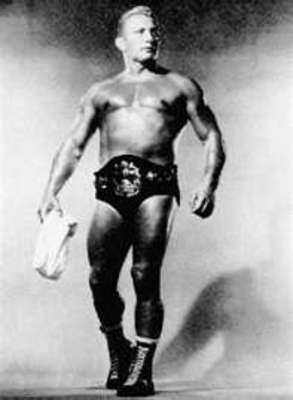 The original Nature Boy, Whoooo!
The WWE Championship dates back to April 29, 1963, when the WWWF left the hegemony of the NWA under the reigns of Vince McMahon Sr. In order to establish his new federation, McMahon needed a big name and at the time, Buddy Rogers, aka 'The Nature Boy' was the big name to do it.
At the time, Rogers was NWA champion and in order to justify him showing up as WWWF champion, a 'shadow tournament' held in Rio De Janiero was concocted which Rogers conveniently won. Rogers fell ill not long after and he dropped the strap to Living Legend, Bruno Sammartino.
The strap would be renamed after the now renamed (and shortened) WWF in 1979 and was similarly named till 2001 in the wake of the Monday Night Wars and Vince Jr.'s victory over WCW.
In December 2001, the WCW Heavyweight Championship was unified with the WWF championship to give the world the Undisputed WWF Championship. This name would stay till May 2002 when it (and the company) went from 'Federation' to 'Entertainment' and the WWE Undisputed Championship was born.
This lasted 'til September 2002 when the current WWE Championship was born, spinner plate and all.
10. Triple H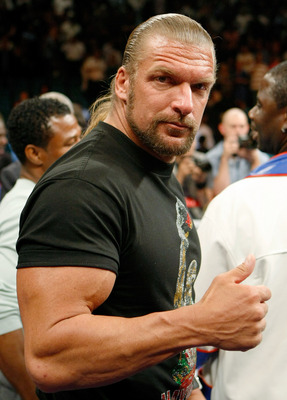 I should have been higher on this list, considering I'm married to the Boss' daughter
Ethan Miller/Getty Images
The Game, Triple H. The Cerebral Assasain. King of Kings. One of the most powerful, feared and charismatic wrestlers in decades, this former blue blood rounds off the list at No. 10.
HHH started his career as a character called Terra Ryzing in IWF and WCW before coming to the WWE as a Connecticut blue blood named Hunter Hearst Helmsley (get it, HHH?). He would go on to be alternate between clown prince (DX) and ruthless destroyer (Evolution), but he was always a force to be reckoned with in WWE.
With his trademark sledgehammer, metal soaked music and spew of water that looks like fire from a dragon with creative lighting, Triple H has wowed crowds, been loved and hated and inspired fear in the hearts of his opponents.
So why number 10?
Triple H's career has spanned some 16 years, and while he had quite a few title reigns (eight), on average he held the strap for, on average two months or so. Also, his combined time as WWE champion only accounts for about 9% of his total career.
Triple H may have been around for a long time and has been WWE Champ frequently, but he hadn't held the belt for very long on average.
9. Randy Orton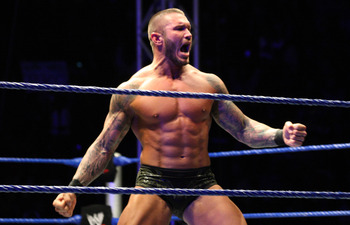 He looks like he realy does hear voices in his head...
Gallo Images/Getty Images
The Viper, Randy Orton is indeed an Apex Predator, even if he only ranks No. 9 on this list.
Randy Orton was born to wrestling as son of the irascible 'Cowboy' Bob Orton, frequent side kick to Rowdy Roddy Piper. Despite a long career in Wrestling, Bob Orton never quite achieved greatness in terms of gold in the WWE. His son, on the other hand, is another matter entirely.
Randy Orton was the 17th Triple Crown winner and has won both the WWE and Heavyweight Titles (six times for the WWE Championship).
As to why he ekes in at ninth, the reason is that while he won the belt 6 times, he only held it an average of 2 months and his time as champion accounted for only 13% of his time as a wrestler to date.
In 10 years from now, if the past is any indication, Orton will climb ever higher on this list should I ever get the chance to to write another one!
8. Bret Hart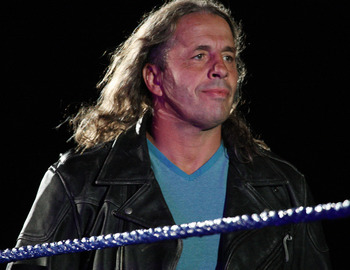 The Excellence of Execution!
Gallo Images/Getty Images
Bret Hart is an Icon in the business, and is known for his excellence in ring ability and the seriousness with which he takes his craft. Son of Wrestling Legend Stu Hart, Bret started out in Japanese Wrestling and then came to the WWE where he and his partner Jim Neidhart tore up the tag team division as the Hart Foundation.
When the Foundation split up, Bret went on his own to singles greatness with the IC and WWE championships, becoming the Second WWE Triple Crown Winner.
Following the infamous "Montreal ScrewJob", Hart left for WCW and would later return to WWE in 2009. The Best there is, the Best there was, and The Best there ever will be was one man who could wear pink and have to answer to no man about it.
Despite his accomplishments, Bret ranks only eighth. The reason is, that while Bret had a career spanning 13 years in the WWE (though far longer when we consider early work and work with WCW), he held the WWE Championship ony 1.8 years over 5 championship reigns, a respectable four-month average per reign. But this constituted only 13 percent of his full time with WWE.
7. Stone Cold Steve Austin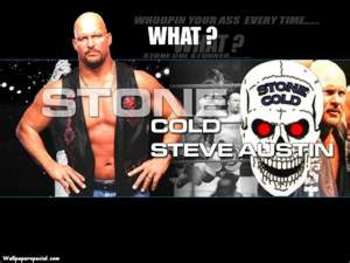 If you think I should be higher on this list, gimme a hell yeah!
The crash of glass. The guitar riffs. The beer. These are some of the trademarks of one of the greatest wrestlers to grace the squared circle and the man who almost singlehandedly saved a company, Stone Cold Steve Austin.
Stone Cold was not always synonymous with bad-ass. There was a time when he went under the moniker of 'Ringmaster.' From those lame beginnings came the Texas Rattlesnake.
Austin's nihilism, 3:16 catchphrase and feud with Brian Pillman among other things almost led the charge to bring a WWE on its knees to being the victor in the Monday Night wars. He is considered one of the greatest superstar to wrestle in the WWE and for good reason.
So why only No. 7?
Well, Stone Cold held the strap for a total of six reigns, impressive. But each reign lasted an average of two and a half months and considering how long he was with WWE, nine years on the active roster, his time as champ comprised a total of nearly 16 percent of his time on the roster.
Not to worry. Stone Cold will always be No. 1 in the hearts of his fans.
6. Randy Savage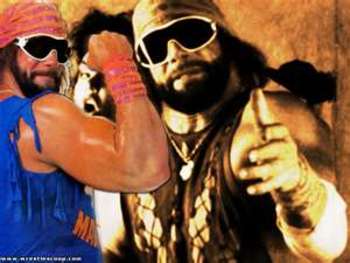 Shoulda been higher...Yeah, Dig It!!
One of the most charismatic, entertaining and revolutionary superstars, Randy 'Macho Man' Savage paved the way for high rollers and big talkers to come. He was the Macho Man, Macho King, IC champ and WWE Champ.
Wrestling was all in the family for Randy Savage. His father, Angelo Poffo was a wrestling champion and his brother was another WWE superstar, 'Leaping' Lanny Poffo. He was every bit as popular as Hulk Hogan and goes down as cutting some of the most outlandish and entertaining promos in the history of the sport.
Sadly, Randy Savage left this world recently as the result of a heart attack while driving. He will be forever missed and loved by his fans across the generations.
So why is this innovator sixth?
Randy Savage placed above the likes of Triple H, Stone Cold and Randy Orton, because though he did not have many title reigns, only two, those reigns were quite lengthy.
Savage held the belt for almost a year and a half making his average title reign 3/4 of a year (in reality, on of his title reigns lasted a little over a year at 371 days).
As well, he held the belt for nearly 16 percent of his career. This is similar to Austin, but Randy edges the Texas Rattlesnake because his reigns, though fewer, lasted much longer.
5. Pedro Morales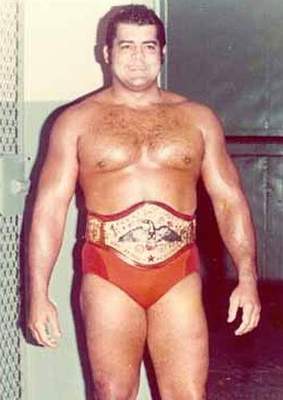 My name...is Pedro Morales! But you already knew that!
Rounding out our Top 5 is Pedro Morales. This son of Puerto Rico has a career spanning 17 years, 10 of which were spent either in the WWWF or WWE.
He was the very first Triple Crown winner and he avenged fellow fan favorite Bruno Sammartino by Begining his one title reign by pinning Ivan Koloff, the man who pinned Sammartino for the title.
Those who have read this far might be wondering why a champion with only one title reign is on this list if not for his popularity. Indeed, of the 10 champions on here, Pedro has the fewest reigns, with only one. But this one reign lasted almost three years!
Further, this constituted about 28 percent of his time as a wrestler spent as the champion. This, and his many other accomplishments, cement him on this list and in the No. 5 seat.
4. John Cena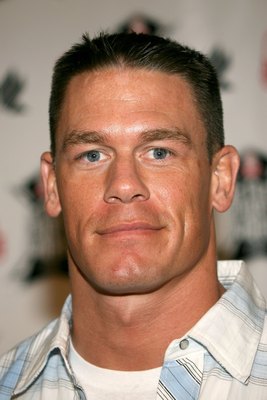 A chin so square you can use it as a level...
Frederick M. Brown/Getty Images
Okay, let the howling begin...
Remember folks, this is not meant to be a popularity or skill contest, it is an analysis of numbers, and the numbers speak for themselves.
John Cena, who started out as the master of Thuganomics and would go on to be the superhero to children everywhere (here's to you, little Jimmy!) has had a whopping 9 title reigns in his nine-year career, which is enough to earn him a spot on this list and is the most number of reigns of any Superstar on this list.
What makes him No. 4, is that over those nine years, he has held the title for almost 3 years! At nine title reigns, that's an average title reign of 4 months, though his earlier title reigns were longer. John has spent a whopping 32 percent (one day out of three) of his career as WWE champion.
Love him or hate him, John Cena has left an indelible mark on the WWE title, and his career isn't over yet!
3. Hulk Hogan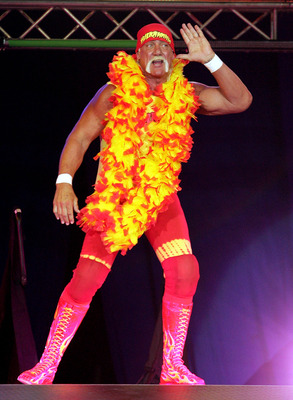 Can you speak up there sonny, I can't hear so well at my age!
Paul Kane/Getty Images
The Immortal Hulk Hogan!
I don't mid revealing to the the Bleacherverse that I was and still am a huge Hulk Hogan fan. He was the original real life super hero and American Icon and regardless of how one feels about the Hulkster, Hulk Hogan is the man responsible for bringing wrestling into the mainstream.
All the wrestlers that have enjoyed broad spectrum success such as The Rock, Stone Cold and John Cena owe a debt of gratitude to this man for paving the way for using wrestling as an entrez-vous to mainstream success.
As to why he ranks in at No. 3, his number of reigns is about average at six. But he held the title a total of nearly six years of his 14-year career, which meant that each title reign lasted an average of nearly a whole year (again, early reigns were in reality much longer) and he was champion 42 percent of the time, that's almost half his career!
Recent years have made Hulk Hogan as much a controversial figure as a beloved one, but one can't deny his place in wrestling history and his place in on this list. Of greater surprise is our next wrestler coming in at No. 2...
2. Bob Backlund
Why is Howdy Doody on this list?
Bob Backlund?
For years, he was known as the guy who lost to the Iron Sheik to allow Hulk Hogan to win the strap for the first time...and later on get crushed by Diesel in like eight seconds.
But Bob Backlund is No. 2 on this list for good reason.
Even before lacing up for Vince Sr., Backlund had great success as an amateur wrestler, where winners and losers are not chosen ahead of time (oops, there goes Kayfabe). He has a career spanning 30 years and multiple wrestling promotions as well as a career in acting and politics.
Backlund's berth near the very top of the heap stems from his two title reigns....not a large number, but when you consider that he held the belt for nearly six years out of the 12 spent in WWE and you get an average title reign of three years!
This also means he has spent a hefty 49 percent of his time at WWE as champion. Before there was Hulk Hogan, this ginger-haired grappler held the reigns of the championship from 1977-1983.
So why is he unknown?
Bob was buried under the avalanche that was Hulk Hogan, and the two are a study in contrasts. Backlund was about 195 pounds packed on a sensible frame, a masterful ring technician and decorated collegiate athlete. He was soft spoken and let his ring skills do the talking.
Hogan was a behemoth of a man, Six and a half feet tall, 300 pounds of mostly muscle, stiff like Frankenstein and loud as a his outfit.
Though wrestling fans will differ as to who they prefer, one man whose opinion mattered most was VKM, aka Vincent Kennedy McMahon Jr. He took over control of the then WWF from his father, Vince Sr. and wanted to take wrestling in a new and glitzy direction.
Bigger was better and few were bigger than Hogan. Hogan would go on to revolutionize wrestling and make it mainstream, leaving Bob Backlund to be the unsung but great holder of the WWE Championship.
Bob Backlund was great, but in the end, there can be only one...
1. Bruno Sammartino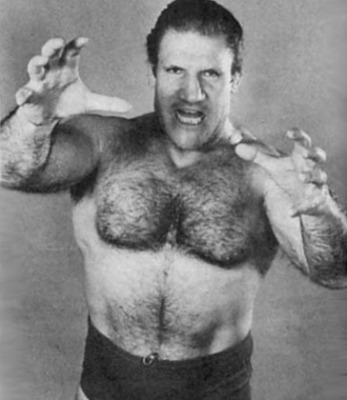 I body slammed Haystacks Calhoun...I'M a spicy meatball baby!
The Living Legend, Bruno Sammartino, is the Greatest WWE Champion of all time.
By a mile.
I confess, I am glad that Bruno turned out No. 1, in part because he deserves it and in part because of my own personal connection to this son of Italy.
Bruno Sammartino was born in Pizeferato, Italy, a stone's throw away from where my ancestors are from. Like my relatives, the Sammartino family faced tremendous hardship and danger during World War II as the Nazis had taken over that area of Italy and raped the countryside and cupboards dry of food.
His mother had to steal food to keep them alive and was once shot in the shoulder while trying to stave off starvation. Bruno came down with rheumatic fever but his mother nursed him back to health.
Bruno came to the America with his Mother in 1950 to meet up with his father who had been already living in the states. He was sickly at first, but eventually built his body into a muscular power house. Sammartino set a Bench Press record of 565 pounds in 1960.
After time in local promotions in Pittsburgh, Bruno came to wrestle for Vince Sr. and played the role of the ethnic strongman and champion. Bruno is also known to be a devoted family man and according to wrestlers like George "The Animal" Steel, very concerned for the welfare and pay of his fellow wrestlers.
So, Bruno is a great guy with a great story, why is he No. 1?
Bruno is No. 1 because of one statistic...his average reign length was 5 and a half years! Bruno had only two WWE reigns but he was champion for a total of 11 years! His WWE career stretched for a whopping 29 years and Bruno spent 38% of this as WWE Champion.
While 38% is not as high as Bob Backlund with 49% spent as champ, he almost doubles Backlund's average reign length and Bruno was champion for almost twice as long as Backlund.
Honorable Mentions and Conclusion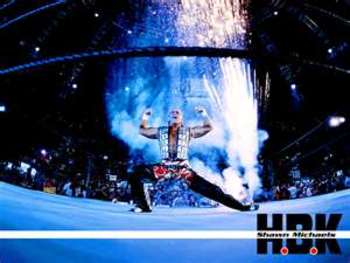 Just missed the cut!
Well folks, there you have it, the top 10 WWE Champions of all time.
Before you go, here are a few greats who deserve an Honorable Mention:
In no particular order...
HBK, Shawn Michaels
Shawn had 3 title reigns for a total of a little over a year or average reign of 4 months per. This only being 4% of his time in WWE knocked him out of a spot on this list...not that he needs a spot to be one of the all time greats ever!
Superstar Billy Graham, Ultimate Warrior and Yokozuna
The man with the boa, the man with the tassels on his underarms and the man with a diaper had one thing in common - each had one title reign but it lasted nearly 300 days, almost a year. This and the low percentage of time in their career spent champion kept them out the list but gets them an HM nod.
The beautiful thing is that this list is an ever-changing one. Wrestlers like Randy Orton and John Cena are still wrestling and their spots are not etched in stone. I sincerely hope you enjoyed the list and I welcome all your feed back and questions.
Keep Reading