Barcelona Transfers: 4 Biggest Stories of the Week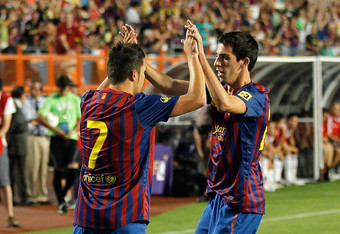 Mike Ehrmann/Getty Images
Barcelona continues to chase after their most missed youth player while the rest of their dealings look to be those of selling rather than buying.
The arrival of Alexis Sanchez marks what could be the first and only major signing if the Blaugrana fail to be able to raise the funds to make their much wanted deal with Arsenal. Youngster Kiko also has already joined the club from Hercules, but will feature for Barcelona B.
Multiple targets have already left the club as once believed future Camp Nou star Bojan Krkic already joined Roma. He moved with hopes of getting more first team action as his time was limited with Lionel Messi, Pedro Rodriguez and David Villa holding down the front line for the Catalan giants.
The Spanish club are nearing the completion of their North American tour as the face Club America Saturday at 16:00 EST. It is their second straight match against a top class Mexican club after Chivas Guadalajara upset the Spanish champions 4-1 on Wednesday.
You can follow me on Twitter @thedailyatz and Facebook or visit my WebSite
Tom Dulat/Getty Images
As the transfer window winds down, Arsenal's Cesc Fabregas win continue to wonder if he will finally get his move this summer. The last two years have seen the Spanish club try and reclaim their once youth player.
The most recent news surrounding the player draws some attention as Fabregas did not travel with the Gunners as they have headed out to Portugal for their final friendly of preseason against Benfica.
It is uncertain what this means for the player or for manager Arsene Wenger. When asked in his press conference yesterday about what it meant for the future of Fabregas at the London Club, this is what was replied by the French manager on the clubs official website:
"I do not want to speak about the transfer of Fabregas because I have done that three years now in every press conference so I don't think there is any more need to add something."

"I love Fabregas and I want him to stay, that is basically it."

"Everybody is free to think what they want. We cannot stop people raising questions."

"He is just coming back from injury and is not ready to play in a game. But he is not injured."
The latest bid for the player is believed to have been turned down according to ESPNsoccernet.com, and as the final weeks start coming to a close the pressure is on for Fabregas to be back in Spain within the next several days.
This article is
What is the duplicate article?
Why is this article offensive?
Where is this article plagiarized from?
Why is this article poorly edited?
Michael Steele/Getty Images
Former Barcelona attacker Jeffren Suarez has officially sealed his move to Portugal this week with him already having joined Sporting Lisbon in training.
Three seasons on Barcelona B, and then another five with the first team have seen him only grab 35 appearances in that time and having only scored three goals.
Liverpool FC, Bolton Wanderers and Udinese have all been possible destinations for the player, but he seems happy with his move to Spain's fellow Iberian cousin's League with Sporting Lisbon.
In the end the offers from the English clubs were not quite high enough as Bolton failed with a 5 million bid, and his possibly move to Udinese as a makeweight for Alexis Sanchez was rejected with Barcelona offering him the chance to move where he wanted.
The players most recent comments to the Associated Press were reported in one of Wednesday's sports pagers:
"It is almost all right,"

"I go with high hopes. Sporting is a great club where I can play with the regularity that does not happen in Barcelona and also where I can fight for titles."

"I will chase these targets, not only in Portugal but I think in the Europa League we can also have good results.''
With that said it will interesting to see just how good he possible is when facing the competition in a completely different context.
This article is
What is the duplicate article?
Why is this article offensive?
Where is this article plagiarized from?
Why is this article poorly edited?
Denis Doyle/Getty Images
Barcelona B squad midfielder Oriol Romeu is the latest member of the Nou Camp to move to England as the 19-year old player will move to London after agree to terms on a four-year contract. His starting fee is 5 million, but his contract has additional options that Barcelona may exercise in time.
The additional terms are primarily a €10 million buy back clause after the first season, and then will raise to €15 million after the second season. He has been compared to Sergio Busquets as the next defensive midfielder in the Barca system.
This inclusion suggests that the Blaugrana still value the player more than could be believed, and had the club not been in the middle of trying to raise the money for the purchase of Cesc Fabregas currently, the player might have only moved on loan.
Experience is was the Nou Camp club need their younger players to receive, but right now they are in the hunt for cash more than anything as they attempt to reduce their debt, and purchase another midfield.
Youngster Romeu however, like another former Barca midfielder, has dreams of one day returning home to Catalonia.
This article is
What is the duplicate article?
Why is this article offensive?
Where is this article plagiarized from?
Why is this article poorly edited?
Manuel Queimadelos Alonso/Getty Images
Argentine defender Gabriel Milito joined Barcelona in 2007 from Real Zaragoza, but since that time a series of chronic injuries have limited him to only 75 first team appearances for the club as Gerard Pique rose to prominence as Carlos Puyol's primary partner at the back.
After four seasons at the Nou Camp, he has made his return to Argentina after Barca allowed him to leave a season before his contract was due to expire.
The player had been linked to several others club with both AS Roma and Bayern Munich supposedly having looked into the player as well.
His return to Argentina will see him rejoin Independiente where he started his career. The move appears to be one of great enthusiasm for the player as he made the following comments as quoted by Goal.com:
"I had a great desire to return to my country and home, and I felt the need to go back to Independiente. We were able to meet and talk about that possibility, and thank God it went through," the Argentina international told reporters.

"It is a very special day, I always dreamed of returning and enjoying this moment. It is a dream come true, and I hope this new spell will be as good as the first."
his move will most likely see youngsters such as Marc Muniesa have a few first team appearances in the coming seasons.
This article is
What is the duplicate article?
Why is this article offensive?
Where is this article plagiarized from?
Why is this article poorly edited?

FC Barcelona: Like this team?