Revisiting Jay Cutler to the Bears: Who Really Came out on Top?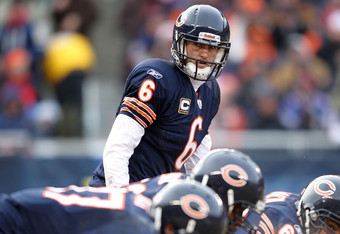 Andy Lyons/Getty Images
During the 2009 offseason, the Chicago Bears made a blockbuster trade that brought Jay Cutler and a fifth-round pick to Chicago in return for Kyle Orton, two first-round picks, and a third-rounder.
Now that we have had some time for the draft picks to make their impact and both starting quarterbacks to get acclimated to their systems, let's see how each team made out and who really came out on top.
Denver Broncos (Kyle Orton, 1st-round picks in 2009 and 2010, 3rd-round pick in 2009)
Kyle Orton was originally expected to be a stop-gap until the Broncos were able to pick up another top quarterback.
That formula has panned out as expected, as the Broncos picked up Tim Tebow in the 2010 NFL Draft, but Kyle Orton has played better than expected despite a losing record as quarterback of the Broncos.
In 28 starts over two seasons, Orton has thrown for 7,455 yards and 41 touchdowns with 21 interceptions. Despite being shopped around quickly after the lockout ended, Orton is still taking snaps with the first team in Broncos camp.
Who came out on top of the Cutler-Orton trade?
But to correctly analyze this trade for the Broncos, you have to look at the draft picks and who they became.
With their 2009 first round pick, they took Robert Ayers, who has recorded just 1.5 sacks in two seasons with the Broncos.
They traded the third round pick that they got from Chicago along with their own third rounder to pick up second and fourth round picks from the Pittsburgh Steelers. With those picks, they picked Richard Quinn and Seth Olsen.
Quinn, a tight end, has just one catch for nine yards in his two seasons with the Broncos. Olsen never played a snap for the Broncos and was subsequently released during final cuts before the 2010 season. He is now on the Minnesota Vikings practice squad.
Now the 2010 NFL Draft is where it get's confusing. I'll spare you all the series of trades that lead to this, but the Broncos turned Chicago's first round pick (11th overall) into three players: Demaryius Thomas, Tim Tebow, and Eric Decker.
Thomas was the first player selected with the 22nd overall pick. In his rookie season, Thomas started two games, played in 10, and had 22 catches for 283 yards and two touchdowns. Thomas' season ended early, however, as an ankle injury put him on the sidelines.
Tebow is possibly the cornerstone quarterback that the Broncos were looking for, but it is still unknown whether his style will translate well to the NFL.
Justin Edmonds/Getty Images
In his rookie season, Tebow completed 41 of 82 passes for 654 yards and five touchdowns with three interceptions, but he is not a pass-only quarterback. He also ran the ball 43 times for 227 yards and six touchdowns.
Eric Decker is a wide receiver full of potential. Although he had a limited role in 2010, he caught just six passes for 106 yards and a touchdown. He is expected to be a more integral part of the offense in 2011 along with Thomas.
Overall, there were a lot of duds from the draft picks that Denver got from Chicago, but they were able to find a few starters amongst the misses and will use some of these players to help their team grow in the future.
Chicago Bears (Jay Cutler, 5th-round pick)
The Bears section is going to be a lot shorter and simpler, as they received just two players in the trade compared to the seven that Denver turned their picks into.
Jay Cutler has brought stability to the quarterback position, something that the Bears haven't had in decades.
After a rocky start in 2009, Cutler picked up the pieces in 2010 and was able to play well despite playing behind the worst offensive line in the NFL.
Doug Pensinger/Getty Images
Despite the fact that he had no protection and a sub-par receiving core, Cutler put up decent numbers in 2010, throwing for 3,274 yards and 26 touchdowns with 16 interceptions.
Although those weren't great numbers, they were good enough to give the Bears the NFC North crown and a first round bye in the playoffs. The Bears were then able to take their momentum and beat Seattle in the second round to make it to the NFC Championship game, where they were defeated by their NFC North rivals, the Green Bay Packers.
The interesting piece to this trade, however, has been the fifth-round pick, which the Bears turned into Johnny Knox. Knox is the only player out of this trade to have made the Pro Bowl in the past two seasons.
Knox made the Pro Bowl in his rookie season, following the steps of fellow outstanding return man Devin Hester.
Knox has been an impact player for the Bears since his first catch (a 68-yard reception against the Packers).
In 2010, Knox made the step up to be the top receiver for the Bears, leading them in yards receiving with 960 and tying for the lead in catches and touchdowns with 51 and five, respectively.
After years of searching, Knox may have become the first legitimate top receiver since Mushin Muhammad in 2006, which was also the last time the Bears made the Super Bowl.
Knox has the speed and route running skills to thrive in Mike Martz's offense, and with the addition of Roy Williams this offseason, he will have somebody else that defenses will have to look at other than him, which could lend itself to a breakout season.
And the winner is...
Although the Denver Broncos got a lot of pieces from the trade, they had a lot of duds. The Bears have turned their two pieces from the trade into Pro Bowlers, and no one that the Broncos have acquired have shown that they are close to that level.
Therefore, I am giving the Bears the edge in this trade due to mismanagement and bad draft picks from the Broncos.
I'm Joe W.
This article is
What is the duplicate article?
Why is this article offensive?
Where is this article plagiarized from?
Why is this article poorly edited?

Chicago Bears: Like this team?