Osi Umenyiora Trade Rumors: Should the Jets Trade for Osi Umenyiora?
August 3, 2011
Chris McGrath/Getty Images
Osi Umenyiora burst onto the scene early in his career as the understudy of future Hall of Famer Michael Strahan, making a name for himself in the New York Giants Super Bowl-winning season.
Umenyiora lived in the shadow of Strahan in his early years, but has developed into one of the league's best pass rushers on a dominant Giants defensive line.
Umenyiora is a two-time Pro Bowler who holds a franchise record for most sacks in a game with the Giants with six in October of 2010 and set a record for most forced fumbles in a season with 10. The defensive end has had a lot of success playing with Big Blue, but the relationship between Osi and the Giants has had its ups and downs throughout the course of his career.
Umenyiora was previously unhappy with his defensive coordinator and has now asked for a trade before the start of the 2011 season. It is not the first time he has gone public about his frustration with his employers, but this time it is looking more and more likely that he will leave the Giants.
The Giants have told the defensive end to find a suitor that will give something in return for the former Troy standout. There are many teams interested in acquiring the services of Osi, but you have to believe that Rex Ryan wants to add him to his swarming defense.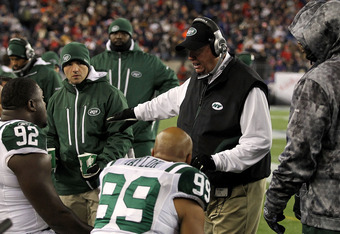 Chris Chambers/Getty Images
While trading for Umenyiora might cost a lot, probably a first round pick, he is an established pass rusher who can cause havoc and put the ball on the floor. His ability to get after the quarterback with blazing his speed, incredible agility, and great strength will be an asset to any team that wants to improve their pass defense.
The Jets could absolutely use him with two rookies on the defensive line and a host of good rush defenders, but ineffective pass rushers anchoring the defense's front line. Umenyiora would finally provide Gang Green with a legitimate sack master which is something the team has lacked the past few years. He is the missing piece to the Jets vaunted defense.
The addition of Osi would allow Rex Ryan to blitz less linebackers and members of the secondary and let the defensive line do their job. Not only would Darrelle Revis and Antonio Cromartie benefit from not having to maintain single coverage on elusive receivers, but Rex could draw up some creative blitzes with the addition of a guy like Osi.
A trade would definitely help the team on the field but you have to wonder what effect Umenyiora has on a locker room. That said; if he was to play for any coach, Rex would be the perfect fit. His defensive mentality and relationship with his players will finally make things fun for the Giants defensive end who has played under the strict Tom Coughlin for years.
Of course there are always pros and cons to any move. A trade would likely cost the Jets a high draft pick and present GM Mike Tannenbaum with a difficult situation in dealing with fitting Umenyiora under the salary cap.
It sure would be a bold move if Osi wanted to get traded to the Giants in town rivals. A trade would fill the Jets need on the defensive line and make Rex's defense that much better.  
There haven't been any rumors between the Jets and Osi, but you just never know whether or not the Jets can sneak in there and complete a trade with the Giants.