Nnamdi Asomugha: The Eagles Now Have the NFL's Biggest Anti-Fantasy Player
August 3, 2011
Ezra Shaw/Getty Images
Nnamdi Asomugha has arguably been the biggest free agency signing this off-season.  The New York Jets appeared to be leading the pack of teams bidding for the All-Pro Cornerback's services, when the Philadelphia Eagles swooped in and signed Nnamdi to a five-year, $60 million contract.
Thanks in large part to Asomugha, the Oakland Raiders allowed the fewest receptions per game and the third fewest passing yards per game last year.
Nevertheless, the Raiders finished with a mediocre 8-8 record. After eight  straight years without making it to the playoffs, Nnamdi must be ecstatic to join a Super Bowl contender.
Considering that the Eagles had just traded Quarterback Kevin Kolb to the Arizona Cardinals for Cornerback Dominique Rogers-Cromartie and that they already have All-Pro Asante Samuel on the roster, this was a surprising move.
With three star cornerbacks on the roster, it will be interesting to see Philly's next move.  Still, even if Asante Samuel is traded before the season begins, the Eagles will pose one of the most potent pass-defenses.
Fantasy Impact
Since Asomugha's career year in 2006 where he had 48 tackles, 8 interceptions, 2 return touchdowns, and 19 pass deflections, teams have stopped throwing his way. 
Over the past four years, he has averaged just 27 tackles, 0.75 interceptions, and 6 pass deflections per year. 
These lack of stats are a result of Quarterbacks avoid passing to the wide receiver that is being covered by Asomugha, making him one of the most valuable players in reality. 
But shutting down the best player on the opposing team does not count in fantasy football, relegating him to the waiver wire over the past few years.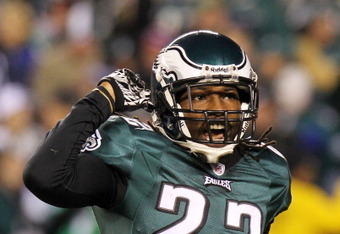 Nick Laham/Getty Images
Joining a much better defense should result in more passes thrown his way giving him the opportunity to deflect and intercept passes, but the more significant effect will be seen on the other side of the ball. 
Wide Receivers will have a tough time making plays when playing the Eagles with Rodgers-Cromartie or Asante Samuel on one sideline and Nnamdi Asomugha on the other. 
Fortunately, no team has to play Philly more than twice in the regular season, but it should still affect your WR pre-draft rankings.
Out of the divisional teams (each of them play Philly twice), Dallas Cowboys wide receivers Dez Bryant and Miles Austin are most affected. After first meeting the Eagles in Week 8, they will face them again in the critical Week 16. 
Depending the league format, Week 16 represents either the fantasy semi-finals or the fantasy finals.  If you owned either Cowboy receiver, they will likely have a quiet week 16.
We are not recommending to avoid the talented Dez Bryant and dependable Miles Austin just because they face the All-Pro Eagle cornerbacks in the fantasy playoffs.  But a drop in pre-draft rankings is recommended for the Eagles' divisional rival deep threats, which include the following: