UFC 133 Fight Card Preview: Tito Ortiz and 4 More Big Stories to Watch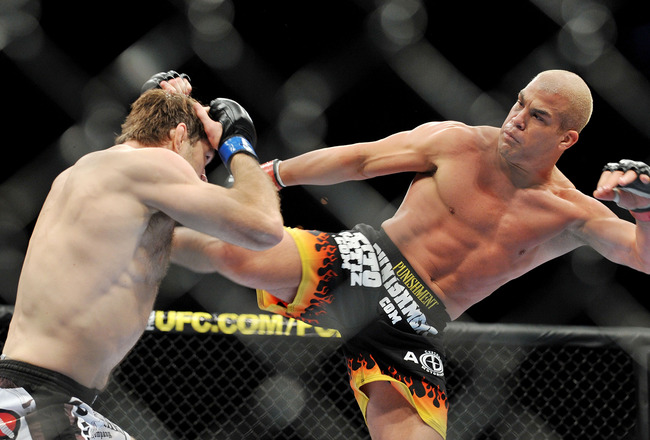 Jon Kopaloff/Getty Images
Despite UFC 133 having to substitute a few fighters due to injuries, the fight card as a whole looks to be a pretty solid slate of fights—headlined by the surging Tito Ortiz.
Once Saturday night rolls around, these 10 storylines are sure to be settled. None is bigger than the main event of Rashad Evans vs. Ortiz. The trash talking has gone back and forth in the moments leading up to the fight, creating even more buzz for the main event.
If you are having trouble getting into the fights on the card of UFC 133, Ortiz and these four other storylines should help you get a little more hyped for the fights.
5. Is It Worth the Pay-Per-View Purchase?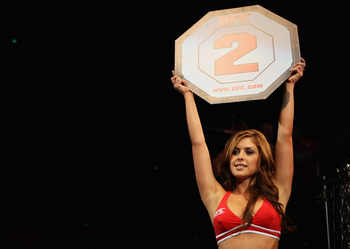 Mark Kolbe/Getty Images
To put it simply, no.
But that doesn't mean you and your friends shouldn't go out and watch this fight somewhere—or split the $60 cost up among yourselves.
I feel strongly that the Ortiz and Evans fight will be worth the hype, but the rest of the card is filled with average at best fights. But this is the UFC, and fans know fights featuring lesser-known fighters sometimes turn out to be the best fights of all.
This is not the best fight card Dana White has ever put together—but if nothing else, the stage girls will be out and shining come Saturday night in Philadelphia. Add that to the reasons to watch.
4. Which Veteran Will Prevail?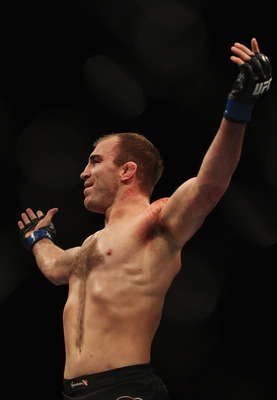 Mark Kolbe/Getty Images
If you like to watch seasoned veteran fighters take to the octagon, look no further than Brian Ebersole and Dennis Hallman, who have a combined 150 professional fights under their belts.
In a fight that will pit two seasoned vets against one another, I'll take a leap of faith in the one that has more fights to his name—Hallman wins this one. He submitted Matt Hughes twice.
3. Will It Be the Last Fight for Jorge Rivera?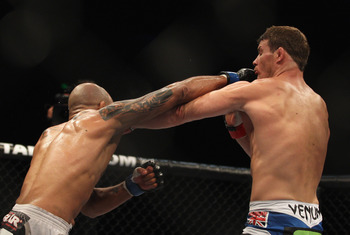 Mark Kolbe/Getty Images
Jorge Rivera has hinted that he may retire after his fight Saturday night with Alessio Sakara. At 39 years of age, who could blame him?
Both Rivera and Sakara like the stand-up game. This could easily be one of the more entertaining fights of the night, as we will see some serious punches thrown.
2. Will Yoshihiro Akiyama Win or Go Home?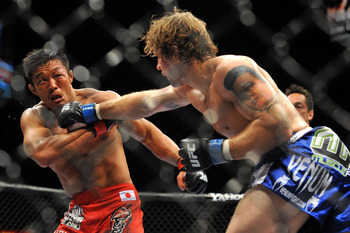 Jon Kopaloff/Getty Images
Yoshihiro Akiyama has lost his last three bouts in the octagon. If he drops another one Saturday night, he could be looking for a new employer.
It might be a must-win fight for Akiyama, but it will be far from easy, as he will be taking on Vitor Belfort—who has only lost one fight since 2007.
If Belfort can reign superior, he could be next-in-line for a title shot.
1. Can Tito Ortiz Shock the UFC?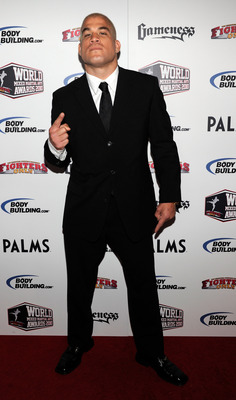 Ethan Miller/Getty Images
It might not come as a complete shock to some UFC fans if Ortiz beat Evans. But make no mistake—it would be an upset.
It wasn't long ago when it appeared Ortiz's days as a UFC fighter were all but done. Fast forward to UFC 132, when Ortiz took the UFC by surprise with his first-round submission of the favored Ryan Bader, and here we are.
If we're going off of history, Ortiz should feel really good heading into Saturday night. Ortiz lost to Evans back in 2007, though he was deducted a point that could have been the difference in him winning and losing the bout.
Evans hasen't fought in over 14 months, whereas Ortiz is coming off a commanding win a month ago.
If Ortiz wants to win, he should capitalize in the early minutes of the fight when Evans will likely be battling off some early cage rust.
Keep Reading