NHL: An Angry Letter and Apology by a Nassau Resident Who Is a Rangers Fan
August 2, 2011
Andy Marlin/Getty Images
Dear Nassau County Residents,
I am 19 years old. I was born and raised on the south shore of Long Island. I am proud to be a Long Islander, sometimes to the point of arrogance. When I am out of state and people ask me where I am from, I respond Long Island as often as I can.
I hope Long Island is one day called the 51st state (only as a joke, taxes are high enough). There is no place in the United States that I would rather live than Long Island.
I am proud to be a resident of Nassau County. I love calling the Suffolk folks the farmers and not real Long Islanders (just kidding, we secretly love you guys).
I was born a Rangers fan. I have bled blue from the time I was born, but I grew up in Nassau Coliseum. I live ten minutes from Nassau Coliseum and I would go to more Islander games than Ranger games every year. I have seen the Lightning (the year they won the Cup), Bruins, Rangers, Devils, Thrashers (RIP), Canucks (this year), Sabres, Maple Leafs, Canadiens, and others at Nassau Coliseum.
I never contemplated leaving Nassau County. I planned on raising my children in Nassau County and dying in Nassau County. That changed last night, when I saw the referendum for the new Coliseum did not pass.
Why would I stay? I go to college in the Bronx, I work in Manhattan and anticipate working in Manhattan after graduation and as of now, after 2015, I need to go to New Jersey or one of the five boroughs in order to satisfy my professional sport needs. Why would I put myself through a one hour commute each way everyday for work or for entertainment?
It took my family two hours to get to the Mets game last night due to flooding (it usually takes one hour at most) and it took me two hours to get to work this morning thanks to problems with the Long Island Rail Road, which by the way is one of the worst in the country. Nassau County has some of the highest property taxes in the country. Why would I come back?
The youth are moving out of Nassau County in record numbers. The future of the county realizes that Nassau County is too expensive for us. Adding another $58 per year for entertainment isn't that bad.
The ticket prices for Nassau Coliseum are too high. For a team that has not won a playoff series since 1993, there is no reason why I should be paying $40 to sit in the lower part of the upper deck to see a non-playoff team. Get used to it Nassau County, because you are going to be paying more for products pretty soon.
The one thing I can't get past in this whole thing is what the County is going to do if the Islanders actually leave. The Islanders bring revenue into Nassau County, Charles Wang is the one taking the loss. So you don't care about the Islanders but you love to go to the beach? Well, soon enough the fee for parking at the beach may go up due to the Islanders leaving. What about golf? The prices at Eisenhower Park are already high, just wait. The lost revenue has to be made up somehow, remember?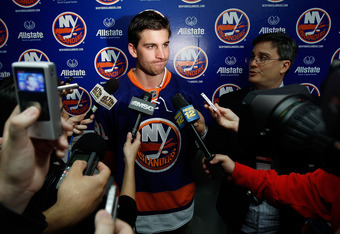 Mike Stobe/Getty Images
I was shocked, disappointed, angered at last night's outcome. I admit it, I lost sleep over it, that's how much it hurt. How could Nassau residents be so short-sighted?
Charles Wang is not to blame for this. Mr. Wang should be heralded as a hero. He had an idea to better the future of Long Island when he bought the team and he put up with the crap from opposing politicians as they rejected his Lighthouse Proposal. He finally got over the politics of the issue and got a referendum for a scaled-down version of the Lighthouse Project.
We let him down. I want to say to you, Mr. Wang, I am sorry. I am to blame for the referendum not passing yesterday. I didn't do my part in getting more people to vote yes for this proposal. I took it for granted that this would pass and I was wrong. Everyone who voted yes could have done more, we are to blame.
Take your team and move them, Mr. Wang. You did all you can do for the people of Nassau County and we rejected you. You can see the future and we can't. You deserve to take your team where ever you like and try to make a profit off of them. You've already done enough and given us every chance to help you, we turned you down.
I used to love the "Kansas City" chants when Rangers fans would invade Nassau Coliseum. I loved it because it was all in good fun…because it was a joke…because it was never supposed to happen. Now it is a real possibility and I don't like it. I can't imagine the NHL without the Islanders. I love the Rangers-Islanders rivalry and it is a good thing for hockey.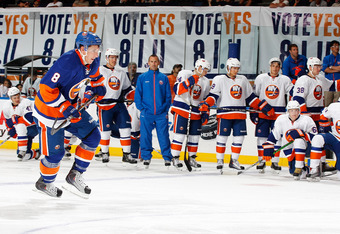 Mike Stobe/Getty Images
To the die-hard Islander fans, I offer my deepest sympathies. I can't imagine what this must feel like. I just hope that they can find a way to solve this to keep the team here. Don't give up hope, keep fighting.
I guess  the people of Nassau County took Stephen Colbert's mantra of "building a better tomorrow, tomorrow" too literally because we are depriving the next generation. My generation and the generation after will suffer. If the Islanders leave, they will never come back—this is it.
I don't care whether you can name all of the Islanders or none of them. I don't care whether you're a Rangers, Islanders, Devils or anybody else fan. I don't care if you like hockey or not. The Islanders are important to Nassau County. We lost them as of now, and that's our own fault.
We're all Islanders.
Sincerely,
Robert Demmett
A Rangers fan and disgruntled Nassau County Resident