NFL Free Agency: Grading the St. Louis Rams' Major Offseason Acquisitions
August 2, 2011
Jamie Squire/Getty Images
The St. Louis Rams went from being one of the worst teams in football over the past few years to slowly, but surely, taking over their division.
Building well through the draft, the Rams have taken advantage of free agency to further improve their team and make a strong push for a division championship and playoff spot. Let's take a look at some key free-agency acquisitions and losses that will affect the Rams.
The Big Pickup: Quintin Mikell
The average NFL fan really doesn't know who the top safeties are outside of the big two, Troy Polamalu and Ed Reed. Quietly, Mikell has been one of the best safeties in the NFL over the last three years. He's a great safety in coverage who can come down into the box without fear to blow up running plays.
He's 31 years old now, but he still has three to four very good years ahead of him. He is the Rams replacement to Oshiomogho Atogwe, who they cut earlier in the offseason before the lockout due to a large bonus they were going to have to shell out.
Considering Mikell is better than Otogwe, this is a steal. Mikell signed a four-year, $28 million contract, a solid price for a team that has cap space to spare.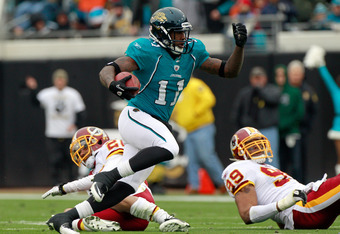 Sam Greenwood/Getty Images
Grade: A+
The Solid Addition: Harvey Dahl
The Rams picked up a starting guard with a mean streak that will bring the best talent the line has had since The Greatest Show on Turf. Dahl brings what every offensive line needs: toughness, personality and solid production in all aspects of the game.
He is an above-average run blocker, and is just as solid in pass protection. He will surely make the Rams' line better from the gate, and we can expect to see some better running out of Steven Jackson this year.
Grade: B+
The Underrated Signing: Mike Sims-Walker
Sims-Walker is a receiver who has shown flashes of great ability over his years with the Jacksonville Jaguars. His problem has always been consistency.
Sims-Walker comes to a Rams team whose depth chart is overwhelmed at wideout. The quantity-over-quality search began in the draft, when the Rams drafted Lance Kendricks (a pass catching TE), Austin Pettis and Greg Salas in the second, third and fourth rounds.
Now they have Donnie Avery and Denario Alexander, a Missouri product with big-play ability, coming back from injury. Mark Clayton isn't expected to be ready for the season.Then they have Danny Amendola, who could become the next Wes Welker if he plays the slot more consistently.
The Rams' theory seems to be simple: If you keep digging, you'll strike gold. Josh McDaniels is an excellent offensive coordinator who has been known to get big production out of receivers with talent. Brandon Lloyd last year is a prime example. Sims-Walker could end up breaking out under McDaniels' system, and Sam Bradford would be most thankful.
Grade: A-
Final Grading: A

The Rams have spent every bit of their offseason trying to improve the weaknesses in their team. They haven't lost anyone very significant, and have added upgrade at some major positions. It may not be this year, but with another off season like this one, the Rams will soon be a threat again.