San Francisco Giants: Could Competitive Arizona Diamondbacks Be Good for SF?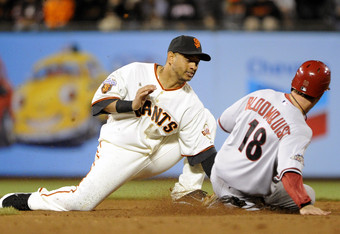 Thearon W. Henderson/Getty Images
The San Francisco Giants have lost four straight. The Arizona Diamondbacks have won eight of their last 10, including last night's series opener against San Francisco at AT&T Park.
Carlos Beltran is 4-for-21 in a Giants uniform.
Giants starters, the backbone of the defending world champions, have an 8.90 ERA during the club's current four game losing streak.
The Giants' lead in the National League West has been whittled down to just a single game, and the hard-charging Diamondbacks seem to have all the momentum they need to overtake San Francisco in the standings for the first time since June 24.
At a moment when the "magic" the Giants carried over from their championship appears to have disappeared, there is a silver lining on the dark metaphoric clouds over AT&T Park.
This silver lining boils down to one word, and it's a word that may save the Giants' season.
Torture.
If there's one thing we know about this team, it's that it doesn't like to do anything the easy way.
And that's why no rational, well-adjusted Giants fan would want the defending champs to build as large of a lead as possible over their division rivals, and run away with the division title. That's just not Giants baseball.
Thearon W. Henderson/Getty Images
And, indeed, why would we want anything other than Giants baseball? After all, look what it led to in 2010.
Let's hearken back eight seasons.
The 2003 Giants, coming off a National League championship the year before and a loss in Game 7 of the 2002 World Series, won 100 games and the division, wire to wire, without ever falling into second place. The second place Dodgers finished 15.5 games behind San Francisco.
The Giants' skipper that season, Felipe Alou, guaranteed a world championship before the season began. From the way his club ran away with the NL West, it looked to be a good bet.
Then the Giants were defeated in the NLDS by the Florida Marlins, and that was the end of that.
Complacency is not good for these Giants
While there isn't a single player remaining on the current Giants roster from that 2003 season, running away with a division title could very well have a similar effect on the 2011 team.
Not only would it naturally cause the Giants to rest on their laurels as they approach the postseason, it would take away an edge the Giants have had since winning the title in 2010.
Denis Poroy/Getty Images
That edge comes from the thrill of competition and razor-thin victories in a razor-thin pennant race.
Even with season-ending injuries to catcher Buster Posey and second baseman Freddy Sanchez, plus a deflated offensive performance by the Giants' 2010 home run and RBI leader Aubrey Huff, San Francisco has been able to continue doing one thing unbelievably well: win close ball games.
The Giants are 28-13 in games decided by one run this season.
These Giants thrive on pressure situations. Indeed, they live for them.
Is it a coincidence that closer Brian Wilson seems to put runners on base virtually every night before bearing down and blowing away opposing hitters to close out another tight Giants victory?
Maybe. But probably not.
San Francisco made the postseason in 2010 by defeating the San Diego Padres in a thrilling victory on the final day of the regular season.
If one game had gone differently for both clubs at some point in the seven months of baseball that preceded that October afternoon at AT&T Park, the Giants may never have won the World Series last year.
How will the NL West shake out?
But that's the way they like it.
Somehow, it's very possible the Giants are putting themselves back into a horse race they could have won long ago.
The Arizona Diamondbacks have proven to be a legitimate contender, and their recent acquisitions prior to Sunday's trade deadline have shown they have the will to push the Giants for the NL West crown.
But the Giants might just be slowing down to let the horse behind them even up before an epic race to the end.
Bruce Bochy may have uttered something very telling after last night's loss.
"They're a good club and having a nice year," he said. "They've got good pitching, a good closer. It's going to be a battle. I expect it to go down to the wire, to be honest."
And go down to the wire it very well might, because the Giants are in need of a foil; a partner to train them for the rigors of October, just as the Padres did last season.
Is the suggestion that the Giants as a team are "pulling a Brian Wilson" nuts? Perhaps.
But ask yourself this: Would they really be the same Giants if they didn't?
This article is
What is the duplicate article?
Why is this article offensive?
Where is this article plagiarized from?
Why is this article poorly edited?

San Francisco Giants: Like this team?