NFL Free Agents 2011 : Updates, Reactions to Latest Player Movement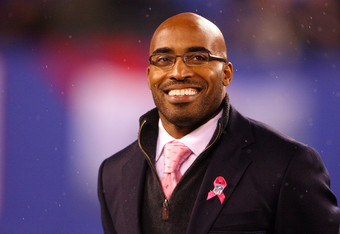 Andrew Burton/Getty Images
With the shortened length of NFL free agency this season, teams across the league have scurried to seek out and sign free agents that fit their systems.
Most of the big-name players are off the market, but a number of impact players remain available.
Some—like Tiki Barber, who is coming out of five years of retirement—are hitting the market under unusual circumstances.
Others—like tight end Zach Miller—are simply testing the waters of free agency in the prototypical way.
Despite the varying scenarios, teams will be looking high and low for players that can fill roster voids as they are unveiled during training camp.
Stay here for all the updates and reactions to the latest player movement during this exciting NFL free agency period.
Elsa/Getty Images
ESPN's Adam Schefter has just tweeted that Ronnie Brown has agreed to a one-year deal with the Philadelphia Eagles.
The Eagles have made quite the impact over the past week, signing a number of big name free agents.
Some will make bigger impacts than others.
The addition of Brown is a much needed one.
LeSean McCoy, despite a breakout season in 2010, is not known for his durability.
Brown is a viable backup that can produce in the absence of McCoy, whether it be for weeks due to injury or a couple of plays due to fatigue.
Brown should not affect McCoy's fantasy value all that much, but it should be a tidbit of news that fantasy owners are aware of.
The official departure of Brown from Miami also boosts the fantasy value of Daniel Thomas. Clearly, the Dolphins plan on featuring Thomas with a heavy dose of Reggie Bush on the side.
This new one-two punch could turn out to be as productive as the old duo of Brown and Ricky Williams.
Still, it might take a year or two to get there. My advice would be to temper your expectations on Thomas and McCoy slightly, but do not overreact to this news.
This article is
What is the duplicate article?
Why is this article offensive?
Where is this article plagiarized from?
Why is this article poorly edited?
Williams is preparing for a new team; or maybe a career in yoga?
Ricky Williams has made his comeback with the Miami Dolphins, and will now be looking to finish out his career with a new team.
He even proclaims this in his latest yoga video on YouTube (as seen above).
Now, the question is, where will Williams land for the 2011 season?
As ProFootballTalk points out, it is becoming easier for teams to pass up on veterans like Williams in favor of cheaper, younger alternatives.
One place where his veteran presence and hard-nosed running style might fit in is in Baltimore with the Ravens. The Baltimore Sun ranked him as the best fit to be Ray Rice's backup:
"With the signing of fullback Vonta Leach, the only spot left to fill in the Ravens' backfield is backup running back. A look at the top 10 free-agent running backs based on how they would fit with the Ravens:

1. Ricky Williams, Miami: He averaged 4.2 yards per carry with a pedestrian offensive line last season. He is a season removed from rushing for 1,221 yards and 11 touchdowns."
After all is said and done, the Ravens may turn out to be one of the few suitors for Williams.
He is nearing the end of his career, his productivity has been up and down over the past few years in a run-first offense, and there will not be many teams willing to pay him at the level he was paid in Miami.
Maybe the perfect fit will come along and he will finish out his career happily as a backup.
Maybe it is best for Williams to retire.
If he does retire, that does open the door to become a yoga instructor...
Let's not act like Williams has not surprised us before.
Time shall tell.
This article is
What is the duplicate article?
Why is this article offensive?
Where is this article plagiarized from?
Why is this article poorly edited?
Kevin C. Cox/Getty Images
It appears as if Jason Snelling will not get the chance to move out the shadows, enter free agency, and find a starting gig like the man above him on the Atlanta Falcons depth chart, Michael Turner, did a few years ago.
Snelling showed his talent over the past two years, acting as Turner's backup and injury replacement starter. He fared well, but did not post eye-popping numbers, which is resulting in moderate interest from other NFL teams on the free agency market.
Although Snelling had probably hoped to find an opportunity to start somewhere, he will likely end up in a backup role once again.
Jim Thomas of the St. Louis Dispatch reported that Snelling is viewed as a perfect candidate to be Steven Jackson's backup:
"Free agents Jason Snelling of Atlanta and to a lesser extent Jerome Harrison of Philadelphia are emerging as candidates for the backup running back job in St. Louis behind Steven Jackson, according to league sources."
Snelling is also creating buzz from Baltimore Sun bloggers as they debate the perfect backup for Ray Rice.
Both St. Louis and Baltimore would be good fits for the 27-year-old running back.
Sam Bradford and Joe Flacco can both be counted on to throw a number of dump passes to running backs,something that Snelling excels at.
Snelling's veteran presence may be more appreciated on a young Rams team more than the wily Ravens.
So, it might be best for Snelling to join the Rams and spell the workhorse that is Steven Jackson.
This article is
What is the duplicate article?
Why is this article offensive?
Where is this article plagiarized from?
Why is this article poorly edited?
Al Bello/Getty Images
The New York Giants continue to preach patience to Kevin Boss, the starting tight end who decided to test the free agent market despite his wishes to remain in New York.
After the Giants signed former Arizona Cardinals tight end Ben Patrick, there were rumblings that this was bad news for Boss's prospects.
But Tom Coughlin has reassured to CBS New York that patience is key in the Boss situation:
"Coach Tom Coughlin said Patrick's presence does not affect Kevin Boss' role as the starter – if and when Boss signs a new deal. One could take this to mean that Travis Beckum is about to face serious competition."
Clearly, Coughlin and the Giants plan on bringing back Boss.
The ball is in his court, according Giants general manager Jerry Reese. Rotoworld.com has reported he has made an offer to Boss.
So, unless Boss has an outlandish offer from another team, we should expect to see him back in New York very soon.
Despite the drama, Boss will be back where he wanted to be: the starting tight end for the New York Giants.
This article is
What is the duplicate article?
Why is this article offensive?
Where is this article plagiarized from?
Why is this article poorly edited?
Brandon Marshall of the Miami Dolphins finally has an answer for the questions surrounding his erratic behavior: borderline personality disorder.
Recently, Marshall announced that he has been diagnosed with the disorder. For him, it is a new beginning and a relief to learn that there actually was something beyond his control that was plaguing him.
When head coach Tony Sparano was asked about the news, he responded thoroughly:
"I am not going to really get into it one way or the other about out how it affected him last year or any of that. Sounds like to me that Brandon has done a pretty good job explaining that to you guys. Out of respect for Brandon I am really not going to talk about that a whole lot. I will just tell you that I am going to support him. That's my job as a coach. To give this young man support and that's exactly what I am going to do. As far as going forward, one of you asked me a question the other day about Brandon's mindset and what it was like here. I believe Omar (Kelly) asked the question and I told you that is was 100% crystal clear. You just visited with the guy and I will tell you it is 100% crystal clear and I really do believe this guy has a pretty good understanding where he is right now and what he needs to do on the football field and off the football field."
Clearly, Marshall has the support or his coach going forward.
Marshall was traded to Miami to be a clear number one receiver, and he struggled in his new home at times last season.
This year, with the needed help he has been searching for off the field, Marshall appears poised to have one of his best seasons as a pro.
The Dolphins may look to add some security at the wide receiver position, more due to a lack of depth rather than the recent news of Marshall's disorder.
There are still a number of solid number two wide receivers available on the free agency market, including former New York Giants wide receiver Steve Smith and former San Diego Chargers wide receiver Malcolm Floyd.
Otherwise, the offense might struggle as Marshall continues attract attention without a solid secondary option on the outside.
This article is
What is the duplicate article?
Why is this article offensive?
Where is this article plagiarized from?
Why is this article poorly edited?
Jonathan Daniel/Getty Images
Former Chicago Bears defensive tackle Tommie Harris may have taken a step back statistically over the past couple of years, but that does not mean Bill Belichick and the New England Patriots cannot turn his career around.
According to Boston Herald, the Pats are taking a look at Harris:
"The Patriots have flown DT Tommie Harris, formerly of the Bears, into Foxboro, a source close to Harris said. The 6-foot-3, 295-pound 28-year-old former three-time Pro Bower was cut by Chicago last year because of diminished production.

Now, he'll work out in Foxboro tomorrow and who knows? Harris — a true 4-3 penetrating tackle — could help signal in a new system. Or, he could be a player brought in to play on third down, and that's that."
What do the Pats have to lose by looking at Harris? Nothing.
Will he be the next Ty Warren in Foxboro? No.
Still, Harris can get back to being a solid NFL defensive tackle with the Patriots.
History has shown that New England has a knack for rejuvenating players and igniting a flame under them that no one knew they still had (see: Randy Moss).
Time will tell if the Harris is a fit in New England, and if so, whether Pats formula will work on him.
This is a low risk, high reward opportunity for the Pats, making the organization look as smart as ever.
This article is
What is the duplicate article?
Why is this article offensive?
Where is this article plagiarized from?
Why is this article poorly edited?
On Friday, the Philadelphia Eagles landed the prized player in the 2011 NFL free agent class in cornerback Nnamdi Asomugha.
After he was expected to receive anywhere from $14 to $19 million per year leading up to negotiations, his five year, $60 million deal with the Eagles came as a surprise.
Not only is Asomugha making less than he did with the Oakland Raiders, but it is also likely he turned down more money from other teams.
So, how did the Eagles convince him to come to Philadelphia?
Andrew Brandt, President of the National Football Post, explains how he sees it:
"And this week, while the expectation was that Nnamdi would sign with teams such as the Cowboys, Texans, Jets or 49ers, the Eagles relied on a strong relationship with agent Ben Dogra and a knowledge that, like Vick, Asomugha had a strong interest -- for some time -- in playing in Philadelphia (in good part due to Vick). And, like the Vick negotiations, the pursuit was kept in a tight circle of people with that knowledge. The Eagles brass even leaked information that they were not involved to throw the media off the scent."
Apparently, the Eagles have a knack for sneaking around and making bold moves.
Now, they will hope that Asomugha can pan out for them as well as Michael Vick did.
This article is
What is the duplicate article?
Why is this article offensive?
Where is this article plagiarized from?
Why is this article poorly edited?
Andy Lyons/Getty Images
Carson Palmer is wanted by a number of NFL teams, but Cincinnati Bengals owner Mike Brown has made it clear that he will not grant Palmer's wish to play elsewhere.
One rumored destination for Palmer was Miami. Barry Jackson of the Miami Herald believed that Palmer was the top choice to quarterback the Dolphins next season.
Now, it appears that Miami's focus has turned to either Kyle Orton, or settling for Matt Moore as a back-up to Chad Henne.
No matter how hard teams have tried, Brown will not budge, and it is starting to become more evident that Palmer will probably not play football this season.
This is only adding the porous image of the Cincinnati Bengals, adds CBSSports.com's Paul Dehner Jr.:
"In January, Carson Palmer said he would rather retire and leave $50 million on the table rather than play another down for the Bengals.

Smoke machines and mirrors officially went out of stock.

Seeing Palmer choose beaches in California over shores of the Ohio River meant more than the loss of a talented quarterback for the organization. It exposed the perception of a drowning franchise. It crushed credibility."
Brown and the Bengals need to give this grudge up as soon as possible.
Cincinnati has lost a star cornerback in Johnathan Joseph, and the team is basically saying "no thanks" to free assets being thrown at them from other NFL teams.
Brown has made his point; now it is time to be rational, trade Palmer, and improve the Cincinnati Bengals roster.
This article is
What is the duplicate article?
Why is this article offensive?
Where is this article plagiarized from?
Why is this article poorly edited?
Larry French/Getty Images
Quarterback Marc Bulger's name has been floating around the NFL free agency hot stove since the lockout ended, yet no one has heard anything from the man himself.
Tony Lombardi of Ravens24x7.com has been told the Ravens backup quarterback retired in March.
Yet, the rest of the football world seems clueless to this news. In fact, Bulger's name is still being circulated as one of the better backup quarterback options available.
The Baltimore Sun still believes the Ravens could bring Bulger back as their back-up to Joe Flacco for another year:
"Everyone has Bulger playing next season for Cincinnati, Miami or San Francisco. That might be jumping the gun. The Ravens really want a proven veteran to back up Joe Flacco, and Bulger enjoyed a season where he wasn't the defense's tackling dummy. The biggest hurdle is finding another $3 million for Bulger with a salary cap back in effect."
Clearly, nobody knows exactly what Bulger is up to since he has not been heard from in months.
Nonetheless, if he were to end up in Baltimore, it would be a great fit for one more year.
Obviously, Flacco will be the face of the Ravens offense for the foreseeable future, meaning the front office will likely spend time finding a viable backup quarterback on a consistent basis.
This year, if Bulger is even planning on playing this year and willing to take a pay cut, Baltimore should re-sign as the insurance plan for Flacco.
This article is
What is the duplicate article?
Why is this article offensive?
Where is this article plagiarized from?
Why is this article poorly edited?
Otto Greule Jr/Getty Images
Lofa Tatupu was released by the Seattle Seahawks on Sunday.
When this news broke, it was clear that there was something more to the story. Apparently, it came down to financial motives, which caused Tatupu to ask for his release and start the search for a new home:
"In case it wasn't entirely clear if Lofa Tatupu was really going to walk away from the Seattle Seahawks rather than accept a pay cut, the latest sign that he is at least seriously considering a move came Monday when he was scheduled to visit the Oakland Raiders and Washington Redskins. The Seahawks reportedly asked Tatupu over the weekend to take a pay cut of a couple million dollars from his scheduled salary of $4.35 million. He was then released, freeing him up to look for work elsewhere."
This decision by the Seattle Seahawks was a mistake from the beginning. They attacked their locker room leader and defensive front-man with an unrealistic request in the eyes of most NFL players: a pay cut.
Tatupu has given the Seahawks organization six years of loyal service, and they pay him back with a significant pay cut request. The defense has struggled in recent years, ranking 27th last season in total yards allowed per game.
It would make sense to ask Tatupu to take a pay cut if they had thought about the consequences of doing so. From the outside, it appears the Seahawks are now scrambling to replace him. They will end up forcing the defense to go through growing pains behind a new leader.
As far as Tatupu's perspective, I understand his frustration, and exploring new options is probably in his best interest.
The Raiders are a decent fit, but his athleticism would suit the style of the Redskins suffocating defense perfectly.
If he ends up playing in the Capital, he will thrive and make Seattle's front office look foolish for letting him go.
This article is
What is the duplicate article?
Why is this article offensive?
Where is this article plagiarized from?
Why is this article poorly edited?
Ezra Shaw/Getty Images
The Oakland Raiders re-signed Kamerion Wimbley to a five-year deal on Monday, causing some fans to worry that this deal would bar them from bringing tight end Zach Miller back to Oakland.
However, according to the San Francisco Chronicle, the deal has given them enough room to re-sign both players:
"The story in Napa on Monday was that Raiders linebacker Kamerion Wimbley signed a five-year deal worth $48 million, $29 million of it guaranteed, and gave the team room under the salary cap to try to re-sign tight end Zach Miller.

And that's a good story, as Miller was the team's leading receiver last season and a big part of any plan to improve on last season's 8-8 record. The unrestricted free agent was supposed to be set to return, but he was in Seattle talking to the Seahawks on Monday."
I cannot overstate the value that the Raiders should place on Miller. The fifth-year tight end from Arizona State University has led the Raiders in receiving yards the last three years, while catching balls from a wide variety of quarterbacks.
Miller has dealt with controversies surrounding his quarterbacks and coaches, but has remained the stabilizing force in a fluid situation.
The fact that he even spoke with Seattle proves that Oakland did not do enough to ensure him that they would do everything in their power to re-sign him.
Still, the Raiders now have a chance to retain one of their most valuable offensive threats as they attempt to break the 8-8 barrier this season. If they lose Miller because their sole focus was on re-signing Wimbley, they will feel the blow this season when the offense sputters without their big tight end catching balls down the middle.
This article is
What is the duplicate article?
Why is this article offensive?
Where is this article plagiarized from?
Why is this article poorly edited?
Peter Kramer/Getty Images
Apparently, Tiki Barber thinks he is headed to Pittsburgh to join head coach Mike Tomlin and the Steelers.
Despite murmurs that he will join brother Ronde with the Tampa Bay Buccaneers, sources close to RotoExperts.com say that Barber is set to come out of retirement and sign with the Pittsburgh Steelers:
"According to sources close to RotoExperts.com, Tiki Barber is set to officially come out of retirement and sign with the Pittsburgh Steelers. Barber's layoff is even more of a concern than Burress', as he has not played in the NFL since the 2006 season.

Barber, who was released by the Giants, had also been rumored to land in Tampa Bay, where he could be a teammate with brother Ronde. Yet a source with ties to Barber's inner circle indicated that he has already proclaimed Pittsburgh as his destination for a possible comeback attempt."
Pittsburgh is the perfect place for Barber to make his comeback.
Clearly, he is not planning on returning to the league as the perennial go-to rusher he used to be with the New York Giants. Rather, the 36-year-old is probably looking for a situation that will give him a chance at a Super Bowl ring. The Steelers fit the bill, having made the playoffs three out of the last four years.
From Pittsburgh's perspective, Barber can play an effective role on an offense that likes to establish the run. Rashard Mendenhall is the clear go-to runner for the Steelers. However, Barber can be a very nice upgrade over Mewelde Moore as a part-time third down back while also taking on the duties of spelling a worn out Mendenhall.
Barber may not have the juice to carry the ball 10 to 15 times a game anymore.
Still, in Pittsburgh, he can find the perfect niche as an occasional playmaker for the Steelers.
This article is
What is the duplicate article?
Why is this article offensive?
Where is this article plagiarized from?
Why is this article poorly edited?