2011 NFL Schedule: The Best Game of Each Week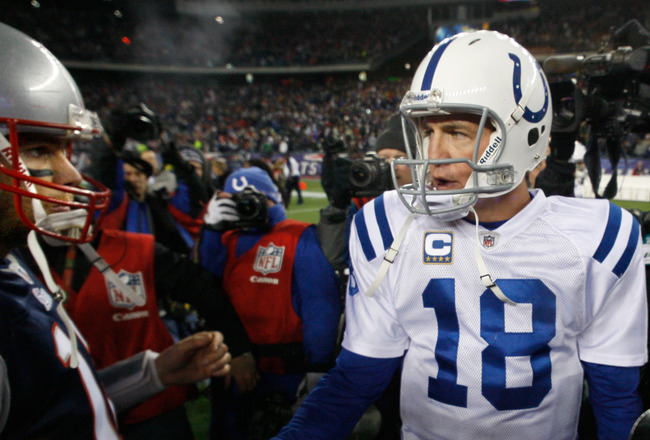 Jim Rogash/Getty Images
It's never too early to start putting the best games of the 2011 season on your calendar.
There are a number of good battles from in every week that have numerous story lines swirling around them, and I've put in about as much time as it took the NFL to end the lockout putting this list together.
Now sure, most Sunday night and Monday night games are going to be awesome on paper, but what about some of the typical Sunday afternoon games? That's what I'm looking for here.
Still have that day planner that your girlfriend gave you? You'll need it.
Week 1: Pittsburgh Steelers at Baltimore Ravens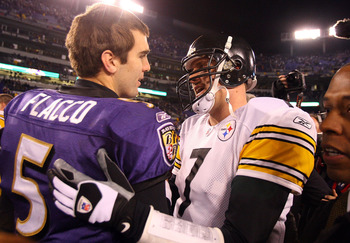 Jim McIsaac/Getty Images
Two of the four best teams in the AFC kick off their 2011 season by matching up in a divisional game.
The Pittsburgh Steelers and Baltimore Ravens had the second- and third-best scoring defenses in all of the NFL last season. It doesn't look like 2011 will much different.
Then again, Steelers' quarterback Ben Roethlisberger loves to let it fly, and Ravens' running back Ray Rice is a budding star.
It's going to be a great game to start off the season.
Week 2: San Diego Chargers at New England Patriots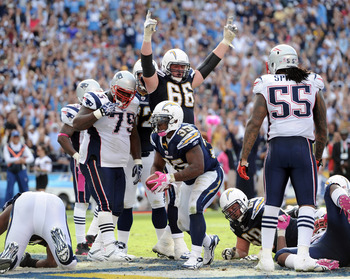 Harry How/Getty Images
This rematch of the 2008 AFC Championship game features two of the conference's most powerful teams over the last seven years.
The heartbeat of their quarterbacks is what makes the teams so competitive: The New England Patriots' Tom Brady is an All-World signal caller, one of the best in history. San Diego Chargers' quarterback Philip Rivers sets the tone for his team both in skill and attitude.
While neither is going away too quickly, they are both trying to remain relevant in an AFC that features an improved New York Jets, the always-dangerous Indianapolis Colts and the pesky Kansas City Chiefs.
Which powerhouse will come out on top in this one?
Week 3: New York Giants at Philadelphia Eagles
Al Bello/Getty Images
As if the Philadelphia Eagles needed to significantly improve this offseason, they went out and signed backup quarterback Vince Young, traded for Dominique Rodgers-Cromartie and signed the 2011 free agent gem, Nnamdi Asomugha.
Now they're easily one of favorites to win the NFC and go all the way to the Super Bowl.
The New York Giants have almost always underwhelmed (minus that great 2007 Super Bowl victory) during the Eli Manning-Tom Coughlin era.
They're prone to hot starts and atrocious finishes, starting the season 5-2 or better each season of the past seven seasons but finishing 28-34 overall.
If the Giants are going to set the tone for the NFC East, they must start early with their biggest in-division competitors. But will they be able to catch any of the Eagles?
Week 4: Detroit Lions at Dallas Cowboys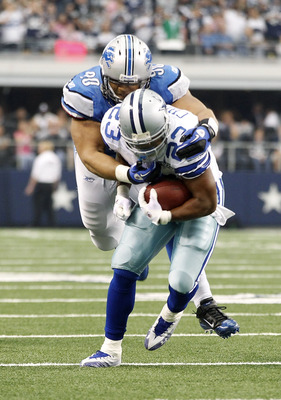 Leon Halip/Getty Images
This game doesn't come flying off the page, but if you take a look at it closely, it has all the intangibles that make a fantastic battle.
The Detroit Lions are an up and coming team, similar to the Arizona Cardinals of the mid-2000s and the Kansas City Chiefs more recently. They have a leader at quarterback, a star wide receiver and probably the best young defensive tackle duo in the NFL with Ndamukong Suh and Nick Fairley.
The Dallas Cowboys, on the other hand, are in a do or die situation. They've had the pieces to win a Super Bowl for the past few years, garnering my lowly pick to win it all last year. Owner Jerry Jones is hungry and must be fed, but with such an intense division, as you saw on the last slide, it won't be easy.
Could the Cowboys overlook the upstart Lions? If so, it could be an embarrassing home loss going into their bye week.
Week 5: Kansas City Chiefs at Indianapolis Colts
Scott Boehm/Getty Images
When I saw this game on the schedule, I said aloud, "Oh, that'll be a good game!" Then I looked around smiling to see what everyone else in the room thought but quickly remembered that it was 2:00 AM, and I was home alone.
Regardless of my own trials, the Kansas City Chiefs at Indianapolis Colts matchup in Week 5 will be a good game. The Chiefs surprised everyone (minus their fans and me) by winning the AFC West last year, while the Colts are the model of consistency.
Kansas City features one of the fastest offenses in the game with Jamaal Charles and Dexter McCluster in the backfield. Wide receiver Dwayne Bowe is quietly one of the most reliable targets in the NFL, too.
Indianapolis goes as Peyton Manning goes, which is usually straight up, but at 35 years old, how much longer is that going to be the case?
Will he be able to deal with the short sideline rests that he'll get if his defense can't stop the Kansas City track team?
Week 6: New Orleans Saints at Tampa Bay Buccaneers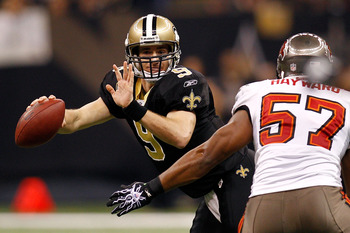 Chris Graythen/Getty Images
The New Orleans Saints are the class of the NFC South.
No wait, I take it back. It's the new-look Tampa Bay Buccaneers.
No no no, what am I thinking? It's the Atlanta Falcons!
You can make a case for any of the three teams above being the best in the division, and the only sure thing is that it isn't the Carolina Panthers (quick Panthers note: Don't expect them to get any better with Vince Young/Jamarcus Russell 2.0).
While the Falcons might be the best team in the division, many still see the Saints as the leaders of the NFC South and for good reason, since they are the most recent Super Bowl champions from the South.
The Buccaneers exploded onto the scene with their terrific-looking quarterback Josh Freeman and surprisingly solid rookie running back LaGarrette Blount.
Blount was an undrafted rookie who wasn't signed by the Bucs until he was cut from the Tennessee Titans practice squad. Talk about a find!
The Saints need to watch out for the Buccaneers, who are my dark horse to go to the NFC Championship.
Week 7: Green Bay Packers at Minnesota Vikings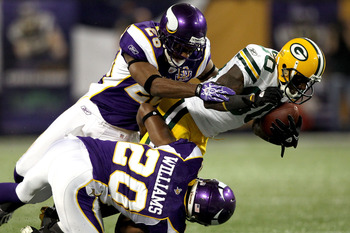 Matthew Stockman/Getty Images
The defending Super Bowl champion Green Bay Packers want to go into their bye week with a win, but the Minnesota Vikings won't make it easy for them.
The NFL season will be well underway by then, and the Donovan McNabb-led Vikings will most likely be hovering around the .500 mark. A heavy dose of Adrian Peterson is always a good strategy for winning (and is really fun to watch, too).
Last year's best scoring defense, the Green Bay Packers, will try to limit the potent running attack of Minnesota, as well as the improved passing game that McNabb is sure to bring.
If the Vikings can score early, this game has the potential to be a barn burner filled with deep bombs from quarterback Aaron Rodgers while Peterson tries to counter with vicious runs in this NFC North battle.
Week 8: Arizona Cardinals at Baltimore Ravens
Chris McGrath/Getty Images
The retooled Arizona Cardinals are my preseason favorite to win the weak NFC West.
The defending division champions, the Seattle Seahawks, didn't resign Matt Hasselbeck, and both the San Francisco 49ers and St. Louis Rams are still a couple of years away.
But can they contend with the best that the AFC has to offer?
This mid-season game between the Cardinals and the Baltimore Ravens will be very telling for both teams. The Ravens are likely to be one of the top four or five teams in the AFC if not the NFL at that point, and a win over a formidable foe at home will be important.
Arizona's new quarterback Kevin Kolb will be comfortable in his new uniform by then, and I expect to see great chemistry between he and Larry Fitzgerald.
It's always fun to watch a great passing attack try to thwart Ray Lewis' defense.
Week 9: Atlanta Falcons at Indianapolis Colts
Al Messerschmidt/Getty Images
The Atlanta Falcons versus the Indianapolis Colts. Matt Ryan versus Peyton Manning. Roddy White versus Reggie Wayne. This is going to be an awesome game.
When the Falcons take their talents to Lucas Oil Field in early November, one of a handful of possible Super Bowl match ups will be played out.
Atlanta was last year's (disappointing) top seed in the NFC. They have a lot of unfinished business in the 2011 season and have positioned themselves well with the addition of wide receiver Julio Jones in the draft to counter White.
Indianapolis is Indianapolis. As long as manning dons the helmet with the classic blue horseshoe on the side, the Colts are championship contenders. The aging Colts will be tested by the younger Falcons here, and at the midway point of the season, their conditioning will be tested.
Super Bowl XLVI?
Week 10: New England Patriots at New York Jets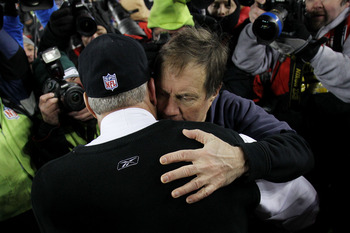 Elsa/Getty Images
This Sunday night game will be one for the ages. It will be the second meeting of the year between the New England Patriots and New York Jets, and there's no doubt that there will be a ton of trash talking leading up to it.
Win or lose, Jets coach Rex Ryan is sure to either gloat about their Week 5 win or claim that the Week 5 loss was just an illusion. Patriots coach Bill Belichick is sure to say next to nothing.
I don't think I need to explain the meaning of this battle. While Ryan really gets on the nerves of non-Jet fans, he has injected a ton of life into this once-dormant rivalry.
Week 11: Tampa Bay Buccaneers at Green Bay Packers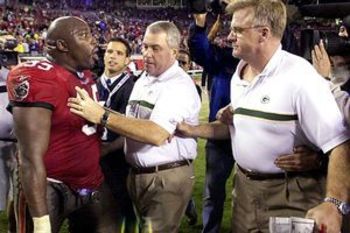 I can hear ESPN's Chris Berman now using his tired old football voice to talk about this game, "the Bay of Pigs."
If you can get through his annoying shtick, you'll be able to see an awesome game between the Tampa Bay Buccaneers and Green Bay Packers. At this later point in the season, the weather at the legendary Lambeau Field is sure to be frigid. The field might be covered in snow.
I always enjoy watching warm weather teams play in these conditions. Bucs running back LaGarrette Blount using a power running style that should do well in low temperatures, while Packers quarterback Aaron Rodgers never seems to care how cold it is.
These two teams could have an awesome rivalry if they played against each other every year.
Week 12: New England Patriots at Philadelphia Eagles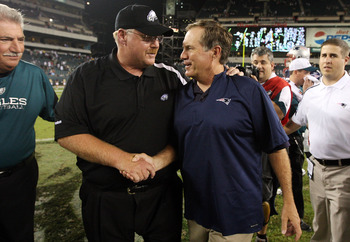 Jim McIsaac/Getty Images
I haven't officially published my preseason predictions, but this Week 12 pairing of the New England Patriots at the Philadelphia Eagles has to be one of the best Super Bowl bets out there.
Tom Brady's Patriots will either be on their way to a divisional title or Wild Card berth by this time, and the Eagles should be nearing an NFC East crown themselves.
But knowing Patriots coach Bill Belichick, there will be no slowing down. Newly signed defensive tackle Albert Haynesworth might be the runaway defensive player of the year at this late point in the season. If so, watching him stymie the Eagles offense will be an awesome sight.
Also, he could be cut by this point, too. In that case, I'm sure Fat Al will enjoy an extra piece of turkey at Thanksgiving.
Week 13: Kansas City Chiefs at Chicago Bears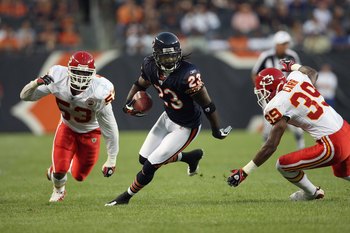 Jonathan Daniel/Getty Images
There's nothing like a Chicago Bears football game at Soldier Field in December. Not that I can speak from experience...it just looks that way.
The Kansas City Chiefs play in arctic temperatures at their stadium, too, so the cold weather that this game is sure to be played in won't be a surprise to either team.
Both teams will be vying for a second consecutive division title, each with their own unpredictable quarterbacks, Matt Cassel and Jay Cutler.
Each team has a small, yet powerful running back, Jamaal Charles and Matt Forte, and a slew of quality defensive players.
These teams are mirror images of each other and will both need a big win.
Week 14: Indianapolis Colts at Baltimore Ravens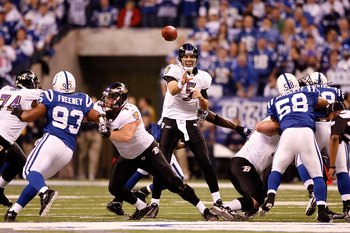 Andy Lyons/Getty Images
Not only is this a game that's always fun to watch because of the storied Indianapolis/Baltimore Colts connection, it also features two of the AFC's top squads in a late-season brawl.
The bad taste left in Baltimore fans' mouths remains there after the Colts moved their franchise in 1984 to Indianapolis. The main issue was that the Colts' took their nickname and jerseys to their new city, leaving lifelong Baltimore residents without the brand that they loved.
To this day, Indianapolis is introduced as "the Indianapolis professional football team" and their scoreboard nickname is "Indy" rather than the usual "Colts" in M&T Bank Stadium, home of the Ravens. I completely understand the loathing of the Baltimore fans, and I love it.
But they have quite a team to root for now in the Ravens. This game is sure to be a passionate one, with players playing for their divisions, the postseason and the Colts' name itself.
Week 15: New York Jets at Philadelphia Eagles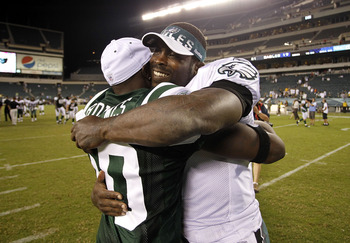 Jeff Zelevansky/Getty Images
By Week 15, many teams will have locked in a playoff spot. The key to predicting what games will be good and what games won't is to see which divisions are most likely to be contentious all the way to the end.
The AFC East and the NFC East are two divisions that are likely to be just that.
The New York Jets might have an identical record to the New England Patriots. It could be that the winner of the AFC East is the top seed in the playoffs while the second place finisher is the fifth-seed wild card. A lot is on the line.
The Philadelphia Eagles will be trying to ward off an unusual late-season surge from the New York Giants and perhaps a Dallas Cowboys team that's playing to its level. The NFC East is and always has been one of the football's best and most competitive divisions.
The talent and the desperation of these two teams will lead to an epic match on the gridiron just one week from Christmas.
Week 16: New York Giants at New York Jets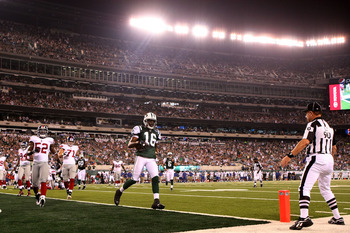 Nick Laham/Getty Images
There's nothing like Christmas in New York!
On Christmas Eve, this game between the New York Giants and New York Jets will have no less than eight million people in a frenzied state.
As for the reasons this will be a great match up, just review Week 15, but add in a huge story surrounding Plaxico Burress, former Giants turned prisoner turn Jet, and his return to play against the team he won a Super Bowl with.
Week 17: San Francisco 49ers at St. Louis Rams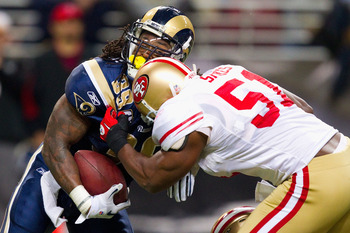 Dilip Vishwanat/Getty Images
During the last week of the regular seasons, it's tough to find a game that doesn't have one or both teams sitting their stars for a significant portion of the game.
That's why I've picked two bad teams as my Week 17 game to watch. The San Francisco 49ers should be improved, yes, but they won't be a playoff team this year. The same goes for Sam Bradford and the St. Louis Rams.
It will be fun to watch two of the league's best power backs, Frank Gore and Steven Jackson, take on one another. Other than that, take a break and enjoy your New Year's Day because the playoffs are right around the corner!
Keep Reading