NFL 2011 Predictions: 7 Teams with High Hopes This Season That I Wouldn't Bet on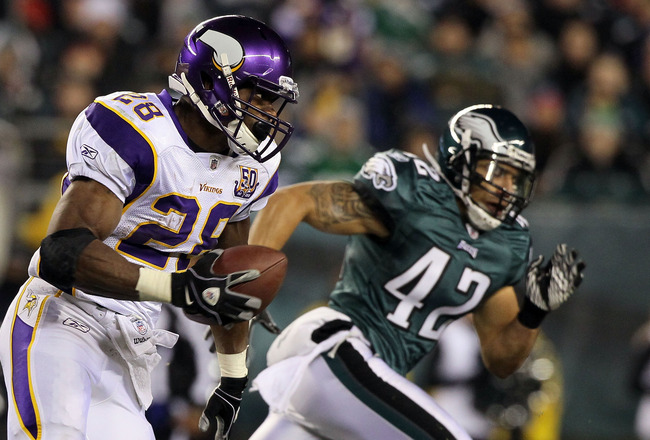 Jim McIsaac/Getty Images
Each new season brings new hope to teams and their fans that this year is finally their year.
In the old days, we use to huddle around the television and watch ESPN to get the latest free agent news. Then came the Internet, and we would constantly refresh the screen so not to miss anything, and now with Twitter we follow all of the NFL Insiders and beat reporters so that we know instantly when someone has been signed or traded.
With this flurry of information, we often get caught up in who signed where and how a team just punched their ticket to the Super Bowl.
Well, I present to you my list of teams who have high aspirations this year but will ultimately fall short. In fact, some may fall a lot further than they expect.
Tampa Bay Buccaneers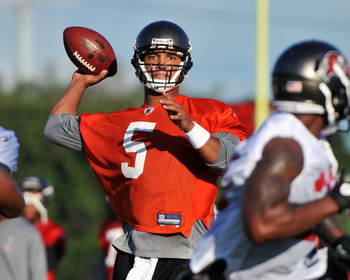 Al Messerschmidt/Getty Images
The Tampa Bay Buccaneers were probably the biggest surprise last season. They went from 3-13 in 2009 to 10-6 in 2010.
They're a young team with a lot of upside, but one reason they performed so well last season was that many teams weren't ready for them and had already penciled in a win against them.
That won't happen this season, as teams will no longer overlook the Bucs.
Also, the New Orleans Saints and Atlanta Falcons are reloaded for this season so the Bucs will have to overcome their division rivals if they want this year to be "the year."
Even though the team will show improvement, the Bucs have a very difficult schedule and realistically they'll probably finish 8-8 or 9-7, which probably won't be good enough for a playoff birth.
Baltimore Ravens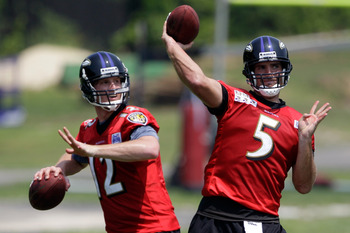 Rob Carr/Getty Images
If there is a guarantee about the Baltimore Ravens, it's that their defense is going to be murderous. If there is an uncertainty about the Ravens, it's their offense.
Right now Joe Flacco seems more like a game manager than a quarterback that will go out and win his team the big game. That is in part due to the fact his yards per game average shrinks by about a hundred yards when he goes from the regular season to the postseason.
That isn't entirely his fault, though; part of it is because he doesn't have the receiving threats his postseason opponents do.
This season the Ravens are in high gear and have high hopes for their team. Unfortunately, the team hasn't done anything to address Flacco's lack of receiving threats and the Ravens will once again play second fiddle to the Steelers.
However, the Ravens will make the postseason with a record that's probably at worst 10-6 and at best 12-4.
Dallas Cowboys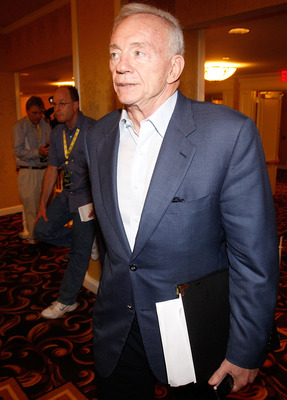 Sean Gardner/Getty Images
It always amazes me that no matter how bad the Cowboys were the season before, ESPN always likes to throw their name in as Super Bowl contenders.
I can here the Cowboy apologists now, saying, "Well Romo was hurt last season!" Here's a news flash: the team stunk before he got hurt and I dare say John Kitna played better than Romo did anyways.
With that said, the Cowboys haven't done anything to get better in the offseason, so far. They've cut a couple of skilled players and then most of their offensive line, which we all thought was to make room to bring in some high-price free agents. Then we find out that was merely to give big contracts to two guys (Doug Free and Marcus Spears).
I do like the fact that Jerry Jones is rewarding some of his veterans, but I think the Cowboys were too invested in landing Nnamdi Asomugha that they let some other role players slip past them.
The Cowboys are going to be scrambling to sign guys in the next two weeks with limited cap space and are going to find it hard to compete in their division.
The Eagles and the Redskins have both improved their rosters. The Eagles seem to be in a Super Bowl or bust mentality and the Skins have grabbed some good young talent that will probably improve them to 8-8 or 9-7. The Giants have stayed relatively quiet but are still ahead of the Cowboys because they have the more talented roster.
ESPN and Jerry Jones can feed fans all the malarkey in the world; it still won't improve the 2011 Dallas Cowboys.
The Cowboys will finish at 6-10 or 7-9 this season.
Indianapolis Colts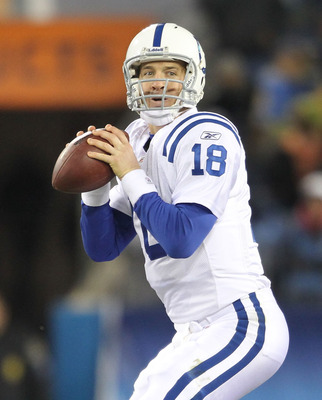 Andy Lyons/Getty Images
The Indianapolis Colts have been Super Bowl contenders for the last decade; in fact, like their conference rivals on the New England Patriots, you can pretty much pencil them in for the playoffs every year.
However, the playoffs might be out of reach for the Colts this season.
The team spent so much time and energy working on a contract with franchise quarterback Peyton Manning that some of their talent, including Manning's blindside protector Charlie Johnson, have slipped away.
Couple all of that with the fact that Michael Lombardi of the NFL Network has been reporting that Manning could miss the first month of the season and the Colts find themselves behind a very large eight-ball.
This isn't to say they can't fight their way out, but their difficult schedule and the possibility of Curtis Painter starting three to four games do not bode well for the Colts.
I think if they make the playoffs, they will make it as a Wild Card, but even that could be stretch. Records of 8-8 and 9-7 are very real possibilities this season for Indy.
Minnesota Vikings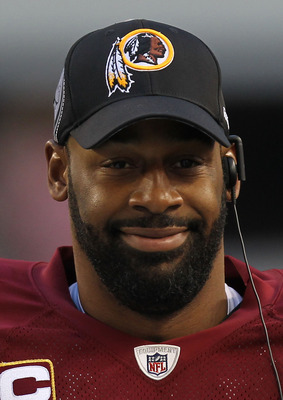 Ronald Martinez/Getty Images
Signing an aging quarterback on the downside of his career almost worked once for the Minnesota Vikings, so they're trying it again in 2011.
Last season, the Redskins were bad, but at the same time so was Donovan McNabb. He didn't have a stellar offensive line around him and he was hampered by an ankle injury he suffered in a preseason game against the Baltimore Ravens.
With that said, when McNabb was healthy and had a very good pocket to throw from, his throws were either too far or too short for his receivers.
However, McNabb is going to Minnesota where they have Adrian Peterson and will do something McNabb has longed for his entire career: run the ball.
But Peterson is one year older and even though he's still one of the top running backs in the league, it seems like the wheels just fall off running backs now instead of them wearing down.
That's not to say that this will happen this season to Peterson, but when he can't find running room and the Vikings have to throw the ball, who will McNabb actually throw to?
Right now he's got Percy Harvin. That's not to say there isn't an emerging star in their wide receiver core; it's just that the rest of the NFC North isn't too worried about them.
Also, the Vikings still have to go through the defending NFC North Champs, the Chicago Bears, and the defending Super Bowl Champion Green Bay Packers. And let's not forget that the Detroit Lions continue to improve their roster, and while they probably won't make the playoffs, they are going to be a thorn in the rest of the North's side all season long.
McNabb will ultimately have a better season then last year but it won't be enough to overcome the Vikings' schedule, and they'll finish between 6-10 and 8-8.
Seattle Seahawks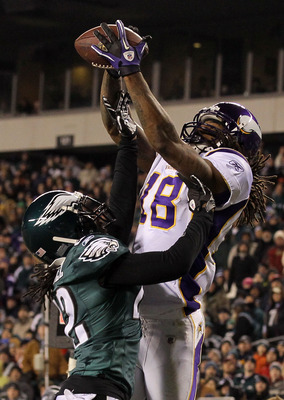 Jim McIsaac/Getty Images
The Seattle Seahawks made a splash in free agency by overpaying for Sidney Rice and Tavaris Jackson, and that has head Coach Pete Carroll talking pretty big.
In an interview with the NFL Network, the Seahawks' Cam Carroll was talking like his team was already just short of the Super Bowl, when in reality they were 7-9 last season, had won a terrible division, and had no right to even be in the postseason while a far superior 10-6 Tampa team watched from home.
I know that when you're being interviewed, especially one on national television, you want to talk up your team and players. But Carroll was talking like he actually believed the Seahawks were Super Bowl-bound.
The worst part is that a lot of Seahawks fans are buying it.
I hate to bring you all back down to Earth but the Seahawks aren't going to the playoffs and they aren't even going to come close to winning the division.
Last season, the San Fransisco 49ers were a much better team than what they put on the field and that's because they had a head coach who was way over his head. The Rams came out with a rookie quarterback in Sam Bradford who surprised a lot of folks and who will be even better this season. Heck, even the Cardinals, who were fleeced by the Eagles in the Kolb trade, will be a better ball club this season.
Honestly, I'm penciling in the Seahawks for a 4-12 to 6-10 season, and even in the terrible NFC West, that won't be good enough to win the division.
New York Jets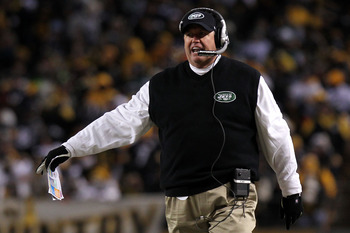 Nick Laham/Getty Images
Last but not least, we have the New York Jets.
Don't get me wrong, the Jets are going to be a good team this year and will probably win the AFC East, but they've been the bridesmaid in the AFC for the past two seasons and they have their eyes set on playing in Indy in February.
Sadly for Rex Ryan and his crew, that isn't going to be happening this season.
Much like the Cowboys, they spent a lot of time trying to land Nnamdi and came up short. Had they gotten him, they would have been a force to be reckoned with since passing against them would be very difficult, and they would be able to stack seven to eight guys in the box to stop the run.
Missing out on Nnamdi hurt, but not as much as possibly losing wide out Braylon Edwards.
If they can't re-sign those guys. that will be a huge blow to their quest to win the AFC East.
Signing Plaxico Burress is a plus; however, he's been in jail for the last two years and is 34 years old. To say he's a question mark is an understatement.
With that said, the Jets are playoff-bound with probably an 11- or 13-win season. However, once they get there they'll have to deal with the Steelers eventually as well as a Patriots team that could be hitting their stride with new additions Chad Ochocinco and Albert Haynesworth.
Keep Reading