Minnesota Vikings: Donovan McNabb's Last Stand
August 2, 2011
Harry How/Getty Images
"Sadly, sadly, the sun rose; it rose upon no sadder sight than the man of good abilities and good emotions, incapable of their directed exercise, incapable of his own help and his own happiness, sensible of the blight on him, and resigning him-self to let it eat him away." – Charles Dickens, "A Tale of Two Cities"
Donovan McNabb's career has been a tale of extreme triumph and humbling tragedy. He has been on the cusp of immortality only to be reminded of his own failures as a mortal.
Today, he sits as the next leader of the Minnesota Vikings and no one knows what to expect. He failed the Washington Redskins, yes, Mike Shanahan is a loon bird and should no longer be coaching, but McNabb did not deliver and should be called out for that.
There were reports that McNabb was not happy about being the Vikings second choice behind Tyler Thigpen and let his new team know about it upon acquiring him.
So this is McNabb's third team in as many years and for a player who once looked so certain to hoist multiple Vince Lombardi trophies, this is not the ending he or we had in mind. Nevertheless, after 12 seasons, McNabb has one shot to prove he is worthy.
He has one shot to make everyone forget about his winters of failures. Each NFC championship loss had its own excuse/reason and we all sang those songs in unison.
In 2001, the song/excuse was he was young and inexperienced. However, champions seize the moment and with the Eagles only down by five and a Super Bowl on the line, McNabb threw a bad pass to a well-covered Freddie Mitchell. That pass resulted in an interception and the Rams heading to Super Bowl XXXVI.
No. 5's numbers in his first NFC Championship Game were unspectacular, 18-for-30, 171 yards, one touchdown and one interception. As pedestrian as those numbers were, his play was even more lackluster. He was sacked three times and never provided that one moment of greatness that had become a staple for him throughout the season.
The 2002 season was another season marred with McNabb shortcomings. This conference championship loss came at home and to a Tampa Bay Buccaneers team the Birds had dominated in seasons past.
The defining play was another McNabb interception. This turnover not only ended the game, but it also abruptly awoken any fan who dreamed of Super Bowl glory.
Then, 2003's serenade was a rib injury that he suffered while laying down on the job. However, as majestic as McNabb was against Green Bay, he was equally as meager against the Carolina Panthers prior to said injury.
It was at this point the Eagles quarterback did something he has so infrequently done throughout his incongruous career. McNabb demanded help, feeling like he was never going to cross the proverbial mountain, the Eagles quarterback demanded the Birds obtain more weapons.
What occurred next could be considered storybook, minus the ending.
First, the exposition which would be training camp where the Eagles set record numbers for attendance. It was the introduction to what happens when a spectacular offensive player in McNabb, teams up with a dominant force in Terrell Owens.
The anticipation for the upcoming season was boiling over and once the regular season came about McNabb and Owens did not disappoint. Things appeared to come to a culmination when an argument ensued between the two athletes during a blowout loss in Pittsburgh. Things were quickly smoothed over publicly; however, the seeds of discontent had been planted.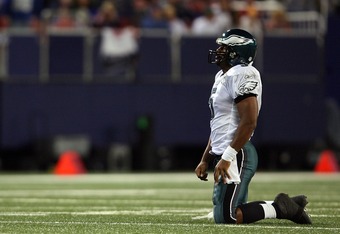 Nick Laham/Getty Images
The 2004 season would serve as the peak of Donovan's career and how that season ended could be a synopsis of how his career might end. First, an injury to Owens raised questions about if the Eagles would even make it to Super Bowl XXXIX, but McNabb would not allow them to falter.
Using pride and ego as his motivation, he completed 38-of-59 passes, threw for 466 yards with four touchdowns and zero interceptions, but the measuring stick was the Super Bowl. This was to be his moment. This was supposed to be him staking his claim from fallen hero to folklore.
However, it was not meant to be and the Eagles lost 24-21 and, yet again, McNabb failed to attain that singular moment of greatness that would define his career.
Seven years have passed since that game and No. 5 has yet to reestablish himself as one of the game's greats. A benching in Baltimore, the drafting of what was to be his successor, injuries and a horrific lost to the Dallas Cowboys in the Wild Card round of the 2009 playoffs all played a significant role in his forced exit out of Philly.
In Washington, stubbornness and poor play is what led to his acrimonious departure.
In life it is permissible to have selective memory when dealing with failures of the past, however, with McNabb he must accept full culpability in each season's failures. He has to look meticulously at his shortcomings as a quarterback and correct them, but more than that, McNabb has to attain the courage that he so fraudulently displays.
He has to overcome that fear that has paralyzed his career and left him grasping at previous moments of excellence to justify his belief that he is better than he actually is.
Until he does that, he will be doomed to the same fates he has endured. Until he does that, he will never be the quarterback who won a Super Bowl and defeated all odds. McNabb instead will be the black quarterback who was booed on draft night.