Dustin Ackley Continues to Make His Case for AL Rookie of the Year with Mariners
August 2, 2011
Otto Greule Jr/Getty Images
For the first time in 10 years, the best hitter on the Seattle Mariners is not Ichiro Suzuki.
In Monday's 8-4 win over the Oakland Athletics, the Mariners went on a hit parade. Seattle provided plenty of support for rookie starter Blake Beavan, as it scored eight runs on 16 hits.
Dustin Ackley, Seattle's prized rookie second baseman, went 2-for-4 with three RBI. He drove in the three runs in his first plate appearance of the night with a little help from A's right fielder Ryan Sweeney.
It appeared Ackley would get a routine single, but as Sweeney slid to attempt the catch, he came up short, and the ball rolled to the wall, clearing the bases with Ackley winding up at third base.
Ackley added yet another extra-base hit in his next plate appearance with a double to left field.
Ackley raised his average to .311 for the year and is already establishing a reputation as an extra-base-hit machine.
The rookie phenom has 19 extra-base hits in his first 37 games. To put that number in perspective, Mariners legend Ken Griffey Jr. had 18 extra-base hits in his first 50 games as a rookie.
Ackley has also showed a little power early on with five home runs. The number may sound low, but if Ackley had been on the Opening Day roster, he would be on track for 22 home runs. Not too shabby for a rookie.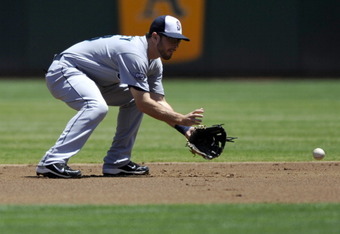 Chad Ziemendorf/Getty Images
Ackley increased his RBI total to 23 on the year. Keep in mind that Ackley didn't make his debut until June 17. Twenty-three RBI in 37 games definitely helps his case for American League Rookie of the Year.
The 23-year-old from Winston-Salem, North Carolina was the Mariners' prized prospect in their farm system, and Seattle timed his promotion to the majors perfectly.
Ackley has done nothing put produce for the Mariners, who have desperately needed run support for their pitchers. He has provided a spark to an offense that has been a nightmare to watch.
If Ackley started with the Mariners on Opening Day, his average would likely be around the .300 mark, and he would be on pace for 22 home runs and over 100 RBI. It is also very likely that he would lead the team in all those categories.
When it comes time to crown the 2011 American League Rookie of the Year, voters need to look past the Mariners' dismal record and hand the plaque to the most deserving kid in the league.