Real Madrid First Team: Gonzalo Higuaín vs Karim Benzema, Who Should Start?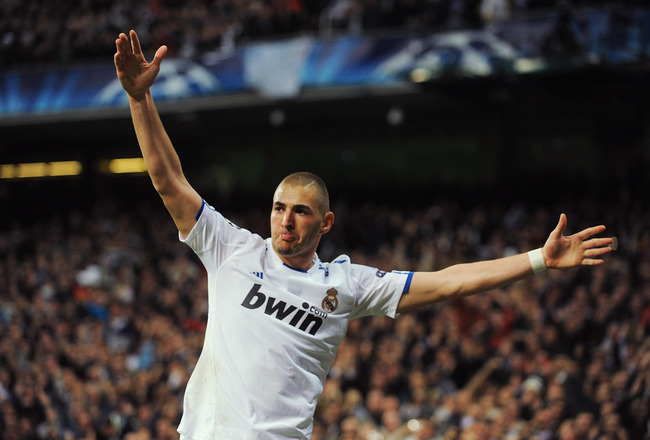 Denis Doyle/Getty Images
With the Spanish Supercup less than two weeks, the start of Real Madrid's domestic season is around the corner.
Entering his second year in charge of the club, manager and head of football operations José Mourinho will be looking to improve on last season's performance. The reigning Copa del Rey champions have their sights set on winning La Liga and the UEFA Champions League.
As the club's Copa America participants recently returned to the squad, Madrid have entered their final stage of preparation for the 2011-12 campaign.
With five new signings and talented players returning from last season, there will be serious competition for places in Mourinho's starting XI.
This article is the first of series analyzing Madrid's position battles.
Who should start upfront for Real Madrid, Gonzalo Higuaín or Karim Benzema?
Gonzalo Higuaín: Strengths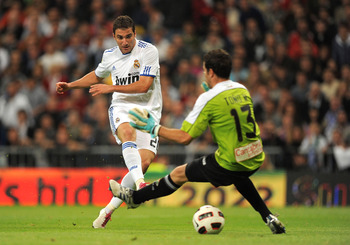 Denis Doyle/Getty Images
Although he missed the majority of last season with a back injury, Gonzalo Higuaín is still one of the best finishers in Europe.
The Argentine international can be clinical in front of goal. With his ability to shoot for power or placement, he has developed into a serious dangerman inside the box.
Higuaín may not be the most skillful striker, but he consistently hits the target and tests opposition goalkeepers. The Madrid No. 20 boasts exceptional composure and awareness in the area. He will shoot early to catch the keeper by surprise or let the ball run across his body to get a better angle.
In addition to his clinical finishing, the Argentine striker provides intelligent movement upfront. Higuaín uses his pace and timing to make good diagonal runs, pulling centre-backs out of position and finding space in behind defenders.
Gonzalo Higuaín: Weaknesses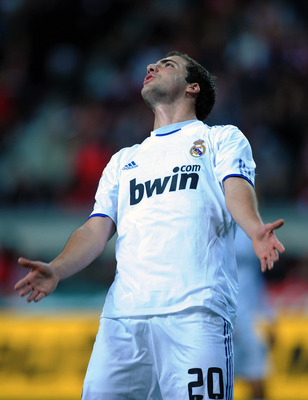 Denis Doyle/Getty Images
Higuaín has emerged as a world-class goalpoacher and finisher. Although he is capable of scoring more than 20 goals per season, the Argentine rarely contributes to the overall team play.
The Madrid striker lacks the skill and touch to combine with teammates, which can make him one-dimensional. He does not link up with midfielders or bring others into the play.
The Argentine international is deadly inside the box, but he can become invisible throughout the match.
Gonzalo Higuaín: Team Fit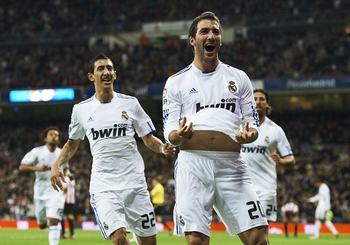 Manuel Queimadelos Alonso/Getty Images
In Mourinho's favored 4-2-3-1, Higuaín excels in the traditional No. 9 role.
The Argentine striker makes smart runs upfront, leading the line and playing off the last defender. With his intelligent movement, Madrid have the option of playing more direct football. Xabi Alonso can find Higuaín over distance with his precision long-range passing.
Higuaín's style of play provides great balance to the Madrid attack. The striker's first instinct is to shoot and test the keeper. Given the slightest glimpse of goal, Higuaín will try to hit the target.
The Argentine gives Madrid a different dimension upfront with his direct style of play. Higuaín can drift in and out of games, but he will be ready to pounce on every goalscoring opportunity.
Karim Benzema: Strengths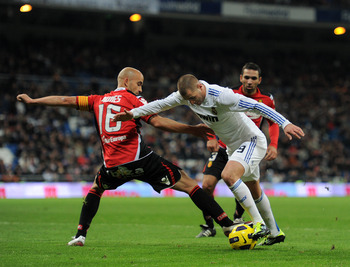 Jasper Juinen/Getty Images
At 23 years of age, Karim Benzema has emerged as one of the top young strikers in Europe.
The French international has exceptional technical ability. Benzema is comfortable shooting with both feet, making him a dynamic threat in and around the box. He may not be the most clinical striker in front of goal, but he knows how to find the back of the net.
Benzema is most dangerous when running at defenders. The Madrid striker has the skill to beat opponents off the dribble, using step-overs and feints to create shooting opportunities.
The Frenchman's combination play sets him apart from the majority of strikers. He uses deft touches and flicks to link up with teammates in the final third.
With his agility and skill, Benzema excels playing quick, one- and two-touch football.
Karim Benzema: Weaknesses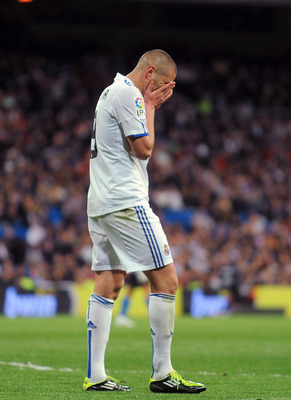 Denis Doyle/Getty Images
Benzema has great shooting technique, but he can be more clinical in front of goal.
The Madrid No. 9 does not play with the ruthlessness of a world-class finisher. Benzema gets into great positions, but he can struggle to deliver in the biggest moments.
Although the French international has impressive skill on the ball, his first touch can be poor at times.
Benzema may have a few technical areas that need improvement, but his mentality has become a major weakness as well. The Madrid star can look disinterested at times, and he occasionally lacks the fight and hunger of an elite striker.
Karim Benzema: Team Fit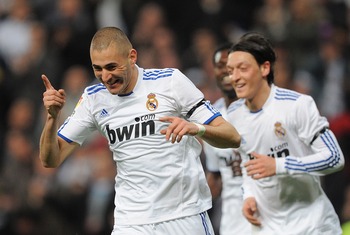 Denis Doyle/Getty Images
Benzema's technical ability and skill make him a great fit for the Madrid system.
Although Mourinho's men are dangerous on the counter-attack, Los Merengues keep possession around the box as well.
The Frenchman combines well with Cristiano Ronaldo and Mesut Özil, using one and two touches to work small triangles and create separation from defenders. With Benzema's skill on the ball, Madrid are able to play quick, incisive football in the final third.
In Mourinho's 4-2-3-1, Benzema gives the team a dynamic option upfront. He can release wingers into space with a clever flick or run at defenders with pace.
Benzema also drifts into wide positions, giving Ronaldo the freedom to move inside for short periods of time throughout the match.
With Benzema as the lone striker, Madrid are able to play a fluid and creative attacking system.
Verdict: Karim Benzema
Angel Martinez/Getty Images
Benzema should be the first-choice striker in Mourinho's starting XI.
Although Higuaín is the more clinical finisher, the Frenchman is a better fit for Madrid's style of play.
In Mourinho's 4-2-3-1, Benzema can bring others into the play and use his skill to link up with Ronaldo and the other attackers. The Frenchman's combination play and technical ability make him the No. 1 striker at the club.
Higuaín may be a natural goalscorer, but Benzema is the more talented player.
With Benzema upfront, Madrid look more dynamic and dangerous in possession. Although the Frenchman has yet to live up to expectations at the Santiago Bernabéu, he should be Mourinho's first-choice striker this season.
Keep Reading

Real Madrid: Like this team?