Philadelphia Phillies: With Pence, Are They Destined to Win the World Series?
August 2, 2011
Jeff Zelevansky/Getty Images
Well, they've done it. The Philadelphia Phillies finally got the right-handed bat they've been coveting for ever so long. And a great one, too.
On July 29, the Phillies acquired right fielder Hunter Pence and $2 million from the Houston Astros in exchange for their two top prospects, first baseman and outfielder Jonathan Singleton and starting pitcher Jarred Cosart, pitcher Josh Zeid and a player to be named later.
This was the deal that Phillies fans had been hoping would happen all along. And it did.
Ruben Amaro, you've done it again. And we Phillies fans thank you.
Pence was arguably the best offensive (if not overall) player on the trade market this year, and it took a good amount of negotiating by Phillies GM Amaro to persuade Astros (and former Phillies) GM Ed Wade to trade Pence to Philly. Now that he's here, the Phillies finally have the right-handed bat they previously lacked in their lineup, and a dependable player to back Ryan Howard in the five spot.
He's also a huge defensive upgrade over Domonic Brown, the Phillies' starting right fielder, who has since been demoted to Triple-A Lehigh Valley to work on his offense, but more importantly, to adjust him to left field, where he'll be playing once incumbent left fielder Raul Ibanez's contract ends after the season.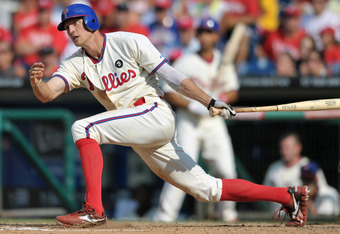 Drew Hallowell/Getty Images
Pence himself is even thrilled to be here; in fact, when asked about the fans' reactions to his first at-bat in a Phillies uniform, he said, "Oh, absolutely. I can't even begin to explain it. It's surreal. I'm absolutely ecstatic to be here. To see that kind of support from my first game, it's awesome. Thank you."
It seems like the Phillies are set to win it all this year, their initial goal at the dawn of the season. Forgive my repetition, but now that they have added such a key player to their already-stacked lineup, there really isn't much stopping the Phillies right now.
They have arguably the best starting rotation in the majors, their batting lineup has no obvious gaps, their outfield's defense has improved dramatically, and their bullpen has, for the most part, been supportive and kept opponents at bay (with the exception of Danys Baez, David Herndon and Drew Carpenter).
But is there still something the Phillies are missing on their roster?
One could attest to the fact that the Phillies bullpen isn't as wonderful as I made it sound, and frankly, I tend to agree. This season, the Phillies' bullpen has posted an ERA of 3.41 (tied for 10th in the majors with the Marlins and seventh in the NL), which is decent, but it could be better.
One thing's for sure. Herndon's, Baez's and Carpenter's ERAs of 4.46, 6.25 and 7.71, respectively, aren't contributing to that. On the bright side, at least they cut Baez and demoted Carpenter.
Again, I emphasize that a bullpen ERA of 3.41 is decent. But in a division where three of the other four teams' bullpens ERA are tied or ahead of you (Braves, Nationals and Marlins), that's not good at all.
And it seems like Amaro tends to agree with this as well, as does manager Charlie Manuel. Apparently, Amaro tried to trade for an unspecified bullpen arm on Sunday, but all talks he engaged in were unsuccessful. And Manuel has also stated that, despite the Phillies' acquisition of Pence, he still would like to see Amaro add a reliever. Keep in mind that he said this after the trade deadline.
While Amaro did say in the previously linked article that he "likes the bullpen," he said he would "like it more if [Jose] Contreras gets back." So, a combination of Contreras' injury and Amaro's inquiries for a bullpen arm imply one thing: despite his comfort with the bullpen, it looks like he might not be as content as he says he is.
It was also somewhat apparent that the Amaro was searching for a power bat off the bench at the deadline. The Phillies seemed close to acquiring Colorado Rockies backup first baseman Jason Giambi, but the deal fell through once Giambi injured his left quadriceps and was placed on the disabled list.
And according to ESPN's Jayson Stark, the Phillies also inquired about Jim Thome, their former first baseman, of the Minnesota Twins. Thome, who's only four home runs away from hitting 600 for his career, could have hit his 600th in a Phillies uniform had talks moved further. Wouldn't that have been something?
Amaro was searching for a bench bat for good reason, too: this season, the Phillies' bench players are hitting just .230 (214 hits in 929 at-bats) with just 17 home runs. And while the bench's 109 RBI is average, it could improve.
So, with the Phillies adding Pence to their lineup, are they destined to win the World Series this year? Sure, they have a bullpen hole or two and maybe lack a power-hitting bench player, but the Phillies are still the best team in baseball, and by adding Pence, they became even better.
Now it's time for the Phillies to show that with their Four Aces (yes, Roy Oswalt might be coming back for the weekend's series in San Francisco) and their newly-improved batting lineup, they can take down the Giants and the rest of baseball.