NFL Draft 2012: 11 Other QBs Who Could Be First-Round Picks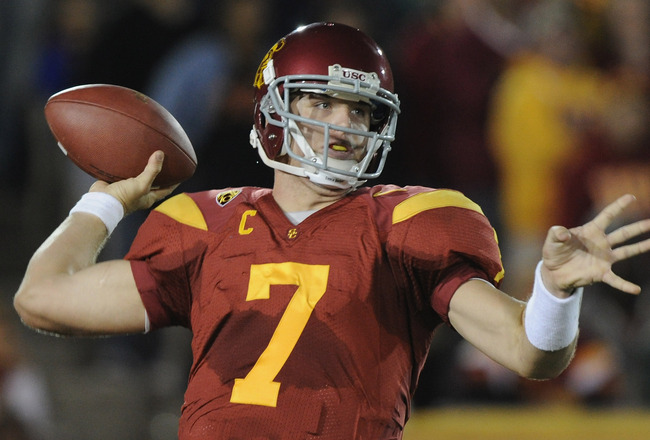 Harry How/Getty Images
It's never too early to start talking about the draft.
For Andrew Luck, going in the first round is a certainty. As Jake Locker and the Tennessee Titans proved in the 2011 draft, a consensus No. 1 guy can only fall so far. Short of a career-ending injury, there's nothing Luck can do to make himself fall out of the top 10.
For every other college quarterback eligible for the draft next year, it's an up-in-the-air issue. They need to put solid years together to get to the first round—some more than others. The field is wide open. With six quarterbacks taken in the first two rounds last year and the 2012 class looking significantly better than the 2011 class, a lot of guys could be off the board early.
Here are 11 guys who could end up in the first round, given the right circumstances.
1. The Definites: Landry Jones, Oklahoma, and Matt Barkley, USC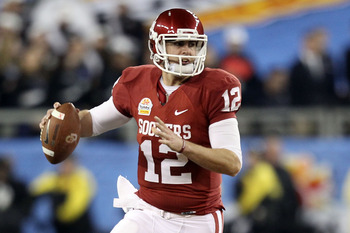 Christian Petersen/Getty Images
Other than Andrew Luck, there are two quarterbacks who are almost shoo-ins for a first-round grade, and unless they get seriously injured or regress substantially, they'll be off the board quickly.
Landry Jones, Oklahoma
Jones isn't as talented as his predecessor Sam Bradford, but the junior doesn't need to be a great quarterback. Jones threw for 4,718 yards, 38 touchdowns and only 12 interceptions. He also completed 65.6 percent of his throws and led his team to a one-loss season.
This year, Oklahoma is one of the favorites to win the BCS National Championship and getting there would certainly help Jones's draft stock. All he needs to do is stay the course, and he'll be good enough to go in the top five.
Matt Barkley, USC
USC is a pro quarterback machine, and Matt Barkley is their latest prospect. Coming out of high school, he was the top-rated quarterback by Scout.com. Though he's got a way to go, the junior has the look of a pro. In 2010, he threw for nearly 2,800 yards and 26 touchdowns in a pro-style system.
In early mocks, he is the favorite to be the second quarterback drafted behind Luck. Jones will give him a run for his money, but Barkley could help his stock by leading USC to a victory over Stanford when they meet this year.
3. Ryan Tannehill, Texas A&M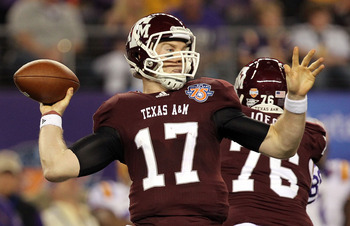 Ronald Martinez/Getty Images
Ryan Tannehill is a converted wide receiver who stepped into the role of quarterback for A&M last year and helped them to victory in their last five regular-season games, including wins over No. 11 Oklahoma and No. 9 Nebraska. It also doesn't hurt that the then-junior set a school record for passing yards in his first start (449 yards vs. Texas Tech).
He has the look of a pro quarterback, standing 6'4" and weighing 219 pounds, and as a former wide receiver, he's quick on his feet. Still, he's a bit of an uncertainty for now.
While he's only had six games to show his stuff, he has a whole season in front of him to prove he is a great quarterback. A&M is hot coming into 2011, and if Tannehill can keep up the good work, he can make the first round.
4. Dan Persa, Northwestern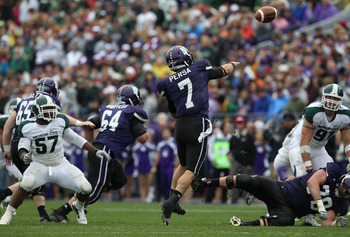 Jonathan Daniel/Getty Images
The 2010 season was a good one for the Wildcats. Typically a doormat of the Big 10, Northwestern stepped up, went 7-5, and managed to get a BCS ranking—twice. A large part of their success was due to quarterback Dan Persa, and two of their five regular-season losses came after he went down with an injury.
Persa is a versatile run threat in addition to his ability as a passer and has been called the strongest quarterback in the country. To add to his phenomenal ability, the senior completed 73.5 percent of his throws, an almost unheard-of figure. So, why isn't he getting Luck-like hype? His height.
Persa is short (6'1") for a quarterback, and that hurts his draft stock. However, Drew Brees is even shorter, and he won a Super Bowl. Brees is the exception that proves the rule (and he didn't go in the first round either), but if Persa is as accurate as he was last year, he may win a Heisman and get drafted in the first round anyway.
5. Ryan Lindley, San Diego State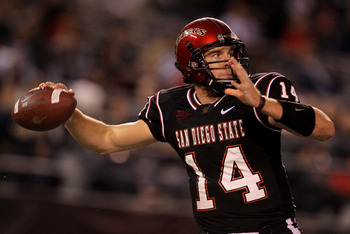 Stephen Dunn/Getty Images
Ryan Lindley plays for a small school, but that small school made a lot of headlines last year, going 9-4 and winning a bowl game against Navy. It's all the more impressive when those losses were to TCU, Missouri, BYU and Utah—all very good teams.
You want more? The largest margin of victory for those teams was TCU's five-point win.
Lindley is a competitor and, standing 6'4" tall, he's the right size to throw in the NFL. He threw for 3,830 yards in 2010, but his problem is accuracy, as his completion percentage was less than 58 percent.
This year, the senior will need to rein in his rocket arm and prove he can be an accurate passer. San Diego State has a rough schedule this fall, facing TCU, Boise State, Fresno State, Army and Michigan. If he can lead his team to a few upsets and improve his accuracy, he'll be a first-rounder.
6. Denard Robinson, Michigan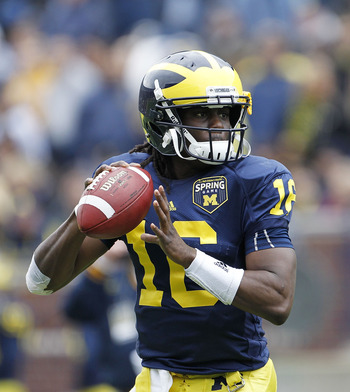 Leon Halip/Getty Images
I'll be the first to say that Denard Robinson getting drafted in the first round is extraordinarily unlikely, but it still could happen for two reasons: Cam Newton and Michael Vick.
It's no secret Robinson is a dual-threat quarterback. He put up more rushing yards than any player in the country except LaMichael James. That's right, unless you're an Oregon fan, Robinson outrushed your team's running back.
The junior also threw for a very healthy 2,570 yards, completing 62.5 percent of those throws with 8.83 yards per attempt. Those are pretty good passing numbers. He did all of this while splitting time with another Michigan quarterback who has since left the school.
Vick's success has made coaches start to re-evaluate the viability of mobile quarterbacks in the NFL. Unlikely as it may be, if Vick and Newton have good years in the NFL and Robinson throws a little less erratically, he could very well impress someone enough to take a chance on him—even in the first round.
Hey, if nothing else, never count out Al Davis to do something unexpected.
7. Kellen Moore, Boise State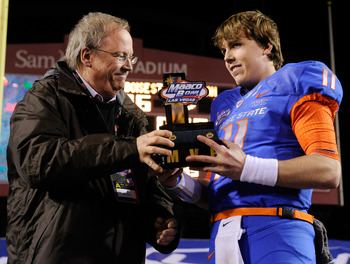 Ethan Miller/Getty Images
While we're on outside shots, let's talk about Kellen Moore. If you just look at the numbers, Moore looks better than Andrew Luck. Moore has thrown for 10,837 yards in his three years as a starter and has led his team to a 38-2 record. He also has 99 passing touchdowns to 19 interceptions, has rushed for an additional three touchdowns and posted a QB rating of 182.6 in 2010.
So how is a quarterback who has thrown for over six miles in three years not an automatic first-rounder? He stands six feet even and weighs 186 lbs.
Moore is even shorter than Dan Persa, and it doesn't help that he plays in a less competitive conference, too. While 2011 gives them a tougher schedule (Georgia, Nevada, Tulsa, TCU and San Diego State), the senior will really have to do something special to go early in the draft.
So why did I include him on this list? The Drew Brees exception.
Brees is the same height as Moore, and he is one of the best quarterbacks in the league. There is a chance (slim though it might be) that with another great season, someone could fall in love with Moore's undeniable talent and pick him up in the first round.
8. Nick Foles, Arizona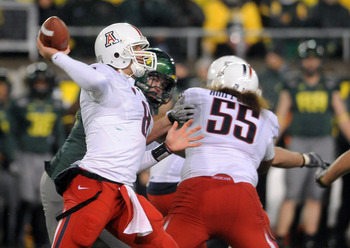 Steve Dykes/Getty Images
It's make-or-break time for Nick Foles. Where he goes in the draft depends entirely on how successful the senior is this year.
He had a great year statistically in 2010, throwing for 3,191 yards, completing 67.1 percent of his throws and throwing half as many interceptions as touchdowns. Still, Arizona underperformed to everyone's expectations and went 7-6. Further hurting his stock is his absence due to an injury after a win over Washington State. He hasn't won a game since.
If he can come back in 2011 and prove that the end of 2010 was just a fluke, he could go in the first round. But he's got a lot to prove.
9. Kirk Cousins, Michigan State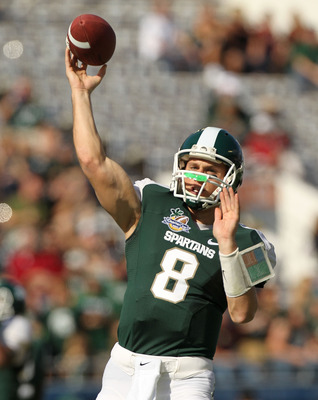 Mike Ehrmann/Getty Images
Another senior with a chip on his shoulder, Kirk Cousins was doing great in 2010. He led the Spartans to a piece of the Big Ten title, only losing one game. Then they played the bowl game against Alabama.
Cousins simply could not function against Alabama's defense. He only threw 10 completions for 120 yards and rushed five times for minus-56 yards. He threw no touchdowns and an interception.
For the year, Cousins threw for 2,825 yards and 20 touchdowns. He just needs to learn not to run the ball, as he had 40 attempts for minus-136 yards and a lone touchdown.
The senior needs to fix a lot of little things before he can be considered a real first-rounder. But if he can lead his team to as great a season as they had last year and perform better against top defenses, he could see himself off the board in the top 32.
10. Darron Thomas, Oregon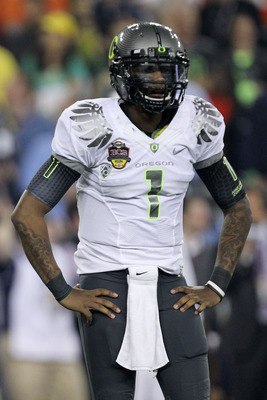 Ronald Martinez/Getty Images
Runner-up for the BCS National Championship isn't too bad for your first year as a starter. I think Darron Thomas will be either a first- or second-round pick—just not next year. I see the junior waiting out the phenomenal 2012 class and making himself a top pick in 2013, but you never know.
Most of the attention to Oregon was paid to LaMichael James last year, but Thomas was just as important to their success. For their nearly undefeated season, Thomas completed 61.5 percent of his throws for 2,881 yards, 30 touchdowns and only nine interceptions. He also rushed for 482 yards and five touchdowns.
If he can lead his team to a similar year and keep up such a great touchdown-to-interception ratio, I think he could end up being a first-rounder down the road. If he really does something special, he could sneak up there this year.
11. Tyler Wilson, Arkansas
Mike Zarrilli/Getty Images
Tyler Wilson is the other player who could be a first-round pick but will likely wait out the amazing 2012 quarterback class and enter the draft in 2013. Still, the junior appears to be good enough to make it this year under the right circumstances.
Wilson doesn't have a lot of stats to work with since he sat behind Ryan Mallett most of the year. In the six games he played in, he completed 34 of 51 throws (66.7 percent) for four touchdowns and three interceptions, two of those three against eventual national champion Auburn.
The most impressive statistic is his 13.3 yards per completion. These are promising numbers, but that's all they are for now. He needs a full year as a starter to really be in contention for top-pick status.
There is a lot of hype surrounding Arkansas this year as a potential SEC champion, and if they deliver, Wilson could find himself playing in the BCS National Championship Game. Although I think he'll return to school, he could come out in 2012 if he has a good enough year. If he does declare this year, you can bet that it'll be because he'll get taken in the first.
Keep Reading