USC Trojans Football: 5 Games Trojans Must Win to Land Top Recruits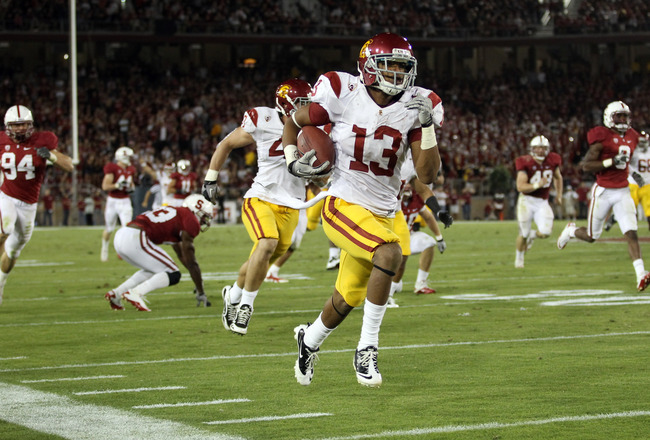 Ezra Shaw/Getty Images
The USC Trojans are limited in terms of what they can do recruiting wise for 2012, so landing the best recruits possible is more crucial than ever.
Many of the Trojans top targets will be choosing between some of USC's 2011 opponents. Because of this, there are a few key games on the Trojans' schedule that could be very influential in swaying recruits either toward USC or away from them.
While most recruits would admit that there are several other factors that go into choosing a school than who beats whom, it never hurts to have bragging rights.
Here are the five most significant games on USC's schedule that may influence their top recruits.
Week 6 @ California Golden Bears, October 13th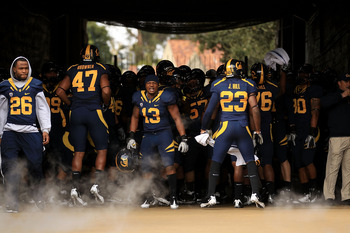 Ezra Shaw/Getty Images
Mutual Recruits: Ellis McCarthy, Shaq Thompson, Aziz Shittu, Joshua Garnett, Zach Banner, Derrick Woods, Kevon Seymour, Freddie Tagaloa
When the USC Trojans travel to San Francisco for their Thursday night game against the California Golden Bears they will be playing for more than just bragging rights and Pac-12 standings.
Many of the Trojans' top 2012 recruits are also being pursued by Cal.
A majority of the recruits that could potentially be swung by the result of the game are offensive lineman, which is a position that is very important for the Trojans in this recruiting class.
Should the Trojans defeat the Bears, some of the highest rated recruits from each side could lean more toward USC.
Week 7 @ Notre Dame Fighting Irish, October 22nd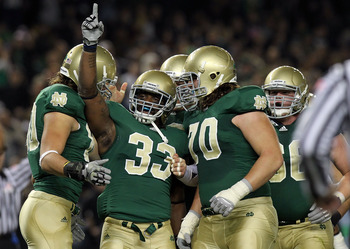 Nick Laham/Getty Images
Mutual Recruits: Nelson Agholor, Shaq Thompson, Aziz Shittu, Joshua Garnett, Zach Banner, Kevon Seymour, Ronnie Stanley
For the USC Trojans' week seven matchup in South Bend against the Notre Dame Fighting Irish another layer to the historic rivalry will be in play—recruiting bragging rights.
Notre Dame beat the Trojans in Los Angeles last season for the first time in almost a decade and in some sense revitalized a rivalry that had gone a little stale in recent years.
In 2011, the Trojans will have their chance to not only avenge last season's loss, but also to steal away some highly touted recruits from the Fighting Irish.
This game will be especially influential for Shaq Thompson, who as of now considers both Notre Dame and USC as favorites.
A win here for the Trojans could give them the edge if it came down to a decision between Notre Dame and USC.
Week 8 vs. Stanford Cardinal, October 29th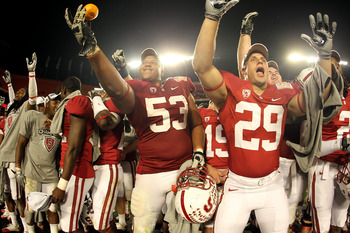 Mike Ehrmann/Getty Images
Mutual Recruits: Aziz Shittu, Joshua Garnett, Kyle Murphy, Derrick Woods, Freddie Tagaloa
The game between the Stanford Cardinal and the USC Trojans won''t have as much impact on the recruiting of the 2012 class as a whole, but it will have a great impact on a few key players.
One of USC's top offensive line targets in the 2012 recruiting class is the San Clemente High School standout, Kyle Murphy.
Murphy is currently between USC, Oregon, and Stanford, but many people believe it's a two horse race between the Cardinal and the Trojans.
It appears that he is leaning toward committing to Stanford, but should the Trojans impress the local recruit with a dominant victory over the Cardinal, Murphy could be swayed.
Week 10 vs. Washington Huskies, November 12th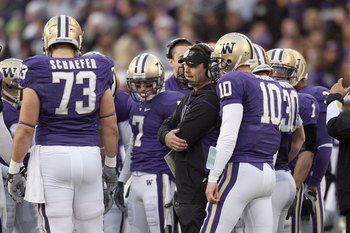 Otto Greule Jr/Getty Images
Mutual Recruits: Ellis McCarthy, Shaq Thompson, Aziz Shittu, Joshua Garnett, Zach Banner, Jordan Simmons, Derrick Woods, Kevon Seymour, Ronnie Stanley, Lacy Westbrook
The Washington Huskies have the opportunity to add insult to injury to the USC Trojans—getting the chance to beat the Trojans for the third consecutive year while adding some of USC's top recruiting targets to their roster.
The game, which will be played in Los Angeles could be a great opportunity to sway recruits from the state of Washington like Joshua Garnett and Zach Banner.
Both of the elite lineman recruits are from Washington and each are considering the Huskies as a possible landing spot for them at the next level.
Banner and Garnett have even said that they may decide to pick the same school in order to play alongside one another in college.
Though the result of Washington-USC game in 2011 won't be the deciding factor in their recruitment, it will give them along with other recruits the opportunity to see USC's on-the-field supremacy as well as see a USC home game in the coliseum.
Week 11 @ Oregon Ducks, November 19th
Jonathan Ferrey/Getty Images
Mutual Recruits: Ellis McCarthy, Nelson Agholor, Shaq Thompson, Joshua Garnett, Kyle Murphy, Zach Banner, Jordan Simmons, D.J. Foster, Derrick Woods, Kevon Seymour, Ronnie Stanley, Freddie Tagaloa, Lacy Westbrook
No other team the USC Trojans play has as many mutual recruits as the Oregon Ducks.
The Ducks have been flying under the radar this offseason when it comes to recruiting and have actually been able to put themselves in the position to possibly land one of the best classes in the country.
Not only are the Duck's battling to be the top team in the Pac-12, they are looking to be the top recruiting school in the new conference.
One of the teams they must beat to have an opportunity to hold both of those titles is the USC Trojans.
Should they be able to do that, there are several recruits that might be leaning towards USC who could change their standing and vice versa.
Keep Reading

USC Football: Like this team?