Dallas Cowboys: 5 Biggest Questions Facing America's Team in 2011-12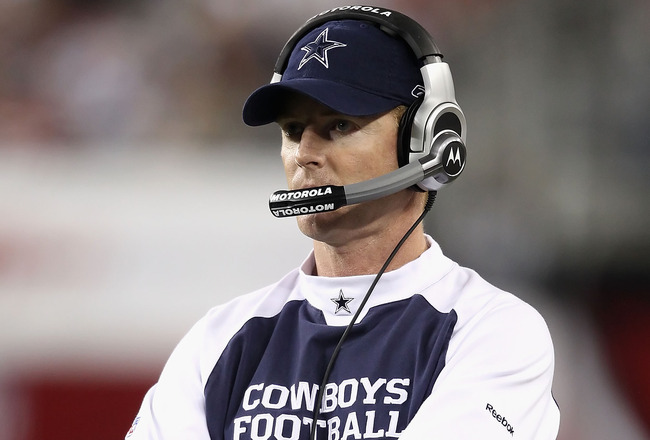 Christian Petersen/Getty Images
The Dallas Cowboys entered the 2011 offseason with many questions to answer, and it looks like they will enter the 2011-12 regular season having left many of those same questions unanswered.
The Cowboys struggled through much of the 2010-11 season, limping to a 1-7 record before Wade Phillips was fired and rebounding for a 5-3 finish under interim head coach Jason Garrett.
Garrett was then given the top job by Jerry Jones upon the conclusion of the regular season, after a cursory coaching search that seemed to satisfy the NFL's Rooney Rule more than anything else.
Garrett promptly hired former Cleveland Browns defensive coordinator Rob Ryan to overhaul a defensive unit that ranked 31st in the league in points allowed last season.
Because of the lockout, teams were not allowed to sign free agents prior to April's NFL draft like they normally would, and the Cowboys were forced to plug the holes in their roster through the draft without knowing which free agents they'd be signing.
Drafting mammoth offensive tackle Tyron Smith from USC with the ninth overall pick was a good start, but the Cowboys ignored other pressing needs by selecting North Carolina inside linebacker Bruce Carter in the second round and Oklahoma running back DeMarco Murray in the third.
As we move through training camp and toward the start of the season, the Cowboys still have a lot of questions left to answer.
5. Who Will the Starting Safeties Be?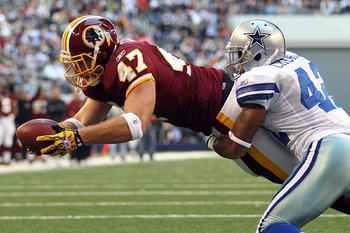 Ronald Martinez/Getty Images
For the first two weeks of training camp, the first-team safeties have been second-year players Barry Church and Akwasi Owusu-Ansah, neither of whom has ever started an NFL game.
Owusu-Ansah was a fourth-round pick in 2010 out of Division II Indiana (PA) and Church was an undrafted free agent, signed after the 2010 draft out of Toledo.
Owusu-Ansah has one career tackle and only appeared in five games last season before getting hurt. Church appeared in 15 games and made 20 tackles in backup duty.
The team likes the potential of both of these players, but neither one of them is ready to be a starting safety at the NFL level, so the Cowboys will need to sign a couple of safeties to take over the starting jobs.
Abram Elam is a player who could possibly be brought in to fill that role. Elam is a former Cowboy and he also played safety for Rob Ryan in Cleveland last season. He is much improved from the last time he was in Dallas and should be a solid contributor for this defense.
4. Will the Offensive Line Be Able To Hold Up?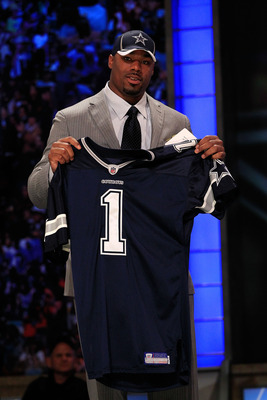 Chris Trotman/Getty Images
The Cowboys' starting offensive line this season figures to be Doug Free at left tackle, Kyle Kosier at left guard, Andre Gurode at center, Montrae Holland at right guard and rookie Tyron Smith at right tackle.
The 'Boys brass thinks Smith has what it takes to eventually make it as a left tackle, which would allow Free to slide back over to the right side. For this year, however, Free will likely protect Tony Romo's blind side.
The departed Leonard Davis leaves a giant-sized holed on the right side of the Cowboys line, and it will be up to offensive line coach Hudson Houck to coach Holland up to fill that void. If Holland struggles through camp and the early preseason games, another veteran may be brought in to take his place.
Gurode is a declining player despite his Pro Bowl appearances the past three seasons, and it may be time to start looking for his eventual replacement.
The Cowboys line is young at the tackle position, but old and slow up the middle. Garrett likes to call a lot of screen passes, and Kosier, Gurode and Holland may struggle to block those type of plays.
Keeping quarterback Tony Romo upright has to be a huge priority this season, especially since he's been injured in two of the past three seasons.
The Cowboys have the kind of skill position weapons to be an explosive offense this year, but it all starts with the offensive line providing good pass protection and a nice push for the running game.
3. How Will the Touches Be Distributed Between the Three Running Backs?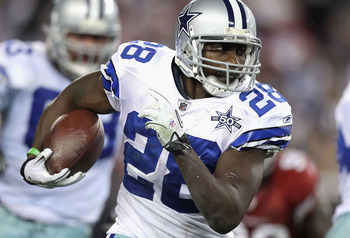 Christian Petersen/Getty Images
Even with Marion Barber gone, the Dallas Cowboys will still have a three-headed rushing attack this season.
Felix Jones will be the starter and he'll be backed up primarily by Tashard Choice, but rookie DeMarco Murray will get touches as well. You don't draft a running back in the third round to sit on the bench.
However, Jones, much like Barber before him, has played much better as a backup, change-of-pace-type back than he has as a starter.
Meanwhile, Tashard Choice has answered the bell every time he has been called upon the be the starter.
There is a school of thought that Choice is actually the most complete back on the team and that Jones is better suited to a backup role where his touches are limited and he can maximize his explosiveness.
Jason Garrett doesn't subscribe to that school of thought, as Calvin Watkins of ESPNDallas.com reports he "will give Jones at least 15 carries a game with the hopes of sprinkling Tashard Choice and rookie DeMarco Murray into the mix."
All three backs will be mixed into the passing game through screens and flares, and will be counted on to pass-protect in some situations as well.
2. Can Anyone Other Than DeMarcus Ware Rush the Passer?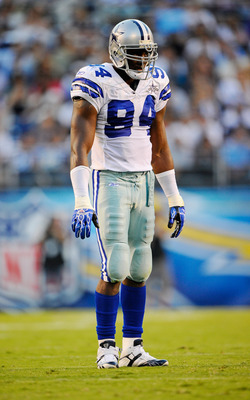 Kevork Djansezian/Getty Images
DeMarcus Ware is a premier pass-rusher and possibly the best defensive player in the entire National Football League.
He is a menace to opposing offenses who has to be accounted for, and double- or triple-teamed on every single snap. In theory, this should free up rushing lanes for players like Anthony Spencer.
However, Spencer has underperformed for most of his four-year career thus far, save for a stretch in 2009 in which he recorded six sacks in six games.
The Cowboys defensive ends are not exactly pass-rushing stalwarts, either. Marcus Spears, Jason Hatcher, Igor Olshansky and Kenyon Coleman are all primarily run-stoppers.
Jay Ratliff is a skilled interior pass-rusher, but he did not have his strongest season last year.
Rob Ryan should bring some exotic looks to this defense this year, and hopefully will be able to generate a pass rush from someone other than Ware.
You can expect to see Ratliff line up both inside and outside in passing situations, and there may be times where he is the only defensive lineman on the field, along with five linebackers and five defensive backs.
Spencer needs to play up to the ability that made him a first-round pick out of Purdue in 2007, and backup outside linebackers Victor Butler and Brandon Williams will have to generate some sort of push when they are on the field.
1. Are Jason Garrett and Tony Romo Ready To Lead?
Ronald Martinez/Getty Images
When Jason Garrett was named the offensive coordinator in 2008, it was with the expectation that he would one day be the next head coach of the Dallas Cowboys. That day is officially here.
Garrett was a hot coaching candidate after his first season in Dallas, and he turned down head coaching jobs in both Atlanta and Baltimore to remain in Dallas.
The shine on the so-called "red-headed genius" has waned over the past two seasons, mostly because of inconsistent play-calling. Garrett will have to rediscover the rhythm that made him such a prime candidate in the past.
Quarterback Tony Romo has been one of the best regular-season performers in all of football for much of his storybook career, but he has won just one postseason game.
Romo has all the skill in the world; a lightning-quick release, excellent pocket presence, the ability to escape the rush and a strong arm that can make all the throws. However, he has struggled to protect the football in his career and he must cut down on the turnovers.
Garrett got off to a good start in the leadership department last season by instituting a dress code, getting players back in pads for practices and bringing a general no-nonsense attitude back to the organization. He has continued that trend this year in training camp by making rookies "earn" the star on the side of their helmets.
Romo took a lead in bringing players together for offseason workouts, and has been working hard to develop the same kind of chemistry with explosive wide receiver Dez Bryant that he has with Miles Austin and Jason Witten.
These are the two men who will be counted on most to lead Jerry Jones' team back to the Super Bowl. Whether they can get the job done remains to be seen.
Keep Reading

Dallas Cowboys: Like this team?