WVU Football 2011: Can Dana Holgorsen Do What Has Never Been Done in Morgantown?
August 1, 2011
In a few days, a new era will officially begin for the West Virginia University football team. With the opening of practice for the 2011 college football season, Dana Holgorsen will begin to write his story in Morgantown, W.Va., in his own words.
In August 2007, Rich Rodriguez was still the headman in Morgantown and Pat White was about to begin his junior season as the starting quarterback for the Mountaineers.
Steve Slaton, Owen Schmitt and Darius Reynaud were among the offensive stars that White had to accompany him. Add Noel Devine to that list, Devine was entering his freshman season for WVU
Lest we forget, the Mountaineer offensive line was one of the best in college football too.
Mountaineer Nation was riding high, and talk of a run at the national title was part of seemingly every conversation about the WVU football team.
As the season progressed, all of the talk appeared to be playing itself into reality on the field. Rodriguez was marching toward a national title game as if it were his destiny,
In addition, as the season wore on, it appeared more and more that Rodriguez just might sign the most sought after quarterback in the land, Terrelle Pryor of Jeannette, Pa.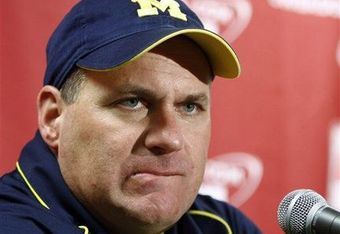 Alas, December 2007 brought Mountaineer Nation back to earth, then to its knees.
Their hated rival the Pittsburgh Panthers knocked WVU out of a national title game appearance.
Within a few weeks both Rodriguez and Pryor would take their services to the Big Ten as rivals. Rodriguez became a Michigan Wolverine and Pryor became an Ohio State Buckeye.
Ironically, in 2011, both Rodriguez and Pryor find themselves standing on the sidelines as spectators. Certainly not the development either envisioned four years into the future.
To add salt to that open wound, neither has that elusive national title in the trophy case.
Worse, WVU has two years of NCAA probation to deal with due to Rodriguez and his successor Bill Stewart.
Early in his tenure, it appeared that Stewart would garner the services of another highly sought quarterback to replace Pryor, Tajh Boyd of Hampton, Va.
As with Pryor, Boyd became nothing more than another drama story for members of Mountaineer Nation.
Stewart's ending in Morgantown can be added to that list of drama. Still, not before Stewart filled the need at quarterback.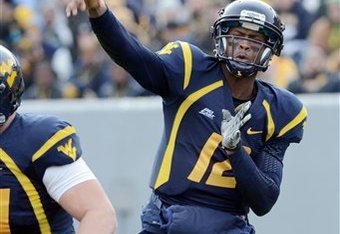 Instead of Pryor, or Boyd, Holgorsen has Eugene "Geno" Smith to lead his offense in the coming season.
It seems that whatever quarterback watch list there is, Smith is among those to watch for in 2011.
Once again, Mountaineer Nation is beginning to look to a potential national title game on the horizon. At least Holgorsen, and Smith, are tasked by athletic director Oliver Luck with that charter.
Can the 2011 version of the WVU football team make a title run? On paper, it is both possible and improbable.
Much of the possible rests on the shoulders of Holgorsen and his record setting offense. The abilities of the players running that offense, and defending against the opponent's offense are the improbable.
Debate has raged since 2007 whether that team or the 1988 team was the best to play in Morgantown. Those that are mature enough to remember add teams from the 1950s to the argument.
Does this team have the caliber of players that the 2007, or 1988 teams did?
Individual abilities are only good for the team when they are used in concert with the rest of the members of that team.
The underlying story to both Rodriguez and Pryor is that one person does not make a team. Both possess enviable ability as a coach and quarterback. Neither could turn that ability into a national title, they needed help.
In fact, it could be argued that both have hindered separate programs by their inability to conform to those needs.
There will always be members of teams that put themselves before their teammates, potentially destroying the team's ability to fulfill its potential.
How Holgorsen, and Smith, deal with those potential pitfalls will be the deciding factor in their success or failure.
Past individual awards and coaching accolades, as fans, we should concentrate on how the Mountaineers improve from week to week, or game to game. There is something to the old coach's adage about taking the season one game at a time.
Holgorsen, with Smith as his leader, is the latest to throw the Mountaineer colors into the proverbial ring as a long shot title contender.
I can only hope that both understand to hoist those colors at season's end it takes an entire roster working together, every game.
Perhaps, the 2011 football team will become the best team in the history of WVU football. It would be hard to debate against should WVU play for and win a national title.
It would be fitting if the Mountaineers won their first national title the old fashion way, the team being greater than the sum of its individual parts. The way football was meant to be played, and an example to those that have forgotten.
Enjoy the coming season, one game at a time; the end will come faster than the beginning.