WWE Raw August 1, 2011: CM Punk Confronts HHH and John Cena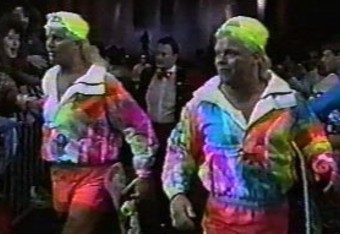 -This show has been like the geography of the United States: Lots of stuff on the two ends and absolutely nothing interesting in the middle.
Main Event Interview
Triple H hits the ring and says this is the first time there are two WWE champions in history. Umm...what about the fact that there is a world title on both Raw and Smackdown? We're not counting that?
Anyways, John Laurinaitis interrupts Trips and instructs him to strip Cena of the title, earning a face pop from the crowd. So we're just going to all pretend that Punk didn't beat Cena in a legitimate match and then they just created a new title the next night? How does Cena have a "legitimate claim" to being world champion? These are all questions that should have been asked during the creative meeting to book these shows, which they weren't.
Cena hits the ring and actually does a pretty good Laurinaitis impression before bringing up the Dynamic Dudes, a gimmick that 99% of the audience doesn't remember. So Raw has sunken so low that we're left with John Cena "shooting" on JOHNNY ACE??? What the hell? Cena chases Laurinaitis from the ring and gives the worst reason for being world champion in history: "Does that mean since I beat you at WrestleMania, I can strip you of the COO title?" That's the most ridiculous thing I've ever heard, kayfabe or not.
Triple H states he will not strip Cena of the title and that draws out CM Punk. HHH books them at SummerFest in a booking decision that anyone who's ever watched wrestling knew was coming. Both guys hold their titles up (with theme song changes, of course) to earn the cheers of their sections of crowd, depending on if they've hit puberty or not.
Final Word
Holy crap, the middle of this show was absolutely terrible. Squash matches, divas battle royals, boring segments...all bad. In all seriousness, you could have watched the first and last ten minutes and not missed a thing. I should have watched the Best of MTV instead.
Later.
Most recent updates:
This article is
What is the duplicate article?
Why is this article offensive?
Where is this article plagiarized from?
Why is this article poorly edited?