New England Patriots: Chad Ochocinco and the Season's Most Intriguing Stories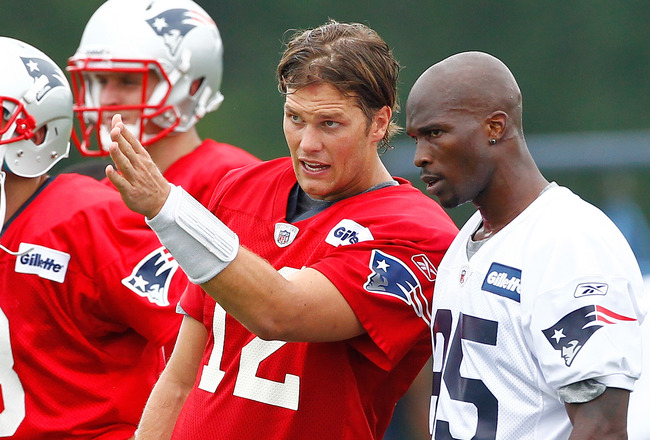 Jim Rogash/Getty Images
Perhaps there is no such thing as the 'Patriot Way' any more. The recent acquisitions of Chad Ochocinco and Albert Haynesworth are two more reminders, if any were needed, that the New England Patriots' mentality has changed since 2004.
Ochocinco and Haynesworth will both attract a lot of media attention during the season, will provide endless debates, and might give Bill Belichick a headache. All of a sudden, the upcoming season got a lot more interesting for the Pats. Here are four of the biggest stories going into the 2011 season.
Chad Ochocinco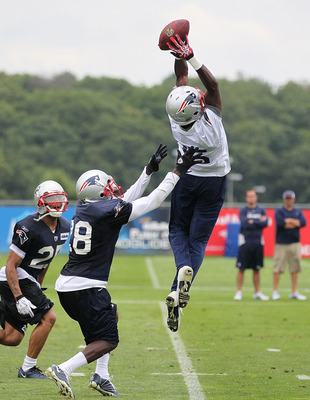 Jim Rogash/Getty Images
Whether it is tweeting from training camp, having a TV show with Terrell Owens or legally changing his name to resemble his uniform number, Chad Ochocinco né Johnson has made a name for himself more for his off-the-field antics than what he has done between the lines.
However, he is still a very good receiver. He does not have the ability to stretch the field like the recently-retired Randy Moss did, but will provide more of a reliable deep threat than the Pats had last year after Moss' departure.
Albert Haynesworth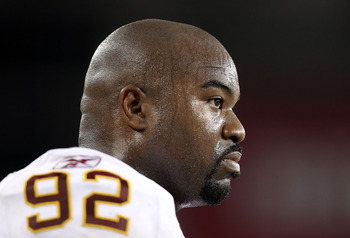 Christian Petersen/Getty Images
In February 2009 Albert Haynesworth signed a monster seven year, $100 million contract with the Washington Redskins. His off-the-field behaviour has been reprehensible at times and has overshadowed what he can do as a defensive tackle.
In 2010 he had just 2.5 sacks and had done everything in his power not to endear himself to Mike Shanahan or anyone else at the Redskins. Despite his poor performance last year, no one thinks he is totally done yet. At least, Bill Belichick doesn't.
For a fifth round draft pick, Haynesworth is relatively cheap and in spite of his reputation and attitude, he is fairly low-risk. If Belichick can calm him down somewhat, the Pats might have a good find, if not, they can jettison him easily.
Tom Brady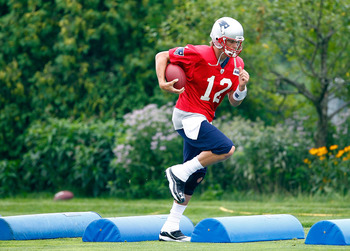 Jim Rogash/Getty Images
Tom Brady's 2007 was one of the best seasons a quarterback had ever had in the NFL, yet there were those who thought he performed even better in 2010. The Patriots did not make it as far in the playoffs and he did not throw 50 touchdown passes, but it was vintage Tom Brady from start to finish, capped by being the first unanimous choice for MVP.
It would be remarkable if he managed to repeat that form again but this is Tom Brady, and nothing would be surprising.
Pass Rush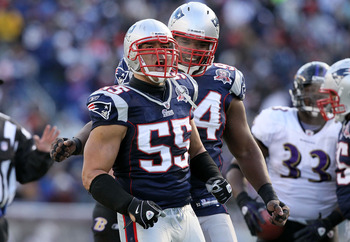 Al Bello/Getty Images
Let's be frank: last season, the pass rush... well, there wasn't one. The New England Patriots simply could not put pressure on the quarterback and while they coped and covered it most of the time, it came back to haunt them in the playoffs.
The Pats did not need to do much to improve on last year's woeful performance, though. Matt Light, who missed a bit last season, will be back, but the release of Ty Warren will have raised eyebrows. Warren missed all of 2010, but would have provided some punch, though he is not a pure pass rusher.
Jermaine Cunningham, now in his second year, should help out, and showed glimpses of potential in 2010.
Also, if the Albert Haynesworth experiment works out, the Pats might have found a viable D-line presence, even if it is just for one year.
Keep Reading

New England Patriots: Like this team?