Match Report: DFB Pokal Round 1 — Dynamo Dresden 4-3 Bayer Leverkusen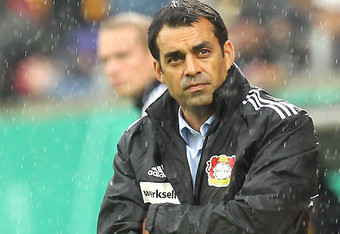 Robin Dutt Staring at Unbelievable defeat

Dynamo Dresden welcomed Bayer Leverkusen at Glücksgas Stadion, in Dresden, for the first round of the DFB-Pokal where they fought-off a thrilling match (well, thrilling at least for neutrals and Dynamo Dresden fans) which ended in the list of "mother and father of comebacks". When the first round of DFB-Pokal was being drawn out and this mach sprang out, everyone knew that this "special-draw" had something in store. It had certain Ulf Kirsten-esque ring to it. But no one knew that it would end this way until it was all-over. Some skirmishes and circus-howlers played out their part in the manner of this defeat to Bayer Leverkusen — and some determination, fight-back spirit, two-goals-two-minutes-scare, and a breath-taking atmosphere and "traditional support" from Dresden fans played its part in the manner of victory for Dynamo Dresden.
Robin Dutt couldn't have wished for more better start in his first competitive game ever for Leverkusen when Bayer 04 took the lead in 6th minute when the positioning, intelligence, and foot-work of Derdiyok and Bender worked for each others' benefit as Bender took the loose ball at the edge of the penalty box and drifted it towards right by-line from where, despite being in tug-war and under-pressure from Dresden's left-back Sebastian Schuppan, he initiated a perfect weighted cross which Derdiyok had no difficulty to head-it-in-to-the-net.
Moments later, Dresden's Robert Koch had a chance to equalize but his ferocious shot was only a few inches away off right-post. In 12th minute, Simon Rolfes showed a brilliant trait of himself. He just came in to space to receive the ball and intelligently lobbed it over Dresden's defense for Sidney Sam who chipped it over on coming Dresden's goalie Dennis Eilhoff to make it 2-0. Doubters have always put a point forward that Rolfes has no "leadership".
To put in simple terms, there are two types of captains; You have Effenberg, Kahn, Roy Keane, and likewise in one category while you have some cool heads who speak less and work more in second category. Rolfes' leadership comes in the latter category. It was just a moment that hardly lasted three seconds, but you can sketch the spectrum of Rolfes' personality out of it — and he has done it many times, one just has to keep looking.
After that second goal, Bayer 04 started enjoying some possession and circulating the ball in the middle of the park quite well. However, whenever Dresden tried to outbreak on counters from the flanks, Bayer 04 seemed to lack something to deal with that. Add to that, dealing with the crosses and set-pieces were awful. Balitsch didn't leave any strong impressions to remember, right from the start, at his new right fullback position. When Bayer 04 were in possession he was always well ahead attacking, and if Dresden started counters, he always left something more to be desired of. Robert Koch and Philip Trojan kept testing him and, disappointingly, Balitsch lost this battle yesterday. If Leverkusen are to play well in Bundesliga, then they have to make sure that Balitsch knows how to back-track counters otherwise, every other team will expose the weak link on right-fullback position.
With the minutes in to the second-half, the lead was extended to 3-0 when André Schürrle scored his first goal for Bayer Leverkusen in 49th minute. After that, it couldn't go wrong from there — but it did.
Double-substitution by Robin Dutt at 63rd minute of the game to introduce Ballack and Kießling in place of Rolfes and Derdiyok somewhat backfired. When Rolfes left the pitch, Bender lost a shield. In case of Derdiyok, Bayer lost a man who kept coming deep to collect the ball and help build in plays. What needed to be done at that moment was to address the right full-back position which, every time Dresden players — mainly Koch, Trojan, and even Schuppan in some cases — took on, it was left torn open. Additionally, crosses and set-pieces were dealt in awful manner right from the start of the match and Bayer needed some fresh legs at the heart of the defense to fend off those threats.
Right after five minutes of that double-sub scene, Dresden pulled back a goal to make it 3-1 when Sebastian Schuppan scored with a header from a free-kick. Within few moments, Dresden made it 3-2 from another header, this time a cross by Trojan coming from "Balitsch's area". Koch was the scorer who had a wonderful game for Dresden — threat from the start (5 shots, 2 on target, 2 goals).
When Dresden came that close, they pushed even harder up-the-field and Leverkusen began to fell apart. In 80th minute Castro was introduced in place of Renato Augusto but to no avail. Dresden equalized with four minutes left in normal time when Koch just pulled the ball in to the "literally" empty net; again a cross from "Balitsch's Area", which Sam failed to meet as Schuppan jumped higher and Yelldell failed to smother the ball as he was completely headless. To put it on the table, Yelldell was completely headless in all the goals he let in.
Dynamo Dresden 4-3 Bayer Leverkusen
In to the extra-time, and Dresden didn't lose the grip on the match. In 100th minute,
Alexander Schnetzler took on the field in place of Schuppan. When the second half of the extra-time started, Ralf Loose introduced Sascha Pfeffer which resulted in master-stroke as the both subs i.e. Schnetzler and Pfeffer were involved in forth goal of Dynamo Dresden.
Just minutes away from Penalties, Dresden initiated an attack where Leverkusen playing with high-defensive line and they were caught in the middle of it. Pfeffer collected the ball and sent it through to on running Schnetzler who, with few strides, came one-on-one against David Yelldell. He coolly chipped the ball over completely headless Yelldell and it was 4-3 for Dynamo Dresden and the fans went berserk as one of the greatest comebacks in DFB-Pokal culminated.
And it's over.
Don't let anyone tell you different when they say it's O.K. to have been knocked out of DFB Pokal this early as you can fully concentrate on League and European adventure because it's not O.K., DFB Pokal is… special.
"We didn't respond when they scored their first goal. What happened then is inexplicable. The first chance of a title has gone." — Robin Dutt
You can read this post at Werkself Stryder and leave a comment there as well.
This article is
What is the duplicate article?
Why is this article offensive?
Where is this article plagiarized from?
Why is this article poorly edited?