20 Most Awesome Streaker Takedowns in Sports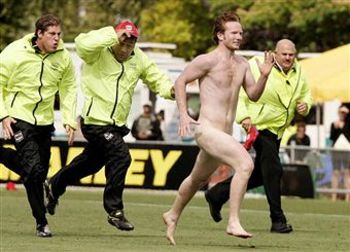 Streakers are a rare breed of people. I understand the idea of running on the field, or up to your favorite player and trying to shake their hand. But, why do it naked?
You have to be very secure with your masculinity to run onto the field and show the whole world your junk, while you escape out of shape security guards who want to rip off your head.
All I know is, you need balls (pun fully intended) to do something like streak.
Here are the 20 best streaker takedowns.
Enjoy.
20. It's Smart to Streak: Harvard V Yale
The crowd reaction leads me to believe that it was a very nice takedown. These students are supposed to be smart, yet they are running onto the field, naked.
So much for mom and dad's tuition money going to good use.
19. Streaking Through a Restaurant
This man was in a sports pub and decided to come out of the bathroom, for whatever reason fully naked.
A restaurant patron did not take too kindly to this and tackled the man to the ground before running out the front door. I hope to God this was a dare.
18. Brisbane Roar FC vs. Celtic FC
This was solid run that ended because of good security work. The streaker was too concerned with the theatrics and less about the results.
Sounds sort of like an NFL wide receiver…
17. Streaker Tripped Up
If the goal of streaking is to get attention and maybe get to kick the ball around a little, then this guy failed epically.
The players are encouraged to not get involved with the idiots that run on the field and let security take care of it. But, when he is coming directly for the ball, it's ok to pull the rug out from under him and make him look like the fool that he is.
16. Streaker Breaks Tackles Then Gets Taken Down
It is nice to see a streaker do a decent job of getting by security before the run is over. This guy was agile and avoided three guards before the final takedown.
Security guards should have to practice taking down Chris Johnson. If they can get him to the ground, nobody has a chance.
15. Streaker Driven out of Bounds
This streaker thought it would be a good idea to run on the field and act as a referee. I give him props because people didn't realize until his clothes were gone what was going on.
He didn't get jacked up, but his performance was good enough to make the list. They drove him out of bounds because he was a rather big man and nobody wanted to touch him.
14. Colt Mascot Takes out Streaker
They need to give the guy in this mascot suit a contract. That was a perfect form tackle and a nice complete take down.
Some thought that this was staged before the game, but nonetheless, it is a great hit.
13. As If Running with the Bulls Wasn't Ballsy Enough
Millions travel to Pamplona, Spain each year for the running with the bulls. This ballsy display of manhood is only toped by running with a bull in a confined ring.
I'm sorry, I have to correct myself. The only thing ballsier than that is to run around naked. In this case, the bull did not like what it saw and took it out on the poor guy.
12. FC Porto Streaker
At least he got to take the ball and live out his soccer dreams. I believe none of the players wanted to get too aggressive and bump him off the ball, for fear of actually touching him.
The goalie on the other hand was not going to give the man the satisfaction of scoring. He recorded the stop and then security took care of the rest.
11. Borat Streaker Tackled and Player Sent off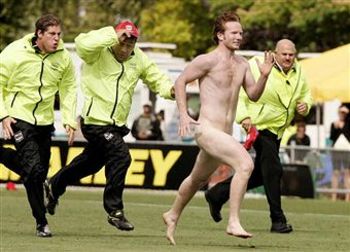 A streaker wearing a wig and a Borat thong made his way to the pitch and eluded security for quite some time.
Soon enough, one of the players could not take his antics anymore and threw him to the ground. The referee then responded with a red card and an automatic ejection.
At the end of the day, there were two morons on the field.
10. Liverpool Streaker
I assume that British streakers are a bit classier, because hey, they're British. But, he broke the cardinal rule of streaking – he stumbled and fell down.
When he tried to get up, he got a swift push from two Liverpool players and his run was over.
9. Taking Down Streakers the American Way
At the Vancouver Whitecaps and LA Galaxy game, a streaker entered the field of play and twirled his shirt around his head with pride.
He forgot to check his rearview mirrors though and was clocked from behind. The security guard's jacket was bright pink, yet this was the one that the streaker didn't see.
8. Dancing Streaking Knocked out Cold
Though he is wearing underwear, he makes the list for the bone crushing hit and the fact that he was basically naked.
It's good that someone knocked him down because those dance moves have much to be desired. It was a nice form tackle on a guy that got lifted off his feet.
7. Streaker Tackled Hard
After watching a decent amount of streaker footage, I have figured out the formula. One of the guards needs to chase the man or woman like a chicken with his head cut off while another waits in the tall grass to level the streaker.
This seems to work pretty well and results in some great tackles.
6. Mascot Takes out Streaker
The mascot, Bertie Bee, took it upon itself to stop the streaker from wreaking any more havoc. I bet the man who was running around without his clothes on did not think that the guy in the bee costume would be the one to end his run.
Luckily for all of us, it was a great hit and a hilariously memorable moment.
5. Terry Tate, Streaker Linebacker
Everyone knows of Terry Tate's work in the office. Nobody steps out of line, and he dishes out the pain whenever he deems necessary.
This streaker, wearing nothing but a scarf (you have to keep warm), meets Terry for the first time in a very personal way. This is how all streakers should be handled; get rid of the fat security guards and bring in some NFL quality linebackers.
4. Streaker Patriots-Panthers
This is one of the more famous streaking incidents that nobody remembers. A man ran on the field before the kickoff and delayed the game before a Patriots special teams player leveled him.
The look on Tedy Bruschi's face is priceless.
3. A Streak That Ended Too Soon
This man had a great run. He went to the center of the field for everyone to see, and then was quickly destroyed by the guards.
He might have had his glory short lived, but he is now infamous due to his inclusion on this list.
2. Cricket Player Knocks out Streaker
go to :30
Cricket matches can last days, so they don't have time for a streaker to run the pitch and ruin the game.
Andrew Symonds was not having it and when the streaker got too close, he threw him a shoulder and knocked him on the ground. You got to love it when cricket players get a little physical.
1. Streaker Plays Some Football
This is teamwork by players that are not even on the same team. The streaker is taken by surprise when he is chased and then unexpectedly leveled.
The best part is the reaction from the crowd and the players. It's happiness mixed with shock, with hilarity somewhere in the middle.
Keep Reading