Washington Capitals: Is Swede Mattias Sjögren Ready for Full-Time NHL Action?
August 27, 2011
When the Washington Capitals signed Swedish center Mattias Sjögren to a two-year contract on June 1, they picked up a talented player who has established himself as one of the best grinders outside the NHL. The Landskrona native plays a gritty game that involves hitting, working hard in the corners, and being a good defensive player. He is also offensively gifted, and made his way on to the scene as one of the better playmakers in the Swedish Elite League.
The signing sparked a wild debate in the Caps community that centered around one question: Will Sjögren be ready for the National Hockey League in his first North American season?
The answer to this question will likely be dependent on two major factors: size and skill. Will Sjögren be able to hold his own as a 23-year-old against some of the best athletes in the world, and will he be able to produce enough to warrant a place among the 12 forwards when there are highly touted prospects waiting in the pipeline?
Size should definitely not be a problem. Sjögren stands at 6'2", and weighs in at 214 pounds. The only way to really test how he will hold up is to compare him to the other players on the Caps 23 man roster from last season (used simply because there are too many permutations to try to predict what the 2011-12 roster may look like) and see how he matches up physically to them.
Height usually isn't an issue unless you are Mathieu Perreault-size. It is much more important to measure the weight, as that gives us an idea of how strong and powerful the player is. 
Of the 36 players who featured for the Capitals last season, Sjögren comes in at 11th behind Alex Ovechkin, Mike Knuble and Matt Hendricks and ahead a group including Mike Green, Matt Bradley, and Brooks Laich (some of the toughest guys on the roster). Marcus Johansson, the 20-year-old ex-rookie who was praised for his ability to hold his own on the ice in his debut season, comes in at 33rd with his 189 pounds. 
Sjögren dominated some of the younger prospects at the Caps' annual development camp, showing how much further he has matured. He has a step up on all of them. As far as size goes, Sjögren will have no problem fitting into the NHL game.
How far his point totals rise is more difficult to predict. He managed seven goals, 17 assists and 24 points along with 44 penalty minutes for the Elite League's Färjestad last season. You can't compare him to any player from the junior leagues or the KHL, as those leagues are a different quality and Sjögren would almost certainly not put up the exact same numbers he did in the SEL there. 
You have to find a player who came over in the same situation, from the same league, and having had the same numbers to begin to have a chance of predicting Sjögren's 2011-12 numbers.
One player you could certainly use to compare to Sjögren is Capitals center Marcus Johansson. While they don't play the same game and Johansson is clearly a few steps up the potential ladder, they both come from the same team in the SEL having played in the same spot in their last season as the team's third line center.
Johansson put up 10 goals and 10 assists in 42 games in his last season in the SEL, clearly worse numbers than Sjögren.
While you may think that means Sjögren will do better than the 13 goals, 14 assists Johansson managed last year with the Capitals, he probably won't. Johansson was and is developing at a faster rate and almost certainly improved more from season to season than Sjögren will this year, and Johansson probably had a more important role on the team than his fellow Landskrona-born center will have this year.
That said, those numbers may not be far far off. 
Three factors suggest that Sjögren could put up similar totals:
1. As mentioned, he did put up better numbers in his last season.
2. He plays a North American style game, and will have less of an adjustment period. He drives the net and does the little things right, and that is likely to improve his numbers.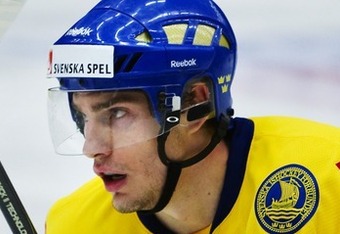 3. The fourth line is improved. New signing Jeff Halpern put up six more points last year than Boyd Gordon and Matt Bradley did combined. Sjögren is likely to start the season as the fourth-line right-winger alongside Matt Hendricks and Halpern, a line with good goalscoring potential.
Another player we could look at for answers is Chicago's Swedish left-winger Viktor Stålberg. While he never played in the Swedish Elite League, he plays a similar game to Sjögren and does have the same role on his team as Sjögren will likely have with the Caps this season. Stålberg's last year in Sweden was in the Elite League's junior division, a year Sjögren was already playing in Sweden's second division, the Allsvenskan. Comparable.  
Last year Stålberg, who is one year older than Sjögren, put up 12 goals and 12 assists in 77 games with the Blackhawks, becoming a key part of their fourth line and solidifying his role on the team. The Caps certainly hope Sjögren will do that in Washington.
While there are an uncountable number of factors that come in, you can expect to see Sjögren put up numbers somewhere in the region of the Stålberg/Johansson region. He will also develop into an important penalty killer and a fan favourite. He is Matt Bradley's replacement.
Mattias Sjögren is definitely ready for full-time NHL action.

Follow Jacob Ware on Twitter at @jacobware95