Bill Belichick: Why Adding Albert Haynesworth and Chad Ochocinco Is Desperate
August 1, 2011
Jim Rogash/Getty Images
For all the chatter about how Albert Haynesworth and Chad Ochocinco must now confide by the "Patriot way," nobody's mentioned the fact that the head honcho—Bill Belichick—has totally rebelled against it. 
Belichick has already made plenty of headlines in this post-lockout offseason for his questionable acquisitions of Haynesworth and Ochocinco, two players who have recently gained more notoriety for their antics than actual on-field performances.  Now it's just a matter of time before we see if these two once-dominant stars are the second coming of Ted Washington and Randy Moss, or if they will remain in their unimpressive roles as Haynesworthless and Ochostinko.
I'm leaning towards the latter in regards to that debate, and I'm also leaning towards declaring that Belichick has arrived at the point in his New England tenure where he is now contradicting the fabled "Patriot way" on a regular basis.
Nearly a decade ago, when the Patriots were winning Super Bowls with scary regularity, the thought of having bad apples like Haynesworth and Ochocinco in a Patriots locker room was unfathomable.  During this time, Foxboro was the home of Troy Brown, Antowain Smith, Joe Andruzzi, Tedy Bruschi, Mike Vrabel, Adam Vinateri, David Patten, Christian Fauria, and countless other Patriots who had no egos on the field and no troubles off it.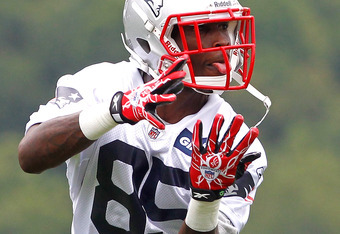 Jim Rogash/Getty Images
Then, Belichick started integrating some football malcontents into his locker room, hoping low risks would pay off big time.  The aforementioned Washington and Corey Dillion did, as both played major roles on the last two championship Patriot teams.
After that, Belichick added the recently-retired Randy Moss to mixed results (and no Super Bowl), and just last week he brought both Haynesworth and Ochocinco on board, on the same day, nonetheless. 
Thanks to these head scratchers, the Patriots' reputation is quickly transforming from a franchise with strong character players to the NFL's version of the Betty Ford Clinic, with Belichick serving as football's Dr. Drew, overseeing the rehabilitations of Washington, Dillon, Moss, and now Haynesworth and Ochocinco.
This isn't the "Patriot way" that so many Pats fans fell in love with years ago.  Since their last Super Bowl triumph, players like Bruschi, Vrabel, Vinateri, and Brown—architects of the "Patriot way"—have left, while clowns like Moss, Brandon Meriweather, Bret Lockett, and now Haynesworth, Ochocinco, and Ryan Mallett have donned a Pats uniform.
Do you think it's simply a coincidence that Belichick and Tom Brady haven't added a fourth championship to their resumes during this time?  If that isn't bad enough, Belichick's recent moves are indication that he's now panicking, another trait that certainly isn't very Patriot-like.
It's definitely not a coincidence that Haynesworth and Ochocinco were acquired at the same time that talk of Nnamdi Asomugha going to the rival Jets reached a fever pitch.  Of course, Asomugha ended up in Philadelphia, but nobody knew that was going to happen this time a week ago—Belichick included.
It's painfully obvious that the Jets are as viable a threat to unseat the Patriots atop the division—and the league—as they've ever been.  In a staring match with Rex Ryan, Belichick blinked first, pulling off moves that reeked of desperation to keep up with Gang Green by adding two aging question marks to his roster.
Of course, Belichick was trying to make his team better through these moves, which can easily be applauded.  The problem is that safer options were already there for the taking.  The Patriots could've brought in James Jones, a receiver who is as skilled as the 33-year-old Ochocinco is at this point in his career, for similar money and far less baggage.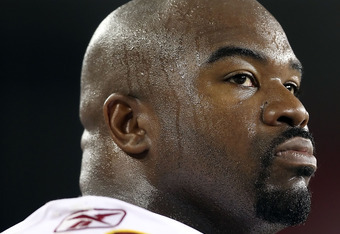 Christian Petersen/Getty Images
You need a better pass rush?  New England could opt to bring in linebacker Matt Roth, who has the potential to be the next Vrabel.  But until they do, Pats fans are stuck hoping and praying that Haynesworth will be motivated to finally prove he isn't the absolute worst free agent signing in NFL history.
I already hear the arguments now.  Bill Belichick is the king of low risk, high reward moves!  If these latest pickups pay off, then he's struck gold again!  That may be true, but isn't there going to eventually come a point where making a move like this doesn't pay off?  In four months, will we be saying Haynesworth and Ochocinco are who we thought they were?
The bottom line is if you keep playing with fire, you're going to get burned eventually.  Patriots fans better hope Haynesworth and Ochocinco aren't still full of hot air.