Why Jermichael Finley, Green Bay Packers Are Headed for Nasty Divorce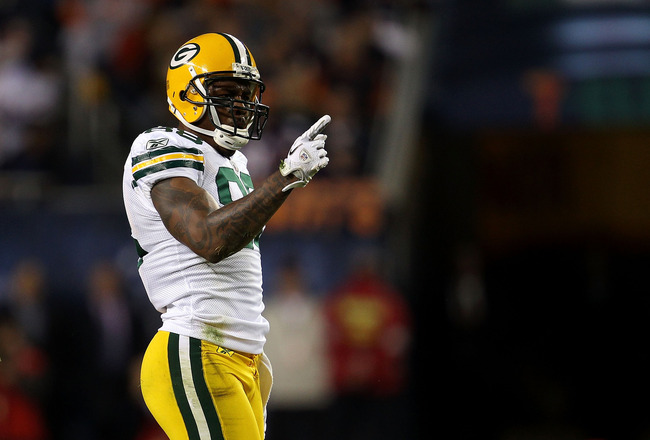 Jonathan Daniel/Getty Images
We all have heard of Jermichael Finley by now.
The media has crowned him as one of the best young tight ends in football. He has the physical gifts necessary to be a dominant starter in the NFL, and has flashed the potential on the field to back that notion up. He is too fast for linebackers, and too big for defensive backs.
Finley is coming up on a contract year, and it makes you wonder. Is this match made in heaven going to be coming to a screeching halt?
The answer is yes, and be warned. It's about to get ugly between the Packers front office and tight end Jermichael Finley. Let's take a look at a few reasons why Finley won't be back in Green and Gold after 2011.
1. Finleys Ego Will Get in the Way of a Deal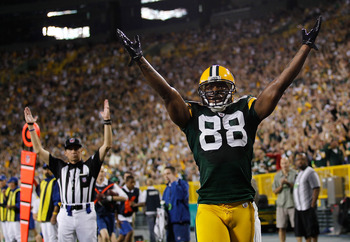 Jonathan Daniel/Getty Images
As previously stated, Jermichael is an extremely talented freak of nature. He causes match up problems regardless of where he lines up, and he can easily stand up and split out wide to force some of those match up nightmares.
Over the last couple years, the media has caught on to Finley's potential and have talked him up based largely on that potential alone.
All of that attention and hype that he is getting is going to his head. He is becoming more arrogant by the day, which means when it's his time to cash in --he is going to think that he is owed more money than he is actually worth.
You never want to overvalue your own worth to a team, especially when your general manager is Ted Thompson.
2. Finley Has Yet to Prove He Can Get Through a Full Season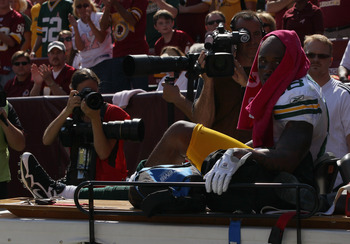 Win McNamee/Getty Images
While Finley is immensely talented, Packer fans and their front office really haven't seen as much from him as the media would otherwise indicate.
He started his career on the bench in 2008 as a rookie and didn't showcase much. He started on the bench again in 2009, but came on very strong in the second half and began the hype machine.
In 2010, he beat out Donald Lee for role as starting tight end of the Green Bay Packers. He started off the season hot, but suffered a season-ending injury in Week 5 against the Washington Redskins. The weirdest thing about the injury is it doesn't look all that bad on tape.
In three years as an NFL tight end, Finley has started a total of 16 games. Averaging a little over 5 starts a year, and has not shown an ability to be able to be stuck in that role over the course of an entire season.
If Jermichael wants to create ANY leverage at all with Packers GM Ted Thompson, he is going to need to start most of, if not all of the 2011 season and put up monster statistics.
3. Ted Thompson Wont Be Taken Hostage by a Player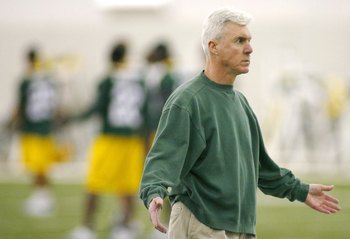 Darren Hauck/Getty Images
Ted Thompson isn't your normal General Manager.
He is stuck in his ways, a hard negotiator, and isn't afraid to bring a player out of the clouds with a seemingly low balled offer. But he is also very fair. Ted rewards phenomenal players, especially those that he drafted.
But there is no way that a player will get the better of him-- much less one that has accrued only a single season of starts in the NFL.
If Finley comes out of the gate, demanding truck loads of cash (much like I expect he will), Ted will set him straight very soon thereafter with an offer he deems much more fair. Finley will respond by taking it personally, and telling Ted that he deserves more. Ted will promptly laugh at Jermichael and his agent, and tell them to begin looking elsewhere on the market.
Ted will not sacrifice the financial stability of the entire team to break the bank on a single player.
If you can't be sure of much, be sure of this. If Jermichael Finley signs an extension with the Packers, it will be on Ted's terms, not Finley's.
4. Ted Is Ready for the Worst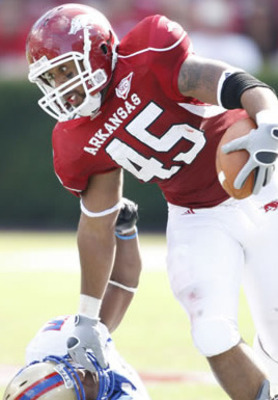 Ted Thompson is the man with the plan. He never leaves the office with out dotting his Is and crossing his Ts.
Brett Favre departs, Aaron is ready to step in. Al Harris gets hurt, Tramon Williams is ready to step in. Cullen Jenkins doesn't get re-signed, Mike Neal is ready to step in.
Thompson drafts reflect his teams needs a year or two down the road. And if recent Packer drafts tell you anything, it's that the Packers are loading up on talent at the tight end position.
Since Finley has arrived in Green Bay, Ted Thompson and the Packers have drafted numerous tight ends. Andrew Quarless previously, and DJ Williams and Ryan Taylor more recently. The Packers also like Tom Crabtree, although he may be a long shot to make the roster this year. And the Packers have recently re-signed utility man Spencer Havner to an extension.
Early reports out of training camp are that DJ Williams is a natural receiver, and is looking fluid in and out of his cuts.
Jermichael Finley still has a shot to re-sign with the Packers... But if he doesn't, Ted Thompson is ready to move on.
All Signs Point To...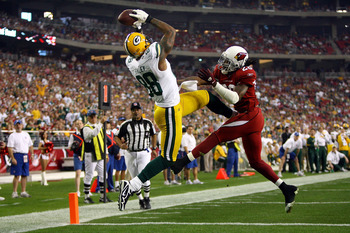 Jamie Squire/Getty Images
I don't like being the messenger of doom and gloom for Packer nation.but the facts are clear as day.
The extremely talented tight end will demand too much cash and the Packers won't fall into the media driven hype train that is Jermichael Finley.
While it is certainly possible that a deal still gets done. It will take Finley and his agent to be knocked off their pedestal and be brought back to reality.
All the signs are pointing to a divorce between the Packers and Finley, and it very well could get nasty. No matter how it goes down, know that general manager Ted Thompson has all the bases covered.
So, as Packer fans... Let's sit back and not worry about what is to come next off season. Instead, relax and enjoy him while he is still here.
Keep Reading

Green Bay Packers: Like this team?