Randy Moss: Immaturity Doesn't Overshadow Historic Career
August 1, 2011
Brian Bahr/Getty Images
Randy Moss unceremoniously retired today, and although it will be nice to finally go through an NFL season unblemished by his childish antics, his outbursts and his knack for taking plays off, don't let that fool you: he was still one of the greatest players to ever step onto an NFL field. 
Moss may have been unable to shake controversy and criticism with the ease and frequency with which he lost corners and safeties, but no wide receiver in history—and I'm including Jerry Rice—ever brought the type of instantaneous spark to a season, team or game quite like he did. 
Just look at what he did in his first year: 69 catches, 1,313 yards and 17 touchdowns. No rookie wide receiver had ever put up those types of numbers. And what did his presence bring to the Minnesota Vikings? They went from being a wild-card team that was 11th in the NFL in scoring to a 15-1 club that had arguably the most prolific offense in NFL history. 
Almost a decade later, he did virtually the same thing in New England. In 2006, the Patriots scored 385 points. When Moss joined them the next season, that number increased by over 200 points, the Patriots rewrote the record books, as did Moss and Tom Brady, and New England went 16-0. 
Now of course, in both instances, Moss wasn't the only threat. The Pats had a future Hall of Famer in Brady, and Wes Welker was a great threat. And in Minnesota, Cris Carter was already in place, to go along with a very good receiver in Jake Reed and a fine back in Robert Smith.
But in both cases, Moss stretched the field and was such a threat to go deep at any time, at any place on the field, that it opened things up for every other skill player on the field.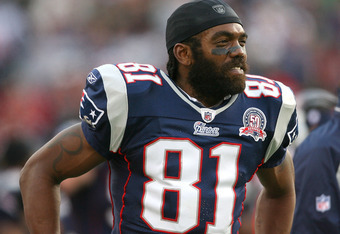 Jim Rogash/Getty Images
Things soured, of course, in Minnesota (twice), Oakland and New England, and he never got anything done in Tennessee. And anyone who takes issue with Moss for his taking plays off or for yelling at caterers or quarterbacks coaches (although Joe Buck was way too dramatic about that fake mooning in Green Bay) is certainly justified.
He squandered his talents—he would have challenged all of Rice's records had he not wasted two years in Oakland and most of last year and been able to catch on with a team for the next few seasons—and committed the cardinal sin of not giving all his effort. 
But that does not undo what he did when he was trying. Talents aren't always given to those who most deserve them or those who will put them to the best use. That's just life. 
The bottom line is that Randy Moss—with his great size, greater leaping ability and deceptively blazing speed—was impossible to defend when he gave 100%. That was the problem—he rarely did.