Kyle Orton Trade Rumors: Latest on Broncos, Dolphins and Tim Tebow Battle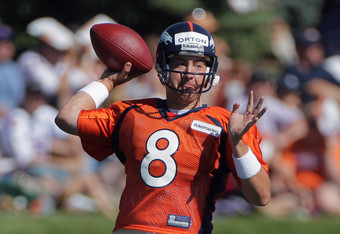 Doug Pensinger/Getty Images
Thanks to that ugly, nasty lockout being lifted last week, we saw a dizzying flurry of player movement late in the week.
Some teams, like the Philadelphia Eagles, established themselves as early favorites for the Super Bowl. Others, like the Washington Redskins, left you scratching your head.
Then you have teams like the Denver Broncos. They made headlines for moves that didn't make. Or, depending on your point of view, moves they should have made.
Namely, we're waiting on the team to figure out their crowded quarterback situation.
Denver has three quarterbacks competing for the starting job. All three are at different points of their career.
The incumbent, if you will, is Kyle Orton. Orton is a solid veteran who has quietly won games all throughout his career. Over the last two seasons, Orton has thrown 41 touchdown passes and has made a living moving the chains and not turning the ball over.
The top challenger, Tim Tebow, is the intriguing youngster. Tebow was a first-round pick in 2010. A highly decorated collegian, some worried about his skills translating to the pro game. Tebow started three games at the end of last season and had mixed results.
The darkhorse is Brady Quinn. Like Tebow, he was a very successful college quarterback. Unlike Tebow, he was viewed as a sure thing by NFL scouts. Quinn spent three up-and-down seasons in Cleveland before being shipped to Denver. He has yet to have a real shot in a Broncos uniform.
The thought is that the Broncos have to do something to clear up the quarterback situation. If they don't, they risk dividing the locker room and the quarterbacks that don't win the starting job have too much value to simply have them sit the bench.
To be specific, Orton is the quarterback to watch. While he won't blow your socks off with eye-popping stats or arm strength, Orton will win games. There's certainly a market for that and as such, expect the Broncos to spend much of their time in the preseason fielding trade offers from teams looking for quarterback help.
Or they could do nothing. Executive vice president John Elway has expressed an interest in letting the quarterbacks work things out on their own:
"Our comment from the very get-go was to let them come out and compete,"

The abbreviated timeline for player movement will force the Broncos hand. They don't have very long to figure out the direction they are going to go. One of their quarterbacks will have to take the first team reps in practice and start the preseason games.
There simply isn't time to spend all of training camp sorting out the depth chart.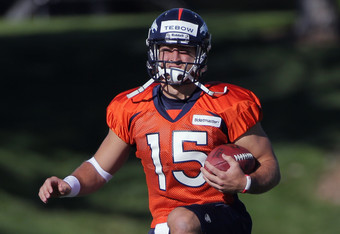 Of course, the biggest obstacle keeping Tim Tebow from being the starter is Kyle Orton. If Orton weren't in the mix, the Broncos would have little choice but to turn the reigns over to the young phenom.
With Orton there, the team is waiting on Tebow to prove that he is ready to lead the team. With so much invested in his development, it's clear that the team wants to give him every chance to force his way into the starting lineup.
For that to happen, though, Tebow has to show some marked improvement. Last season in his three game stint as the starter, Tebow threw five touchdown passes compared to three interceptions, but only completed 50 percent of his passes.
First and foremost, that completion percentage will have to come up. While trying to get him in sync with the offense, the Broncos will likely run a more conservative version of their offense. If that is indeed the case, his accuracy on short routes will be very important.
Another hurdle for Tebow will of course be his transition from his wide-open, shotgun formation offense at Florida to a more conservative under-center, "pro style" offense like the one used in Denver.
It seems trivial, but that transition is one that has eaten several successful college quarterbacks alive. When you are used to having a buffer between yourself and the defensive front on every play, it's tough to get used to having that defensive front staring you in the face on every snap.
The biggest improvement Tebow needs to make in the eyes of the coaching staff isn't any of those things. It's something much more subtle and often overlooked.
Woody Paige of the Denver Post wrote about that concern recently:
"He has to make his drops (into the backfield) quickly. Tim has spent his career in the shotgun," Fox said.
To be successful when taking snaps under center, a quarterback has to be quick to get back in the pocket. In watching tapes of his three starts last season, the coaching staff observed that Tebow was a little slow getting back in the pocket and his footwork got a bit sloppier on the longer drops.
Tebow has all the tools necessary to be successful. He just needs that extra layer of polish and the time to fully adapt to the differences between the college and pro games.
This article is
What is the duplicate article?
Why is this article offensive?
Where is this article plagiarized from?
Why is this article poorly edited?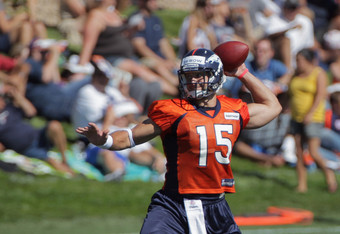 Let's assume for just a minute that Kyle Orton is not traded. Of course, that doesn't necessarily mean that he will stay in Denver. The Broncos are looking to trim salary and cutting Orton and his 8.8 million dollar salary for next year would be an easy way to do it.
Let's make another assumption and say that the Broncos find cap relief elsewhere and decide that keeping Orton is the best decision for the franchise.
I say all that to say that you couldn't pick a better mentor for Tim Tebow than Kyle Orton.
Tebow is a rare breed of quarterback. He is built like an ox, standing 6'3" and weighing in at 245 pounds. While he isn't the football version of Usain Bolt, his rushing numbers in college prove that he can run it as well as he can pass it. In his four seasons for the Florida Gators, Tebow rushed for 2,947 yards and 57 touchdowns.
For all the talk coming out of college that he didn't have the arm strength to be successful in the NFL, Tebow has proven in his small sample size that he can make just about all the throws he has to make.
Those are gifts that Kyle Orton hasn't been blessed with. He has gotten away with below average arm strength and below average athleticism.
Orton succeeds with leadership, a steady hand and a knack for making the smart play rather than shooting for the heroic play all the time.
Those are the things that Orton could pass off to Tebow. While he seems coachable and willing to learn, there will certainly be a learning curve for Tebow in the NFL. He isn't going to be able to get by on athleticism and physicality anymore. While he has talents unique to an NFL quarterback, they aren't never-before-seen talents like they were in college.
The natural gifts of a Tim Tebow combined with the polish and know-how of a Kyle Orton would make for a great quarterback. One that I'm sure the Broncos would love to have around if they are forced to hang on to the embattled Kyle Orton.
This article is
What is the duplicate article?
Why is this article offensive?
Where is this article plagiarized from?
Why is this article poorly edited?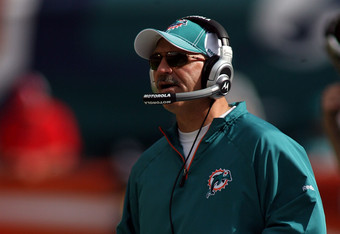 Coming into this abbreviated offseason, the Dolphins clearly stated that they wanted to explore improving the quarterback position.
Starter Chad Henne is a respectable quarterback, but his turnover-prone ways have kept the Dolphins from being as successful as they could have otherwise been.
For all the success they have had with the wildcat offense led by Ronnie Brown and Ricky Williams, too many offensive drives were stalled by costly Chad Henne interceptions.
If we're asking a simple yes or no question about whether or not the Dolphins have improved the position, the answer is yes.
With the signing of Matt Moore, Miami has added a relative young, cheap quarterback with starting experience. At the very least, he will come into camp, push Henne and give the Dolphins a good backup option should Henne go down with an injury or prove to be too inconsistent.
Head coach Tony Sparano described Matt Moore as "a guy we're going to bring along." To me, that sounds like they view Moore as a long-term project rather than a player that they expect to contribute right away.
The Dolphins' offseason just seems incomplete. Sure, Moore gives them more depth at quarterback, but they will be going into the 2011 with the same offense as before.
Chad Henne will still be running the show and the offense will still revolve around the running game, this time led by Reggie Bush. Ronnie Brown and Ricky Williams are free agents that have yet to sign.
It just feels like the Dolphins have sputtered around in neutral rather than making a pronounced move forward.
Greg Cote of the Miami Herald wrote about the need for a sense of urgency in Dolphins camp:
But nothing the Dolphins have done so far, post-lockout, would scream win-now and command the rest of the league's attention as much as the acquisition — still — of quarterback Kyle Orton.

While they still have some time to work something out, the chances of the Dolphins making the deal now seem close to zero.
If they were confident in their chances to land Orton, they wouldn't have signed Moore. For me, it's as simple as that. As it stands now, the Dolphins have Henne, Moore and recently signed rookie free agent Pat Devlin on their roster.
Making a trade for Orton would push Devlin to the practice squad, or worse, the unemployment line and you don't go out and sign a rookie free agent that quickly if you plan on simply discarding them before the season.
This article is
What is the duplicate article?
Why is this article offensive?
Where is this article plagiarized from?
Why is this article poorly edited?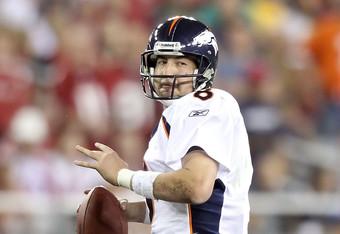 While Orton is technically still under contract with the Denver Broncos, he has to be considered a possibility for teams looking to add a quarterback before the season.
When Miami expressed an interest in adding a veteran quarterback to compete with Chad Henne, the Broncos were quick to put Orton up on the trading block. The Broncos needing to clear up some cap space furthers the notion that Orton can be had for the right price.
His status on the trading block puts Orton in the conversation with Carson Palmer and Marc Bulger among the best options available for teams looking to add another quarterback.
Which quarterback a team sets its sights on depends on what they are trying to accomplish and what they are willing to sacrifice to get the player.
For teams looking to find a unquestioned starter with Pro Bowl potential, Carson Palmer is probably their choice.
Palmer was recently put on the reserve/did not report list as he began to carry out his promise that he would retire if he was not traded.
Cincinnati has called his bluff to this point, but if he continues to refuse to report, I'm sure they would like to try to get something in return for his services. The fact that Palmer originally wanted to be traded also says that he still wants to play.
As a recent Pro Bowl quarterback, Palmer has the most upside of the three. Things went south on him in Cincinnati quickly, but it's not hard to imagine a scenario where Palmer could have a comeback season with the right offensive weapons around him.
Palmer will also be the most expensive, though. Palmer will stand to make 11.5 million this season and the Bengals will undoubtedly want a nice package in return for their trouble.
Bulger, on the other hand, will be the easiest to get. Bulger is not under contract and with the exception of some brief speculation that the Arizona Cardinals were interested, there has been little rumor surrounding Bulger's eventual destination.
Bulger might come cheap and easy, but you can never be sure what you'll get from him. After a brief period of great success between 2003 and 2006, Bulger's play has taken a turn for the worse.
He was last seen as the shell-shocked and often injured quarterback of the St. Louis Rams. In 2009, he only started eight games, throwing five touchdowns and six interceptions.
Bulger is a nice option for a team simply looking for a veteran to push an unproven quarterback, but you don't want him as the unchallenged starter of your team.
Orton seems to the happy medium between the two and the safest selection. Orton doesn't have near the upside of Palmer. He has never been as prolific a passer and no one will mistake him for a perennial Pro Bowler. He will, however, come cheaper than Palmer.
Orton is also a better option than Bulger. Orton has proven to be a steady hand at quarterback, much more so than Bulger in recent years.
If I'm an NFL general manager looking for a quarterback, Orton is my primary target. The Broncos need cap relief and trading Orton accomplishes that, so they might be willing to take 50 cents on the dollar for him.
He's also just the safest selection. Palmer could be a star once again, but he has fought injuries over the last few seasons. Bulger just isn't the same player he once was and there's no indication that he will ever return to form.
This article is
What is the duplicate article?
Why is this article offensive?
Where is this article plagiarized from?
Why is this article poorly edited?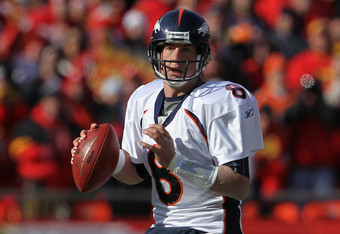 With all the rumor and speculation about where he will end up, the person who seems least bothered is Kyle Orton himself.
Early reports from Broncos practice is that Orton has played well and seems at ease with the whole situation.
When Orton was asked about his expectation going into the season, Bill Williamson of ESPN.com said that Orton sure sounded like a confident quarterback.
"I expect to be here," Orton said. "I expect to be the starter here and go out there and play the best football of my career."


There's little reason to believe otherwise, anyway. Orton played well last year as a first-year starter in Denver. He quickly formed good working relationships with receivers Brandon Lloyd, Jabar Gaffney and Eddie Royal and running back Knowshon Moreno. While Gaffney has moved on to the Washington Redskins, Lloyd, Royal and Moreno will return.
As a second-year starter, his relationships with those returning starters will only get better.
For those reasons and his confidence in his own ability, Orton doesn't seem to be bothered by the quarterback competition.
"That's not the sense that I get (about losing his job to Tebow)," Orton said. "I'm out there competing and I like my chances if that's my case."


If Orton has any worries headed into the preseason, he doesn't show it.
His confidence is likely borne out of two things. First, Orton knows that he is so far and away better than Tim Tebow right now that coach John Fox and the Broncos' front office executives can't, in good faith, cut him if they are really committed to winning in the short term.
Orton also knows that if he is cut, he likely won't be without a job soon.
Orton as your starting quarterback carries a certain negative connotation. He is, fairly or unfairly, seen as a quarterback you can live with, but not a quarterback you really want to call your starter.
That being said, you can do a lot worse and teams know that. Orton has guided teams to the playoffs and he has been on good teams more often than he has been on bad ones.
I can guarantee one thing. The team that has Orton on its roster this season won't regret it. They won't be worried about the stigma of Orton being their quarterback. The only party that cares less, in fact, is Kyle Orton. He just wants to play.
This article is
What is the duplicate article?
Why is this article offensive?
Where is this article plagiarized from?
Why is this article poorly edited?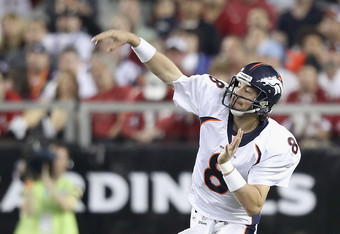 Over the last few days, the most oft-mentioned destination for Orton has been Miami. The Dolphins have a shaky incumbent of their own in quarterback Chad Henne. They recently came to terms with free agent quarterback Matt Moore, but few are convinced he is an upgrade.
Henne has all of the tools you want in a starting quarterback. He is tall, has a solid build and has plenty of arm strength. His issue is that he is turnover-prone.
Over his career, he has thrown 27 touchdowns and 33 interceptions.
With the running game that Miami has boasted over the last few seasons, it's easy to imagine them being much more successful if only Henne were able to keep from turning the ball over so much.
After looking at Henne's numbers, it's easy to see why they are interested in trading for Orton. He's the polar opposite of Henne. He is underwhelming in most physical aspects, but he wins games and keeps his team in most games thanks to his ability to keep possession of the ball and control the clock.
The Denver Post is reporting that the trade negotiations between the Broncos and Dolphins have reached a deadlock, though, largely thanks to all the "moving parts" in the deal:
The situation is complicated. It has "many moving parts," a source said, explaining that Orton as late as Thursday still was contemplating the possibility that Denver could be the best place for him to spend 2011.


This story allows for a scenario where Orton tells Broncos brass that he would rather stay in Denver and battle it out with Tebow. If he gets dealt, there's no guarantee that he will be the starter there either. That's particularly true with Miami where they have an experienced quarterback who has had some success.
If Orton decides that he wants no part of a trade, the moving parts really get to moving. The choice to stay in Denver might not fall at the feet of Orton, however.
Orton is owed 8.8 million dollars this season and has not expressed an interest in restructuring his deal. The Broncos, though, need cap relief in the worst way and only have until August 4th to find it.
If the Broncos were convinced that Tebow is their guy, they could simply cut Orton before that and get the cap space they need.
If this is their course of action, the ball is again in the Miami's court. If Orton is released, they will have to battle every other team in the league for his services, but they won't have to give up a player or a draft pick in return.
As long as Orton is on the roster, the Dolphins will only be competing with the teams willing to give something up for Orton, but they will, of course, have to give something up to get him. Again, the signing of Moore makes things crowded in Miami, but I imagine interest is still there.
All the different scenarios are enough to make one's head hurt, but you won't have to be in pain long. The Broncos will have to do something by August 4th.
This article is
What is the duplicate article?
Why is this article offensive?
Where is this article plagiarized from?
Why is this article poorly edited?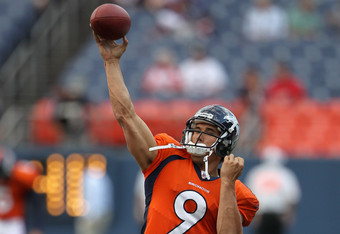 There's no doubt where Brady Quinn fits in this equation. Although Fox and Elway would have you believe that he is being considered for the starting job, he is really playing to secure the backup role on the team.
It might be his level of play in the preseason that determines whether or not Orton gets moved. For the Broncos to feel comfortable enough to move Orton, they have to have some level of confidence in Quinn being able to enter the game in a pinch if Tebow falters.
Quinn, to his credit, has seemed to embrace his position on the roster this season. Mike Klis of the Denver Post discussed Quinn's start to training camp:


Orton's closest competitor Thursday was veteran Brady Quinn, who seemed to play with greater ease and confidence compared to his play in last year's camp.


The difference between last year and this year is easy to spot. Last season, Quinn was brought in to battle Kyle Orton (and to a lesser degree, Tim Tebow) for the starting job. He had experience starting games in Cleveland and the hope was that with a better supporting cast around him, he would have better results than he did in a Browns uniform.
Quinn lost that battle and as the year wore on, he also lost his spot as the primary backup to Orton. Late in the season when the Broncos needed one of the two backups to spot start, they went with Tebow rather than Quinn.
This season, Quinn has no such pressure on him. He can come into training camp and worry simply about getting better. He can immerse himself in the playbook and focus on his skills without having to constantly look over his shoulder.
Quinn truly holds the key to a possible Kyle Orton trade. If he plays well enough in practice and in the preseason games, Elway and Fox will feel much more comfortable being one quarterback lighter. If Quinn proves to be nothing more than inconsistent, though, the Broncos might be more inclined to cut ties with Quinn and move forward with both Orton and Tebow.
This article is
What is the duplicate article?
Why is this article offensive?
Where is this article plagiarized from?
Why is this article poorly edited?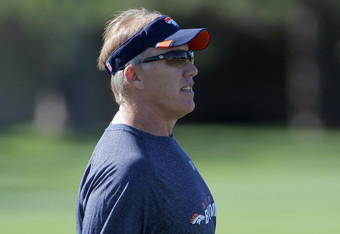 It's a tough task to be sure, but all personnel decisions will have to be made largely based on an abbreviated training camp and four preseason games that often feel like glorified scrimmages.
That can't be a comfortable situation for Broncos executives. This isn't a battle between two undrafted rookies for a spot on the kick coverage team. These practices will determine who starts at quarterback for a team that isn't used to losing and has designs on making a playoff run this season.
If you have to use this limited sample size to make a decision on which quarterback to start, how heavily do you weigh practice performance against potential?
If the coaching staff and executives are looking to make a decision based largely on how well they play in practice with the current team, Kyle Orton might be running away with the competition early on.
Jim Trotter of SI.com wrote about how Orton's play in the early practices has put them in a tough spot if they are looking to move forward with Tim Tebow:
Orton proceeded to kill it in practice, while Tebow struggled. Observers saw it, coaches saw it and, equally important, players saw it.


This also goes back to the concern about splintering the locker room. If players see Orton running laps around Tebow everyday at practice, it may be hard to sell them on the idea that Tebow is going to be their quarterback of the future.
The talk so far from head coach John Fox and front office executive John Elway is that they will let the quarterbacks compete for the job. If Orton is traded and Tebow is anointed the starter after Orton outplayed Tebow, won't that be sending the wrong message to the team?
I'm certainly not in the locker room with those guys, but if I were, I would feel like Fox and Elway were talking out of both sides of their mouths if Orton ends up elsewhere.
This article is
What is the duplicate article?
Why is this article offensive?
Where is this article plagiarized from?
Why is this article poorly edited?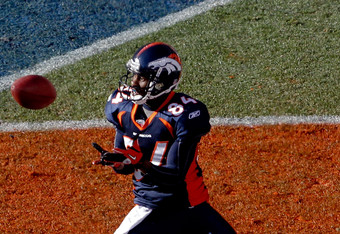 With any positional battle, whether it be on the field or in the coaching staff, you run the risk of dividing the locker room.
You see it all the time with interim coaches. Some players are loyal to the ousted coach and hold it against the interim coach that "their coach" was fired. Others will surely be happy to the see the old coach go and will flourish under new leadership.
The same thing goes for on-field position battles, particularly when you are dealing with quarterbacks.
Each starting quarterback candidate has his supporters and his detractors on the team. That would be alright if it weren't for the concern over the competition affecting on-field play.
We can all assume that everyone on the roster is a consummate professional who won't let the controversy be a distraction, but that's probably naive. Who's to say that an offensive lineman won't be more focused when "his guy" is dropping back into the pocket, knowing that he has a big role in who becomes the starter?
Who's to say that a receiver's routes won't be crisper when his buddy is the one zipping passes to him?
For the Broncos, that nightmare scenario might already be taking form. Wide receiver Brandon Lloyd flourished last season with Kyle Orton at quarterback and he isn't shy about making his affinity for the veteran known. Lloyd acknowledged that the current scenario is an issue:
"It's the Tebow Thing," says leading receiver Brandon Lloyd. "They'll put Kyle on the trading block because they don't want to deal with the Tebow Thing. But it's not going to end until (Tebow) plays. The faster they get this Tebow Thing over with, one way or the other ..."



If that doesn't sound like a man rooting against Tim Tebow, I don't know what does. The fact that he refers to it as the "Tebow Thing" insinuates that he blames the team's infatuation with Tebow as the blame for the controversy.
Lloyd might be most outspoken of his receiver brethren, but that doesn't mean that Tebow doesn't have supports in the receiving corps. He almost certainly does.
The Broncos have to sort out the depth chart at quarterback quick. That way, you have ample time to get all the offensive players on board with what you're doing.
If they put it off, they risk letting disgruntled players carry that bitterness into the regular season, where it will become a huge distraction.
This article is
What is the duplicate article?
Why is this article offensive?
Where is this article plagiarized from?
Why is this article poorly edited?

Denver Broncos: Like this team?