MLB Opinion: Erick Aybar Perfectly Right to Bunt on Justin Verlander
August 1, 2011
Dave Reginek/Getty Images
On Sunday, Justin Verlander had a no-hitter going through seven innings. With his team trailing 3-0, Angels shortstop Erick Aybar dropped down a bunt to get on base. Verlander fielded the bunt and threw wide of first base for an error, resulting in Aybar ending up on second base, so the no-hitter remained intact. Aybar's efforts, as well as shaky defense and an RBI single from Maicer Izturis, resulted in the Angels making the game a one run affair.
The unwritten rules of baseball say that you don't bunt to break up a no-hitter. When Ben Davis bunted to break up a perfect game from Curt Schilling in 2001, Schilling's manager Bob Brenly artfully referred to it as chicken…excrement.  
There's a reason this rule is unwritten. It's stupid.
Erick Aybar is being paid three million dollars this season to do whatever he can to help his team win ballgames. Period. His job isn't to respect some mythical old rules of sportsmanship or give the other team an edge in defending him.
Indeed, Aybar has 20 infield hits this season, including seven bunt hits. Speed is an integral part of his game. The fact that he can bunt for a hit is key for him, because it forces the opposing third baseman to play in, allowing him a greater hole to punch the ball through.
He's perfectly right to take advantage of a sleeping defense in order to attempt to close the gap in a close game, in a pennant race no less (the Angels are currently two back of the Rangers in the AL West and six and a half behind the Yankees for the wildcard).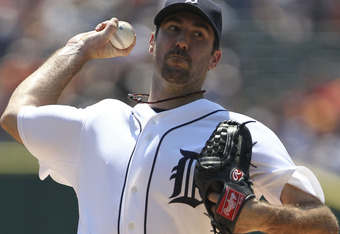 Leon Halip/Getty Images
It especially makes sense for Aybar to utilize his ability to bunt with Verlander dominating the way he was that day. He could have tried to rip the probable 2011 American League Cy Young Award Winner's 101 mile per hour fastball or nasty 12-6 curveball for a double. But, based on Verlander's day to that point, it probably wouldn't have gone well.  
And it worked! Aybar's speed forced Verlander to rush the throw, which ended up in right field. Two runs ended up scoring and Verlander was driven from the game after the inning, replaced by the vastly inferior Jose Valverde.
The Angels came up one run short, but they vastly improved their chances of winning the game. According to the box score on baseballreference.com, the odds of winning the game went from seven percent to 27 percent after the eighth inning.
This happened because, instead of losing on purpose, Aybar and the Angels fought back. If you take bunting away from a player like Aybar, because a pitcher is working on a historic game, then what else should you take away?
Should players not run out ground balls? Should they even bring a bat to the plate? Maybe Angels manager Mike Scioscia should try to pinch hit with closer Jordan Walden (he's already helping Verlander enough by starting Jeff Mathis).
Of course, this would be a ridiculous way to play baseball. You won't win many games if your goal is to make your competitor like you.
Now, this article has thus far neglected the elephant in the room. Sparks flew earlier in the game as Carlos Guillen and (maybe, but probably not) Magglio Ordonez showed up Angels starter Jered Weaver on home runs. Weaver responded by throwing at Alex Avila's head, an actual bush-league move. It could be argued that bunting was Aybar's way of retaliating. 
That, however, is ludicrous.
Bunting was Aybar's way of reaching base.