NHL Free Agency 2011: Where Will Trent Hunter and Colin White End Up?
August 1, 2011
Jim McIsaac/Getty Images
When the New Jersey Devils traded Brian Rolston to the New York Islanders, it was a clear salary cap dump, and they had every intention of buying out whoever they got in return.
Today, the Devils announced that they have placed Trent Hunter, as well as defenseman Colin White, on unconditional waivers with the intention of buying out the remainder of each of their contracts.
Hunter, 31, had spent his whole eight-year career with the Islanders after they drafted him in the sixth round in 1998. He has 99 goals and 229 points in 459 games for his career, but he is known for his physical play, always one of the league leaders in hits. With his defensive prowess, he has become one of the Isles' leading penalty killers in recent seasons. 
White's buyout comes as a bit of a surprise. In recent years, the 33-year-old had become one of the Devils' top defensemen and had become very important on one of the league's elite shutdown defensive corps. The Nova Scotia native had spent his whole career with the Devils after becoming the team's second-round draft pick in 1996. At 6'4", 225 pounds, he is also one of the most physically imposing players in the league. His buyout likely means that 2011 fourth overall selection Adam Larsson will be given a spot in New Jersey as soon as next season.
With these moves, the Devils have shed $8 million in salary cap space.
Both of these players will play in the NHL next year. Though both are in the twilight of their respective careers, they both have roles to fill on teams looking for good character players and special teams contributors.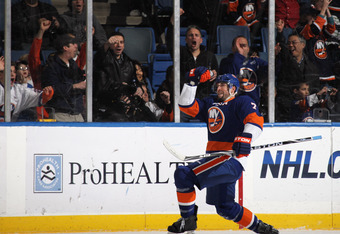 Bruce Bennett/Getty Images
Hunter is likely to fill a third-line role for a team as a grinder and penalty killer. There are a few teams that may still be looking for a player of his caliber. One possibility comes in the form of the Boston Bruins, who lost a pair of right wingers this offseason in Michael Ryder and Mark Recchi.
Another team that may take a look are the Montreal Canadiens. It really showed in the playoffs last year that the Canadiens lack a bottom-six grinder who can be physical and strong on the penalty kill. Hunter would fill that role beautifully.
Montreal could also take a look at White. The Canadiens lost a pair of defensemen this offseason in James Wisniewski and Paul Mara, and they have yet to replace either. Behind Jarred Tinordi, the prospect pool is thin at defense. White could be a good temporary option until Tinordi and Nathan Beaulieu are ready to step up in a season or two.
He could also end up in Colorado. The Avalanche signed 11th overall pick Duncan Siemens with the intent of him playing in the NHL this season. White could be a good mentor and show the youngster what it takes to be a good, physical defenseman at the NHL level.
The two will clear waivers tomorrow, and it is impossible to say where they might end up. One thing, though is for sure: There will be a frenzy around them as NHL teams scramble to try and get their signatures.