2011 NFL Predictions: 8 NFL GM's Who Are on the Hot Seat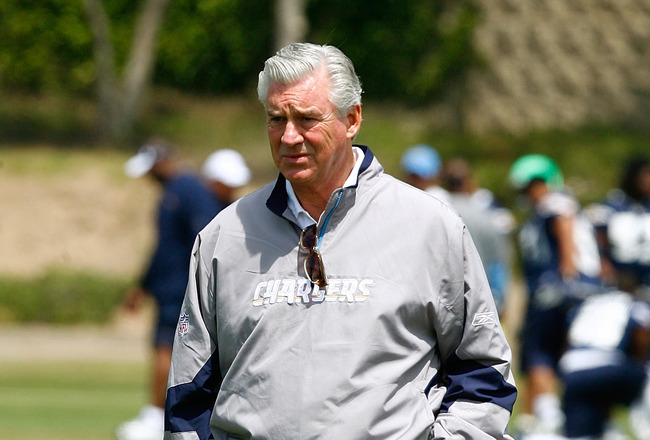 Kevin Terrell/Getty Images
After going through the first week of free agency and as the beginning of the NFL preseason is a scant 10 days away, it's becoming more and more clear which teams have the most pressure on them to succeed.
These teams have either acquired a bunch of talent in order to make a run at the playoffs and/or Super Bowl, or these teams are really hearing it from the media and their fanbases for not having done enough in free agency to improve their rosters.
Regardless of which category these teams fit it, one thing is extremely clear: The head coaches and general managers of these teams are on the proverbial hot seat right now.
See, those of us who love football are grateful to have it back, but we don't want to have it back just to see our teams do poorly or fail to meet expectations. This creates a more inpatient fanbase and media contingent than usual right from the start.
The head coaches on the hot seat are pretty obvious and will be mentioned over and over, so let's break with popular trend and look at the general managers on the hot seat.
Note: Some general managers have a different official title such as Vice President Player Personnel. The men identified as general managers on this list are the final decision-makers who handle a team's personnel.
1. Rick Spielman, Minnesota Vikings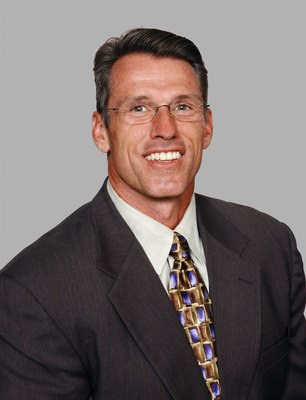 Getty Images/Getty Images
Spielman's butt is warm because the Minnesota Vikings went 6-10 in 2010 after reaching the NFC Championship the previous season.
The Vikings fired Brad Childress last season and promoted Leslie Frazier to the head coaching position. Without Childress to act as a buffer, Spielman becomes the primary man to accept blame for the team's shortcomings.
If the free-agent signing of quarterback Donovan McNabb or the surprise early draft selection of quarterback Christian Ponder spurs the team to success, Spielman is likely safe.
But if both start slow and the team struggles, Spielman will be looking for new employment at the end of the season. The brother of former NFL star Chris Spielman has made some good personnel choices during his time in Minnesota, specifically drafting Adrian Peterson and Sidney Rice, but the team is old at several positions, and his inability to find a young quarterback before Ponder is glaring.
2. Jeff Ireland, Miami Dolphins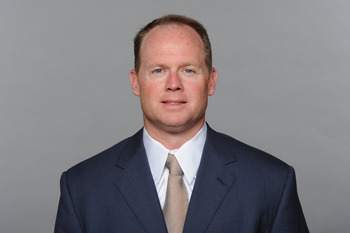 Handout/Getty Images
Much like Spielman (who coincidentally was the Miami Dolphins' GM before moving on to ESPN and then Minnesota), Ireland's fate is in big part tied to the quarterback position.
Chad Henne has been unable to prove he is a quarterback capable of leading Miami to the postseason. Even though Henne has only been in the league for three years and a starter for just two, patience for Dolphin fans has run out.
That brings us to the team's current flirtation with Denver Broncos quarterback Kyle Orton. First, the speculation was that a trade for Orton was supposedly close to being done, then it was supposedly dead when the Dolphins acquired former Carolina Panthers quarterback Matt Moore.
Now, speculation the last few days has the deal still possibly being done.
Whether that's based on reality or the stunned disbelief from media members that the team will go into the season with Henne and Moore competing for the starting job, is a great question.
Sound confusing? It is.
What's not confusing is that Ireland and head coach Tony Sparano were given extensions after last season to fight the notion that they were "lame-ducks" entering the final year of their respective contracts.
If they don't find a quarterback who can lead the team to the playoffs, the duo will be labeled as "dead ducks."
3. Andy Reid, Philadelphia Eagles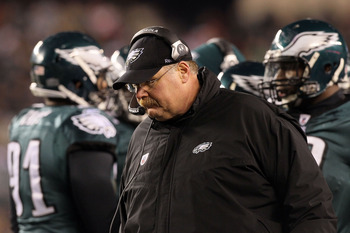 Jim McIsaac/Getty Images
Officially, Howie Roseman is the Eagles' general manager, but make no mistake, Head Coach/Executive VP of Football Operations Andy Reid calls the shots in Philadelphia.
To quote a common poker phrase, Andy Reid has clearly taken his chips and went "all in" during the last week of free agency.
A team doesn't trade its backup quarterback, Kevin Kolb, for starting cornerback Dominque Rodgers-Cromartie (and a second-round draft pick), then sign the most high-profile free agent on the market in cornerback Nnamdi Asomugha and three more high-profile agents in Jason Babin, Cullen Jenkins and Vince Young if the end game is not Super Bowl or bust.
The Eagles have already been labeled as the "dream team" or the NFL's version of the Miami Heat, but winning the last game by their own players will be scrutinized more than any other team in the league.
If Reid falls short of the Super Bowl, the longest-tenured coach in the NFL and the team's Executive VP of Football Operations will be moving on out.
4. Mike Shanahan, Washington Redskins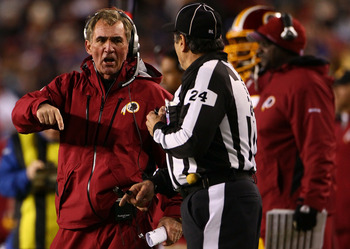 Win McNamee/Getty Images
The GM/head coach structure in Washington is very similar to the one in Philadelphia. Bruce Allen is listed as the Executive VP/General Manager, but everyone knows head coach Mike Shanahan calls the shots.
The Eagles and Redskins also both play in the NFC East, and that's about where the similarities between the two franchises would appear to end—except that Shanahan joins Reid on the hot seat, even if it's only his second year on the job.
The Redskins went 6-10 last season and have no realistic Super Bowl aspirations.
They also don't have a starting quarterback. Shanahan can sell John Beck or Rex Grossman to the media and fanbase all he wants, but no one is buying the pitch. The team hasn't added a proven signal-caller during free agency, which is a major surprise. Washington also has huge holes at running back, and the acquisition of Tim Hightower is a marginal acquisition at best.
Perhaps the most startling indictment of Shanahan and the reason his seat isn't just hot but more like a three-alarm fire is that he has relied on mostly veterans as starters instead of infusing the team with quality youth.
5. Rod Graves, Arizona Cardinals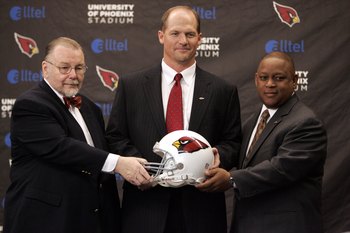 Nick Doan/Getty Images
It's probably unfair to have one personnel move dictate the future of a general manager, but that's the reality for Arizona Cardinals general manager Rod Graves.
If the aforementioned Kevin Kolb becomes the franchise quarterback the Cardinals so desperately need, then Graves will be lauded. If he fails, considering the high, almost ridiculous price of a second-round pick and a starting cornerback that the trade cost, Graves won't be seeing Cardinals red, but pink—as in a slip.
6. Buddy Nix, Buffalo Bills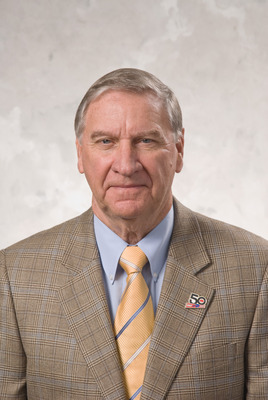 Handout/Getty Images
Buddy Nix has only been the Bills' general manager for two years, and he had a nice track record in helping the San Diego Chargers turn around before that.
The problem is that Nix is a general manager in the AFC East, and the Bills, who finished 4-12 last season, are arguably not close to being a good team. Quarterback Ryan Fitzpatrick is average, their offensive line, linebacker corps and secondary are below average.
Further complicating the scenario is the future of the team with owner Ralph Wilson turning 93 in October. The Bills are seen as a likely candidate to move either to Los Angeles or Toronto after Wilson passes on.
If Buffalo doesn't show progress under Nix and second-year head coach Chan Gailey, which would come in the form of a .500 record, the Bills might clean house again.
7. Rick Smith, Houston Texans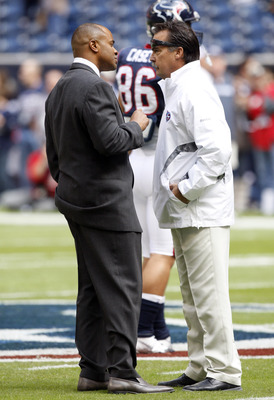 Bob Levey/Getty Images
The Houston Texans have never made the playoffs. Think about that for a second.
It's no wonder that despite being given a contract extension through 2012 back in 2008, Texans general manager Ricky Smith has to know that his seat is getting pretty toasty.
The Texans have one of the best quarterbacks in football in Matt Schaub, a running back who led the league in rushing in Arian Foster and arguably the best wide receiver in the NFL in Andre Johnson.
Yet, they finished 6-10 last season, primarily because their passing defense was worse than atrocious.
After signing cornerback Johnathan Joseph and safety Danieal Manning to big-money free-agent contracts, and adding stout defensive lineman J.J. Watt and cornerback Brandon Harris through the draft, there are no more excuses for the Texans.
If they don't reach the playoffs this season—and perhaps even win a game—Smith and head coach Gary Kubiak will need to polish their resumes.
8. A.J. Smith, San Diego Chargers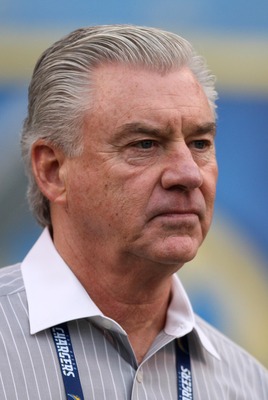 Donald Miralle/Getty Images
A.J. Smith brings to mind one of the more humorous quotes I've ever heard in football.
Last year, Agent Neil Schwartz was discussing trade talks involving his client, disgruntled Chargers wide receiver Vincent Jackson:
"From a contract standpoint, it was done," he said. "There were two teams that were very involved, but the general managers I spoke to said that what A.J. (Smith, the Chargers' GM) was asking for was totally unreasonable. They said dealing with him was like dealing with 'The Lord of No Rings.'"
Seriously, with as many contentious exchanges and negotiations Smith has had with players such as LaDainian Tomlinson, Drew Brees, Antonio Gates, Michael Turner and Jackson, and coaches such as Marty Schottenheimer, it's a bit of a wonder how he is still employed by the club.
Since Smith took over the GM duties in 2003, despite all the so called "talent" on the Chargers' roster, San Diego hasn't reached the Super Bowl and reached the AFC Championship game just once (2007).
All the more frustrating for Bolts fans is that they have won five AFC West titles during Smith's reign. In other words, the team has been consistently good, but never great.
This offseason the Chargers have already lost key contributors Darren Sproles and Kevin Burnett to free agency. They also may lose standout wide receiver Malcom Floyd, although they did re-sign safety Eric Weddle.
The bottom line is the same old act is getting tired in San Diego, and if the Chargers don't go to the promised land this season, expect a change at the top.
Keep Reading