Ahmad Bradshaw: Latest on Giants, Jets, Ravens and Bengals Rumors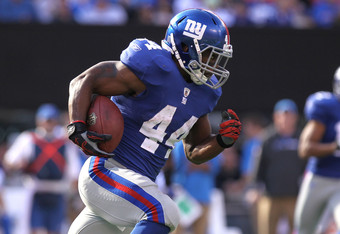 Nick Laham/Getty Images
Nnamdi Asomugha is happy, Ray Edwards is happy, even Chad Ochocinco is happy. But it doesn't seem like Giants running back Ahmad Bradshaw is.
If he were, than the free agent would have re-signed with New York by now.
Bradshaw might not be in the class of those truly elite runners like Adrian Peterson or Chris Johnson—after all, he had just one super season. But since he's still young and ran for over 1,200 yards in 2010 while splitting the carries with Brandon Jacobs, there is ton of promise that he can join that group of All-Pro backs.
And naturally, that potential has him wanting a huge contract and has him on several teams' wish lists.
If we've learned anything during this crazy free-agency period it's that things can change in a hurry and teams can make some surprising decisions, so don't be surprised to see either of those scenarios play out with Bradshaw.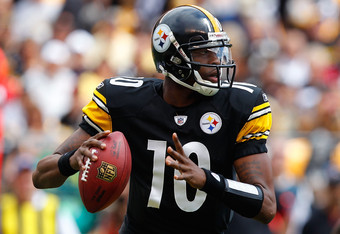 After refusing to accept his tender and requesting a trade, Dennis Dixon has reportedly agreed to sign, but has not dropped his hopes for a trade, a move that will do more harm than good.
Dixon will never take the starter's job away from Ben Roethlisberger and that's the primary reason why he wants to be trade. I can appreciate his desire to play and not sit on the bench.
But aside from the fact that he has not achieved nearly enough to warrant a starting job with any NFL franchise, there really isn't a team with an opening right now that would be willing to give up a mid-round draft choice. The Redskins or Dolphins or 49ers or any of the clubs still looking for a quarterback would be insane to make that move.
So his desire to be traded is going to fall on deaf ears. That may anger him now, but it shouldn't and here's why.
Ben Roethlisberger is certainly durable and a big body that can withstand plenty of hits: and his ability to play through injuries last year was borderline epic. But he isn't exactly Brett Favre when it comes to remaining in the lineup.
He missed multiple games in 2005 with a knee injury and was knocked out or sidelined in 2006, 2008, and 2009 with concussions. If those injuries cost him time before he turned 30, I think it's safe to expect him to be at risk for similar if not worse injuries after he turns 30 next March.
The Steelers can't keep turning to Charlie Batch or Byron Leftwich forever. Dixon has been in the system for three years now, has excellent athleticism, and already has some time under his belt. And he'll only get better by learning from Roethlisberger and a great coaching staff.
In time he'll get another chance to start or at least relieve Roethlisberger at a critical moment and it will earn him serious Rob Johnson/Scott Mitchell-like attention.
That is the time when he's better suited to demand a trade or sign a big free agent deal elsewhere.
Follow me on twitter at lazarusa57
This article is
What is the duplicate article?
Why is this article offensive?
Where is this article plagiarized from?
Why is this article poorly edited?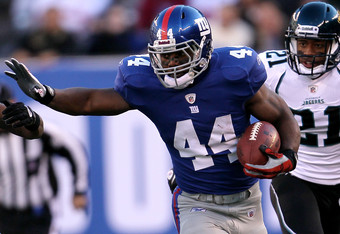 It's been a very strange offseason for the New York Giants. They let Barry Cofield leave and unloaded two of their best lineman, Shaun O'Hara and Rich Seubert. They've also had to deal with the possible return of long-ago stars, Plaxico Burress and Tiki Barber. And today they were still dealing with the contract issues of two current stars, Ahmad Bradshaw and Osi Umenyiora.
Well, after telling Umenyiora he could shop for a new home, they made sure to lock up Bradshaw, giving the free agent running back a new deal.
Given all the changes or forthcoming changes to the Giants roster it's nice to see that they've tried to maintain some consistency, but stability is not the reason why this signing is so vital, and could ultimately determine the NFC East champion.
Eli Manning is the cornerstone of that franchise--there's little doubt about it. And putting him in position to get the ball to Kevin Boss, Hakeem Nicks, Mario Manningham, Jerrel Jernigan, and possibly Steve Smith is their primary goal. But when the Giants were most successful last year and in recent seasons they had an ability to stay tremendously balanced.
With Brandon Jacobs and Bradshaw working in tandem last year, they were able to run the ball more than any other NFC team except Atlanta. That balance allowed them to rack up the fifth most yards per game in the NFC.
If you take away Bradshaw, the more productive half of that duo at least in 2010, everyone will suffer, especially Manning and his deep corps of receivers.
Jacobs probably could have shouldered the load as feature back: he's big and durable enough. But even he's never carried the ball 225 times in a season, something Bradshaw far surpassed last year, racking up 276 carries.
Follow me on twitter at lazarusa57
This article is
What is the duplicate article?
Why is this article offensive?
Where is this article plagiarized from?
Why is this article poorly edited?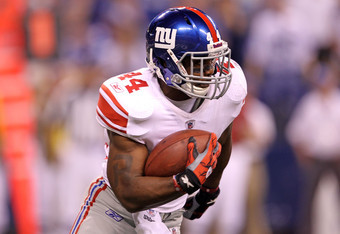 If there's a team out there that has any chance of prying Ahmad Bradshaw away from the New York Giants, it's the Washington Redskins.
Yes, the Redskins have a pair of promising youngsters in Ryan Torain and Keiland Williams, they drafted two solid collegians in Roy Helu Jr. and Evan Royster, and they just acquired Tim Hightower from the Arizona Cardinals.
But since a) the Redskins have to replace their greatest ball carrier since John Riggins (Clinton Portis) and b) they have a ridiculous amount of uncertainty at quarterback, a reliable feature back is more important than ever. And no one could argue without being laughed out of the room that, right now, any of those runners--Torain, Williams, Royster, Hightower, or Helu Jr.--are a reliable replacement.
So in a division that is absolutely loaded with offense--Mike Vick and that awesome group in Philadelphia, the Giants balanced attack, and what figures to be a much improved offense in Dallas--the Redskins could make a splash by signing Bradshaw....in addition to greatly hurting their division rival in East Rutherford.
Now, even if Washington were able to land Bradshaw, they would hardly become a favorite to win the NFC--their defense isn't that good and we know all about their deficiencies in the passing game. But I do think they can make a push for the wild card and certainly steal a few divisional games late in the season if they find a reliable ball carrier like Bradshaw.
Mike Shanahan may can squeeze a ton more out of John Beck or Rex Grossman or Kellen Clemens if they're facing 2nd and four rather than 2nd and 10.
As ProFootballTalk.com's Mike Florio noted, "Bradshaw doesn't really fit the Mike Shanahan profile of little-known interchangeable backs who get their yards because they get great blocking" but that's not a reason to pass on Bradshaw. Besides the Shanahan scheme may have worked with Mike Anderson, Olandis Gary, and Reuben Droughns but that was almost a decade ago and it certainly didn't work last year as they finished 30th in the NFL in rushing.
Follow me on twitter at lazarusa57
This article is
What is the duplicate article?
Why is this article offensive?
Where is this article plagiarized from?
Why is this article poorly edited?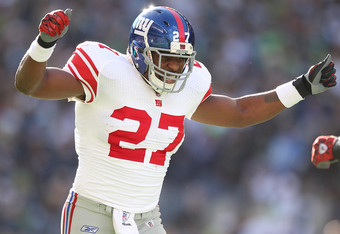 Although the Giants have had a few good offseason moves, including the addition of David Baas at center and re-signing Mathias Kiwanuka, they are in a noticeable state of transition, having cut Shaun O'Hara and Rich Seubert, losing Barry Cofield to rival Washington, seeing Plaxico Burress go to the Jets, and possibly trading Osi Umenyiora.
But none of those would be as damaging to the Giants future as seeing Ahmad Bradshaw walk as a free agent, a move that while still possible, seems a bit less likely today now that so many running backs have found homes.
ESPN.com's Dan Graziano noted
"I'd still bet on a Bradshaw return to New York. But he and his agent have clearly been working very hard to create a market that will allow him to get top dollar. And based on this Star-Ledger report that Jason Snelling is visiting the team Monday, it appears the Giants are getting annoyed and would like a resolution of this situation sooner rather than later."
Annoyed or not, the Giants have an obligation to bring Bradshaw back: while a good change-of-pace and third down back, Jason Snelling is not a suitable replacement and given the contentious nature of Brandon Jacobs relationship with the club, he shouldn't be looked at as a feature back for now or the rest of his contract. And as much money as they have invested in their passing game, specifically Eli Manning, the Giants ability to run the ball and control the clock has been what's opened up things for their offense, dating back to the Tiki Barber days.....on a side note, don't expect any kind of reunion there as an answer to this Bradshaw situation.
What's working in the Giants favor is the fact that for the most part any club that had the money or the inclination to spend a ton of money on a free agent has done so already. That's not to say Bradshaw is unwanted, but it does make it hard for him to land elsewhere.
Follow me on twitter at lazarusa57
This article is
What is the duplicate article?
Why is this article offensive?
Where is this article plagiarized from?
Why is this article poorly edited?